In books old and new, in old documents and official reports, in the stained files of newspapers, in the dumb evidence of trees and rocks and old buildings, in the quavering voices and still bright eyes of old folk who knew them, but are soon to die, I have read something. Sometimes I felt I had moments of insight into the enigma of their leader who has been described as low thief and murderer, and again as "the father of our national courage — our General — our King — whose mystical presence is still growing about us, never to die."
Max Brown Australian Son
Australian Son
First published 1948
This edition 2005, 2013 by Network Creative Services
The ultimate Ned Kelly history book Australian Son, the story of Ned Kelly became a milestone in Australian literature when it first burst onto the scene just after the Second World War. Although originally published over sixty-five years ago, Australian Son could easily have been written yesterday. A masterful writer, Max Brown captured the Kelly spirit as never before. Instrumental in influencing the future works of John McQuilton, Keith McMenomy and Ian Jones, Max Brown's research was exhaustive — including interviews with people who knew the Kelly's. After J.J. Kenneally's The Inner History of the Kelly Gang, Australian Son became the second major literature piece on Ned Kelly. And it still remains the definitive biography. If you only intend to buy one book on the life of Ned Kelly, then this is it. Prior to Max Brown's death in 2003, the author had spent ten years rewriting and researching this definitive guide to the life of Ned Kelly. You can read more about his masterpiece in our Australian Son section.
Max Brown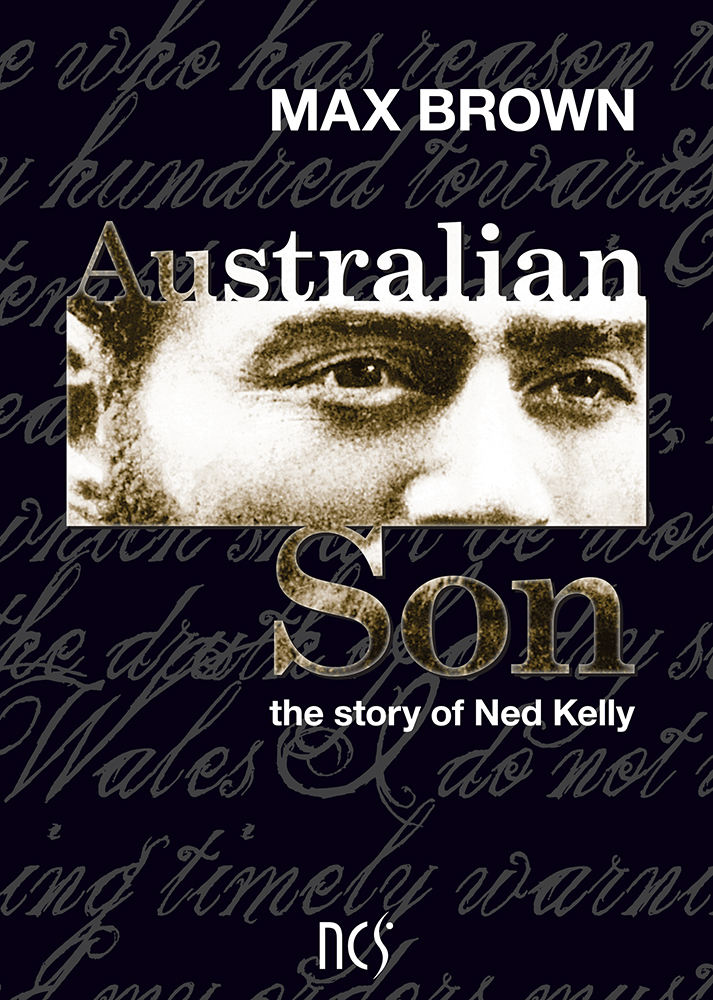 Ned Kelly: The Iron Outlaw
First published 2017
Reprinted and revised 2018 by New Holland Publishers
Like most Australians, I know about Ned Kelly and his gang's exploits without really knowing too much of the detail about what drove him to do what he did. And, probably like most Australians, that's about as far as I've ever delved until I came across Brad Webb's book.
I found this to be a thoroughly enjoyable and easily readable book, with a large number of photographs and illustrations that certainly I'd never seen before adding to the overall telling of the story.
This is an approachable book that provides some in-depth detail but at the same time doesn't get bogged down in that detail, allowing the book to move along at pace and to keep the reader engaged. The 'Did you know…' breakouts in the book are particularly enjoyable and add colour and rounding to the overall story of the Ned Kelly and his gang.
To be sure, Kelly is a polarising figure. A quick look at the comments areas on websites such as Brad Webb's IronOutlaw.com and others devoted to Kelly show that he's clearly revered and reviled in equal measure by those on either side of the argument with little middle ground. As a largely disinterested and uninvested observer this has always amused me; that there's a sub-culture of people who'd seemingly happily have their very own shoot-out to settle things once and for all.
I see this book as an excellent overview of Kelly that allows for the Kelly Gang novice to reach a decision point, to create a lauchpad for more detailed reading on Kelly or to allow the reader to be satisfied that they now know much more than they did before they opened the book. I'll admit that I'd always leaned on the 'horse thief' side of the argument but after having read the book I find myself leaning a bit the other way now. And isn't that what good books are supposed to do, make you think and address your own preconceptions?
Verdict: A terrific book for those wanting to know more about Ned Kelly and his gang.
Brad Webb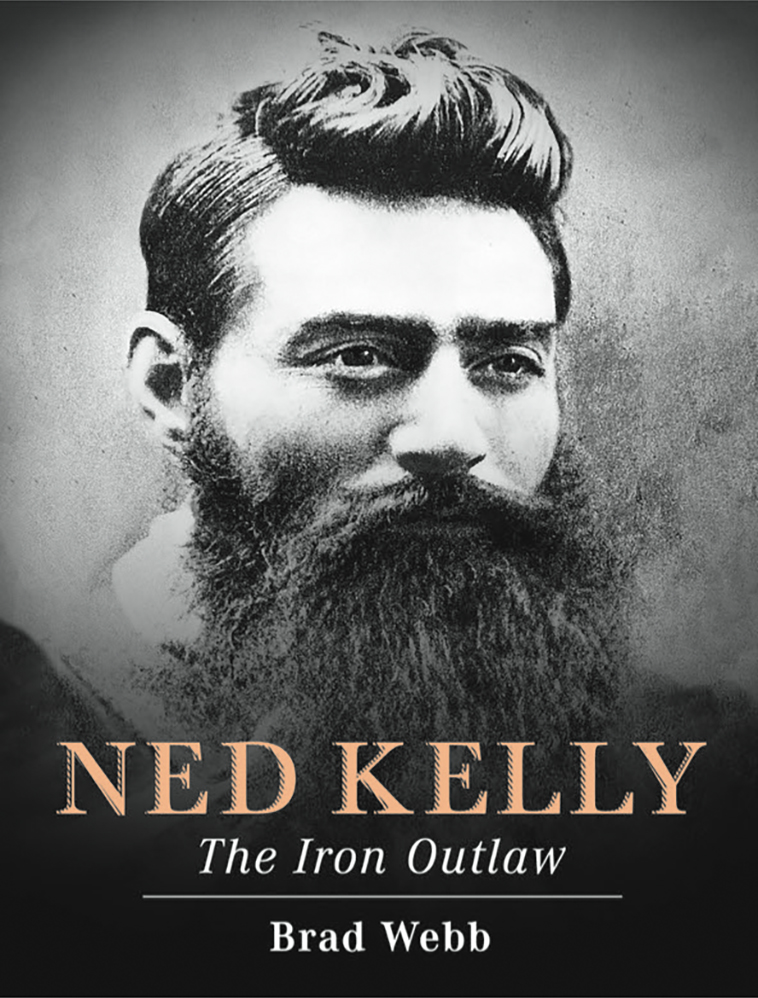 Ellen: a woman of spirit
First published August 2012 by Network Creative Services
Ellen: a woman of spirit is the extraordinary true story of a woman whose life journey is told in this long awaited book with sympathy, compassion and above all honesty. The reader will become immersed in the trials, tragedies and triumphs of this woman. The love of Ellen's life is taken from her at an early age; she is faced with the task of bringing up her children on her own. She will do anything for her children including spending time in gaol for protecting her teenage daughter from the unwanted advances of a police officer. No mother should experience the tragedies and losses that this woman endured throughout her long life; she outlived seven of her twelve children. The strength of the women of the Kelly family becomes clear as the reader shares many previously untold anecdotes of the life of the mother of Australia's most famous bushranger, Ned Kelly.
Noelene Allen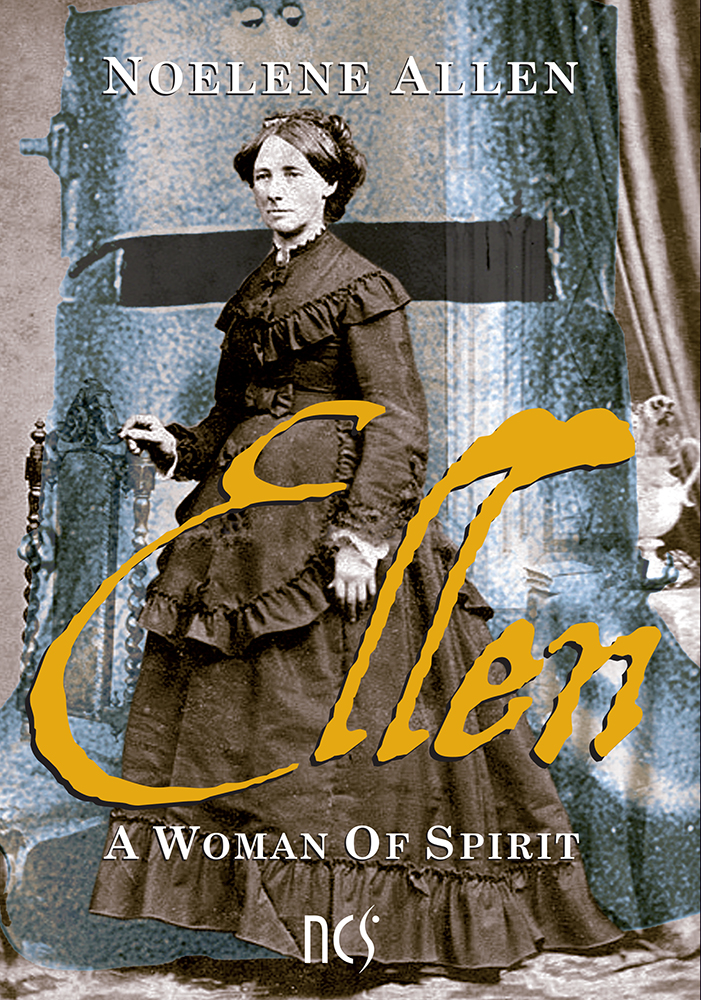 The True Story of Ned Kelly's Last Stand
First published 2012 by Allen and Unwin
And then a wail of agony cut through the darkness. It was young Johnny Jones. A police bullet had smashed through the wall and into frail Johnny, just above his hip. Mortally wounded, he screamed for help. 'Oh, mother! I am shot!'
from The True Story of Ned Kelly's Last Stand
If someone ever tries to tell you there's nothing more to be written about Ned Kelly then hand them The True Story of Ned Kelly's Last Stand: New revelations unearthed about the bloody siege at Glenrowan. Author Paul Terry has done an impressive job in not only retelling the story of the Glenrowan siege but also in his reconstruction on the deconstruction of the grounds in and around the Jones Inn. Terry covers the unearthing of the archaeological dig on the site in great detail and with a fair amount of flair making a seemingly staid subject into a fascinating adventure. The deployment of the QR Codes throughout the book is a clever use of technology on behalf of the publisher which allows the reader a direct link to photos and video taken from the dig site. So, despite a minor error (in quoting McDermott), I believe this book is an important addition to the extended Kelly library.
Paul Terry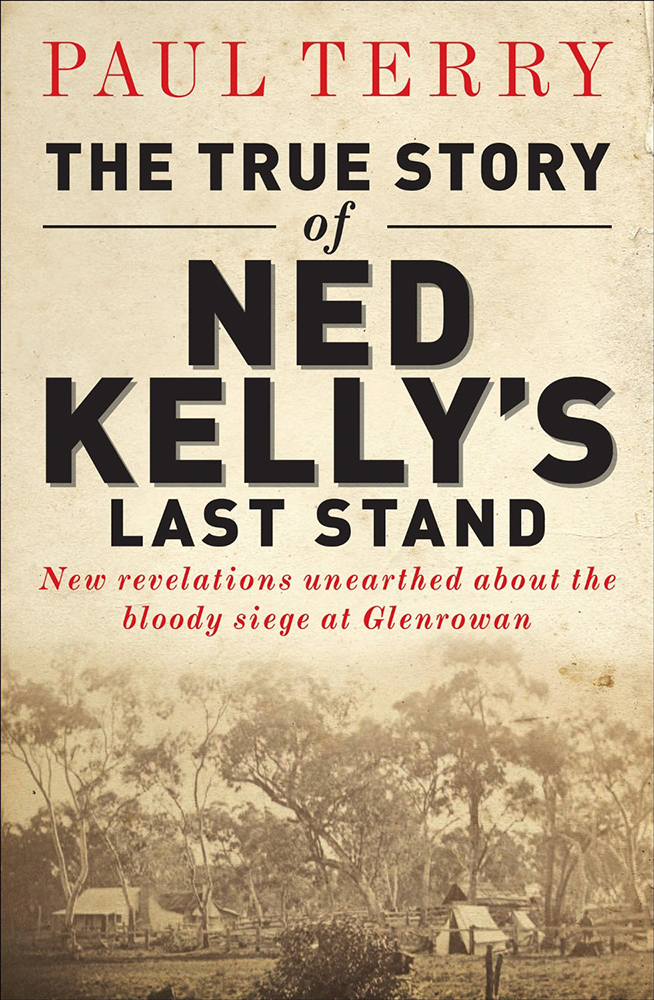 The Inner History of the Kelly Gang
First published 1929 by J Roy Stevens Printer
This book is the grand daddy of them all. The first true account of what took place in Kelly country all those years ago. J.J. Kenneally left no stone unturned in his quest for justice for Ned and his brothers in arms, and in turn, highlighted the real culprits to this whole bloody mess — the police and judiciary. It was a bold move in 1929 seeing many of the people involved were still very much alive. Later editions also sported letters of encouragement from Ned's brother Jim Kelly, and James Ryan.
J J Kenneally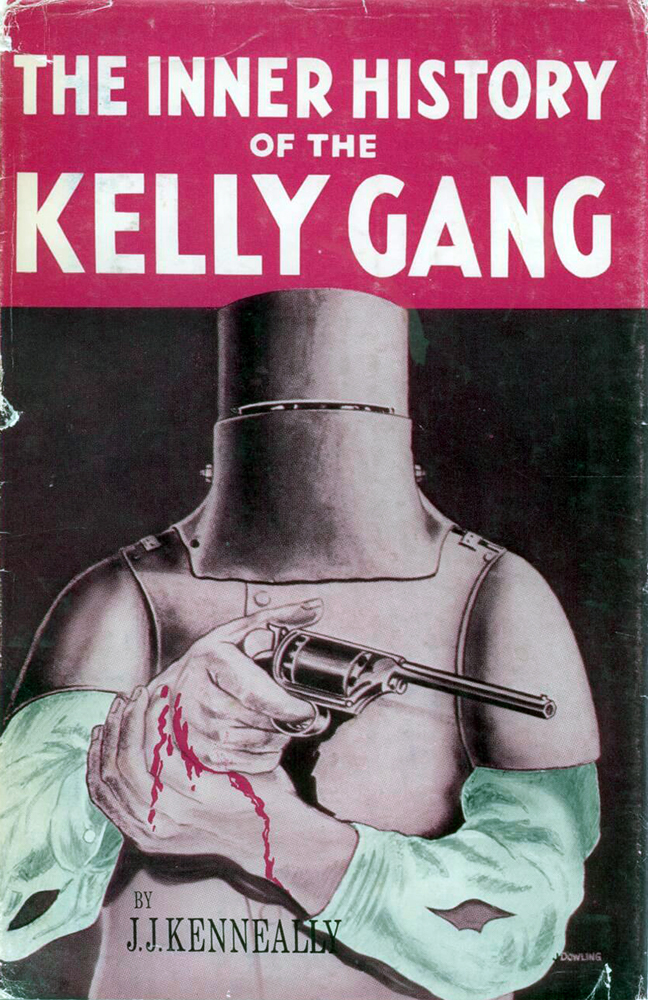 Ned: The Exhibition
First published 2002 by Network Creative Services
It's a summary of the story as told in the exhibition and it has been divided into 18 phases or chapters, with photographs and relics throughout. The Kelly story is a bit abstract and unreal for a lot of people, but this book and indeed the Exhibition follows Ned's life from landmark to landmark and it becomes touchable.
Ian Jones
Ned: The Exhibition Old Melbourne Gaol 2001 – 2002 documents the vast collection which was on display at the Old Melbourne Gaol during the ground breaking exhibition of 2001-2002. With text by Ian Jones and photos by Matthew Deller, the life of Edward Kelly, spread over eighteen chapters, reintroduces the legend of the Iron Outlaw to a new generation of Kelly enthusiasts.
Ian Jones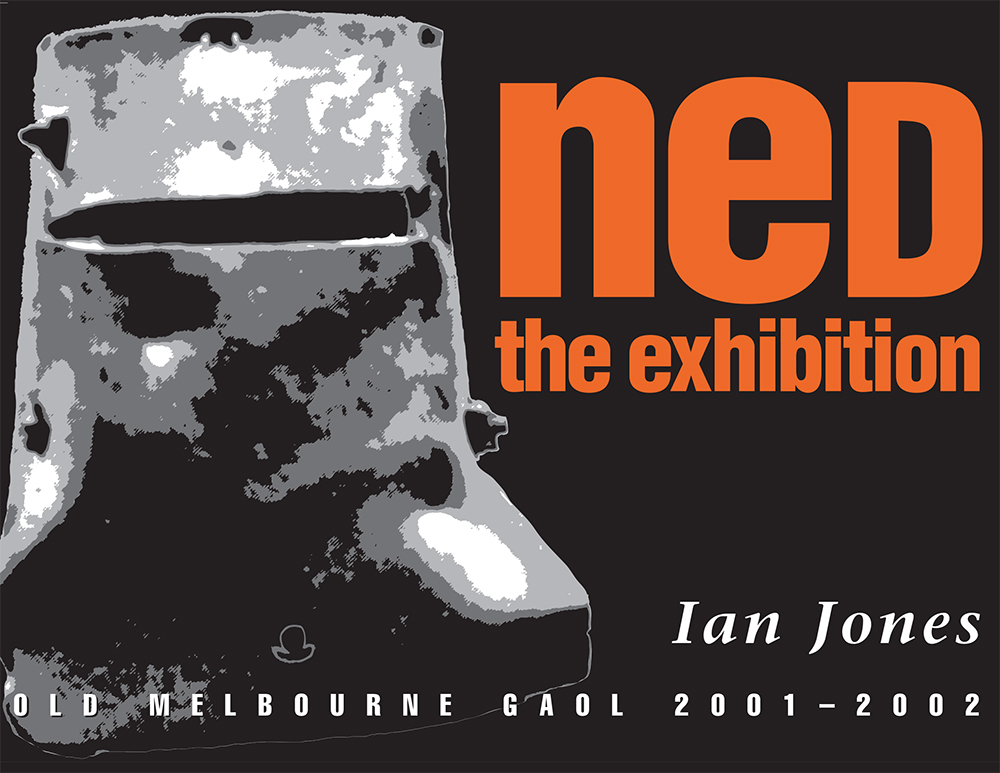 Ned Kelly: A Short Life
First published 1995
This edition 2008 by Hachette
Yes, another reprint of A Short Life! Now published by that international monolith Hachette Livre, the company seems to have done a 'hachette job' on the book. This version seems to be watered down somewhat, as it's missing some information from the previous Lothian editions which saw Ian Jones continue to expand on his research with additional passages and new chapters. While the wishy-washy cover may not be as endearing as earlier editions if you do find an urge to buy this version then grab a hardcover copy. Having said that, Ned Kelly: A Short Life is a modern day benchmark in terms of Kelly history and fact. Nearly twice as large as the original 1995 edition, and with double the images, A Short Life is another Ian Jones must-have for your book collection. 
Ian Jones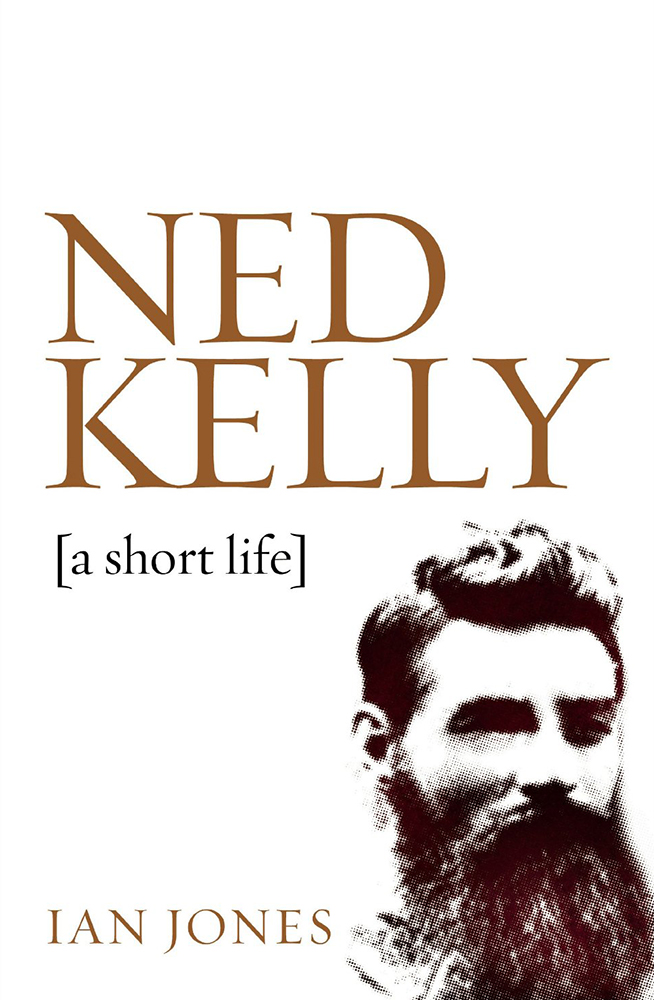 Ned Kelly: The Authentic Illustrated History
First published 1984
This edition 2001 by Hardie Grant
For any true Kelly historian, the original 1984 edition is solid gold. It presents the facts without taking sides and has one of the most comprehensive collections of illustrations of any Kelly book. Together with its exhaustive index, bibliography and footnotes, it is a must for any Kelly research. While copies of the 1984 edition are now unfortunately hard to find the 2001 edition proves it is possible to improve on the 1984 publication. The book features new photos, corrects previous errors, adds a more in-depth commentary and supports a total redesign. Well worth a buy even if you are fortunate enough to hold a copy of the first print.
Keith McMenomy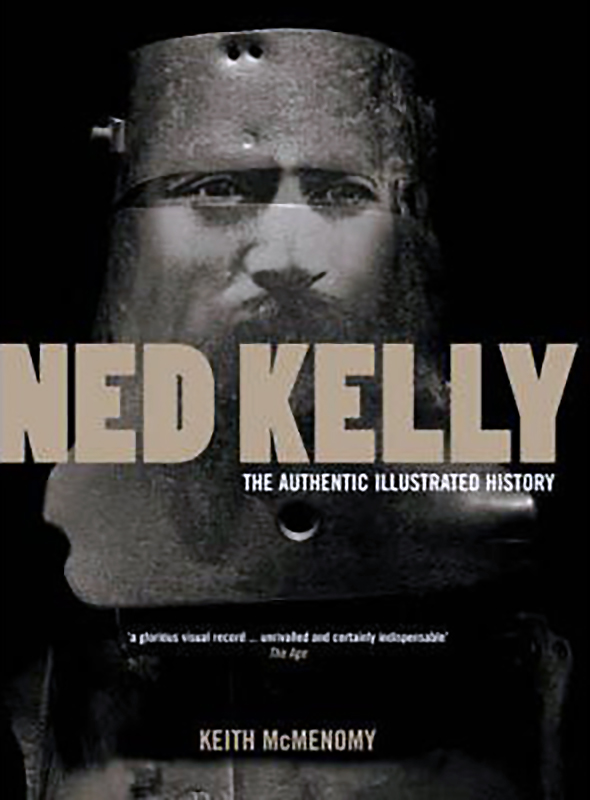 Saint Ned
First published 1980 by Methuen of Australia
Written by Keith Dunstan, founder of such illustrious institutions as The Anti Football League and The National Distrust, Saint Ned: The story of the near sanctification of an Australian outlaw takes a more light hearted look at the life and times of Ned Kelly. It focuses on the growth of the Kelly legend as well as the burgeoning Kellyana industry. Although published in 1980 it still raises some interesting questions about Australia and it's fascination with the underdog – and our ability to make a buck out of it in the process.
Keith Dunstan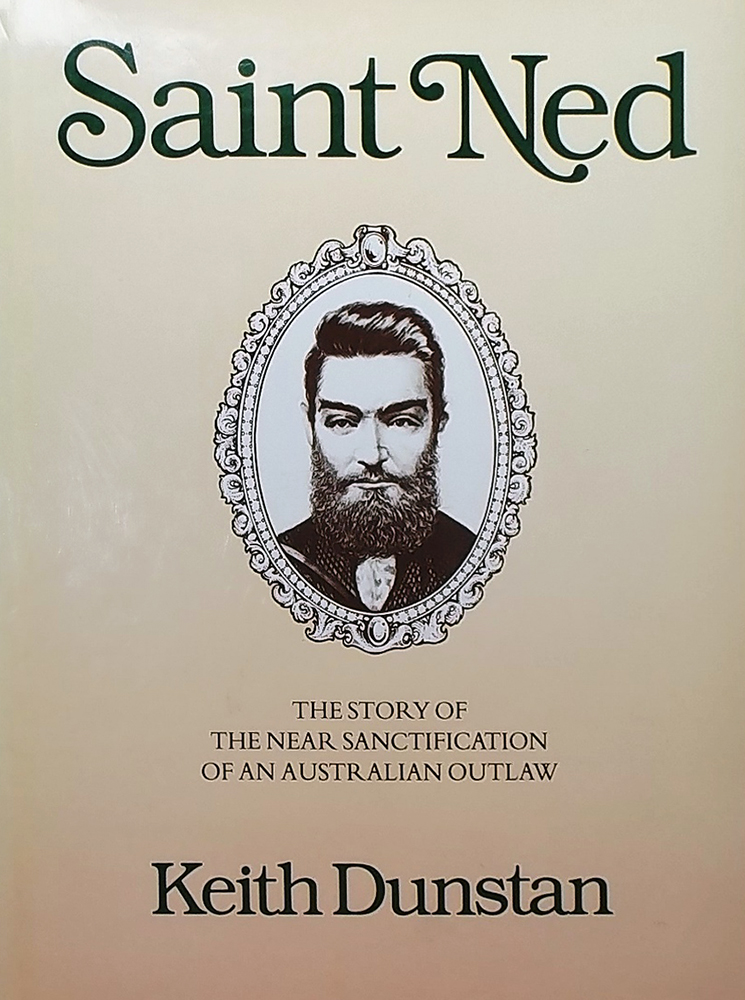 The Fatal Friendship
First published 1992
This edition 2003 by Lothian Books
Building on an already solid performance from his 1992 edition, Ian Jones, in this updated and fully revised biography The Fatal Friendship: Ned Kelly, Aaron Sherritt and Joe Byrne continues to entice the reader through a deliverance of emotion and intrigue as he covers the amazingly intricate world of Byrne, Sherritt and Kelly. Part detective, part drama, this piece of work is a must have.
Ian Jones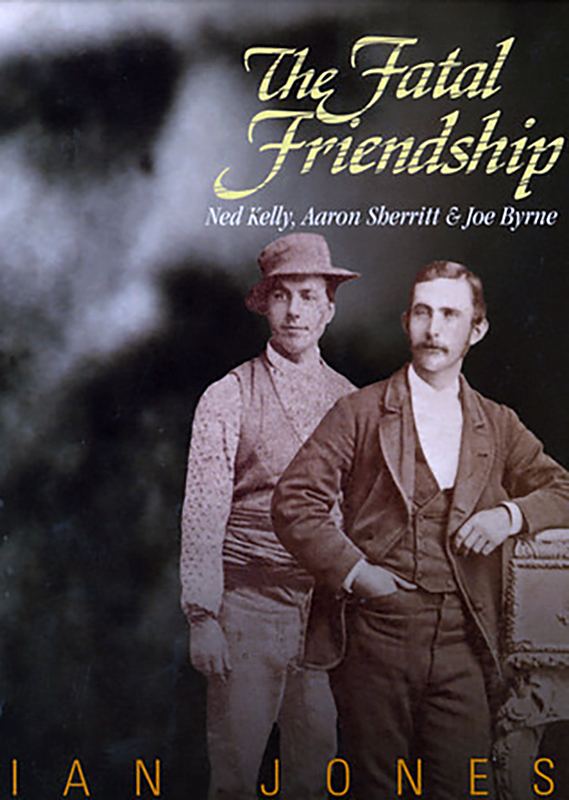 Matthew Brady & Ned Kelly
First published 2007 by Arcadia
…The signal was given, the drop fell. So ended a bushranging career that had spanned the best part of two years. This man had left his mark, becoming a legend in his own time; a notorious bushranger who bailed up towns, with huge bounties placed on his head. Renowned for his support of the underdog, he had won a ground swell of supporters. Women who fell into his hands as captives had spoken of his chivalrous conduct, but if he had ever experienced the intimate love of a woman in his life, it is unknown. A traitor had been executed two days before he fought his last stand, where bullet wounds to the leg led to his final capture, trial, and sentence to hang. This hanging took place in 1826 in Hobart Town…
Published by Australian Scholarly Publishing, Matthew Brady & Ned Kelly: Kindred Spirits, Kindred Lives cleverly intertwines the lives of these two men who shared far more than their Irish ancestry.
Paul Williams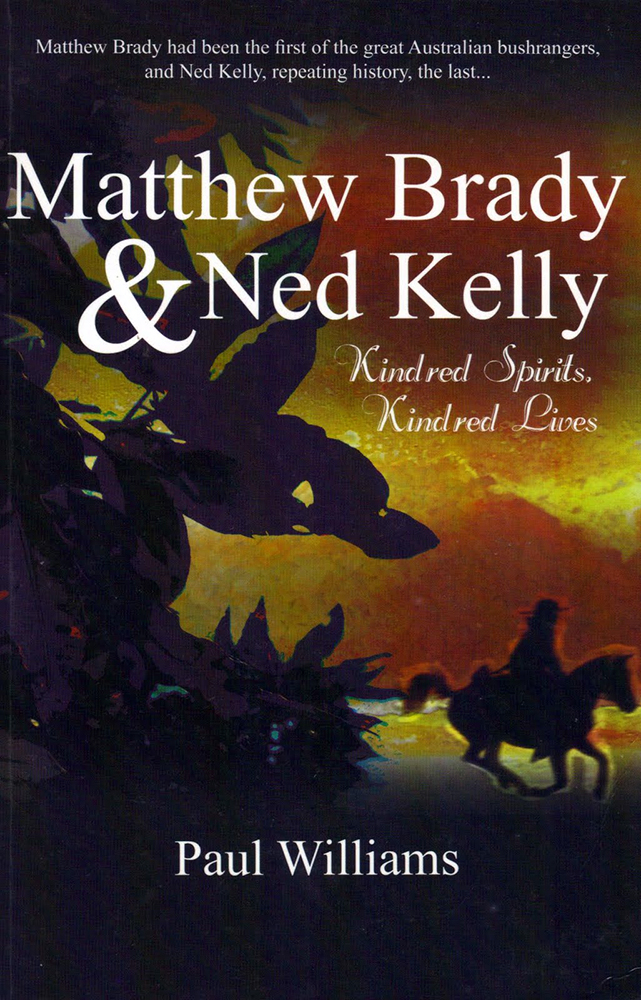 Wanted: The Outlaw Lives of Billy the Kid and Ned Kelly
First published 2015 by Yale University Press
The oft-told exploits of Billy the Kid and Ned Kelly survive vividly in the public imaginations of their respective countries, the United States and Australia. But the outlaws' reputations are so weighted with legend and myth, the truth of their lives has become obscure. In this adventure-filled double biography, Robert M. Utley reveals the true stories and parallel courses of the two notorious contemporaries who lived by the gun, were executed while still in their twenties, and remain compelling figures in the folklore of their homelands. Robert M. Utley draws sharp, insightful portraits of first Billy, then Ned, and compares their lives and legacies. He recounts the adventurous exploits of Billy, a fun-loving, expert sharpshooter who excelled at escape and lived on the run after indictment for his role in the Lincoln Country War. Bush-raised Ned, the son of an Irish convict father and Irish mother, was a man whose outrage against British colonial authority inspired him to steal cattle and sheep, kill three policemen, and rob banks for the benefit of impoverished Irish sympathizers. Utley recounts the exploits of the notorious young men with accuracy and appeal. He discovers their profound differences, despite their shared fates, and illuminates the worlds in which they lived on opposite sides of the globe.
Robert Utley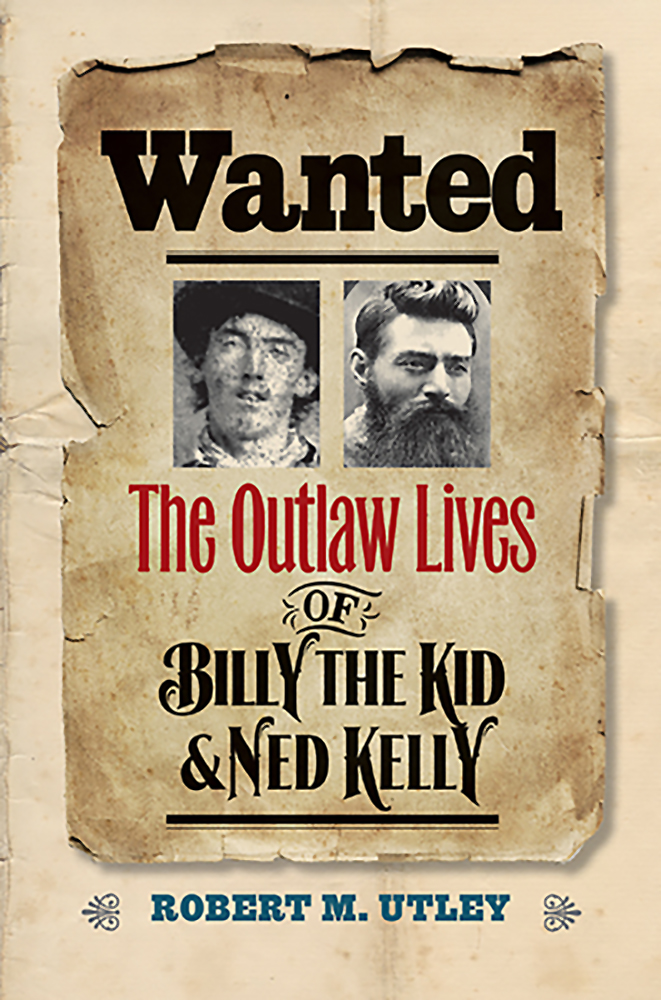 I Was At The Kelly Gang Round-Up
First published 2007 by Network Creative Services
Read for the first time the definitive account of the men, women and children held hostage during The Siege of Glenrowan. For more than twenty-four hours, Ned Kelly and his Gang detained over sixty people during their fight for independence. Who were they? Why were they there and what happened afterwards? Their stories have been untold until now.
Judith Douthie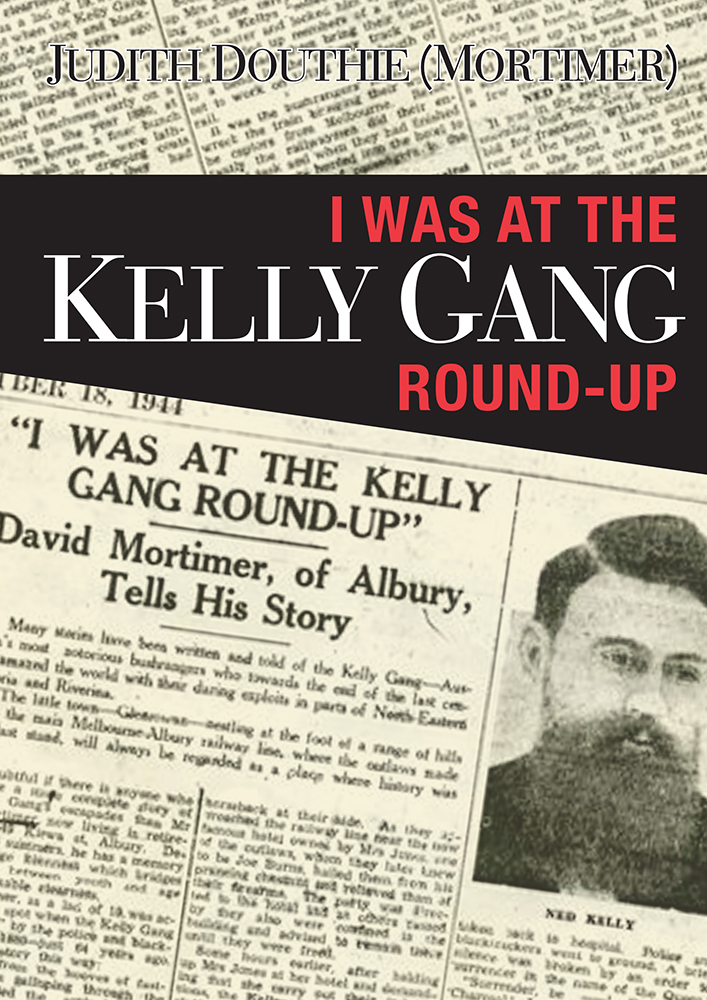 I Am Ned Kelly
First published 1980 by Penguin Books
I regard Professor John Molony's book I Am Ned Kelly as one of the most accurately researched accounts of the Kelly outbreak. Along with Max Brown's Australian Son, Molony's book shines as one of the best reads on Ned. If you are thinking of setting up a Kelly library then this book would have to be high on your list of must haves. In 2001 the book was reprinted with new illustrations and a new title Ned Kelly.
John Molony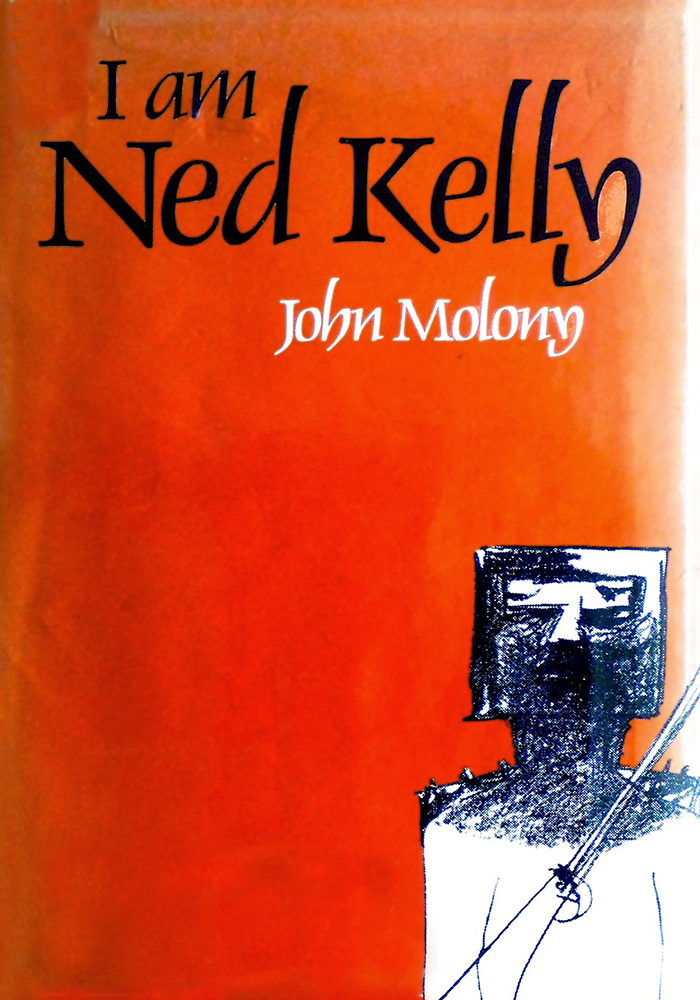 Ned Kelly: After a century of acrimony
First published 1980 by Landsdowne Press
Contains an incredible collection of source documents relating to Ned Kelly. After a thought-provoking introduction, the authors reprint the Second Progress Report from the 1881 Royal Commission (which, by the way, presents an excellent contemporary history of the Kelly Gang). Following this are nine letters either written or dictated by Kelly, including his three condemned cell letters. The collection of Kelly songs and stories are so extensive that this chapter could be a book on its own. At the time of it's publication, it came with the most comprehensive bibliography, cinematography and discography.
J Meredith & B Scott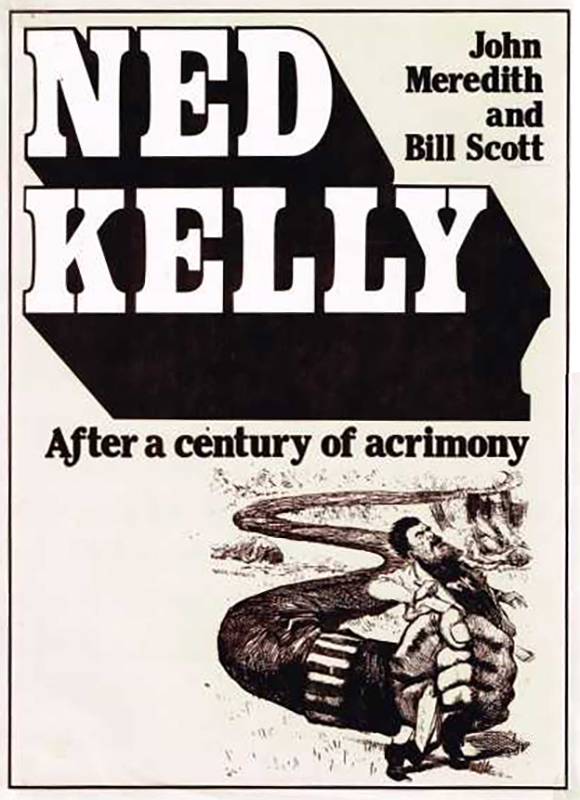 Ned Kelly's Last Days
First published 2005 by Allen & Unwin
Alex Castle, an Emeritus Professor of Law, taught at Adelaide University for over thirty years. With his book Ned Kelly's Last Days: Setting the record straight on the death of an outlaw near completion, he died in December 2003. It was finished by his daughter Jennifer and released in July 2005. The book offers an important insight into a part of the Kelly Story least dealt with — the 137 days from Ned's capture at Glenrowan, his trial to his eventual hanging. It shows a corrupt Government, an equally corrupt Police Force and the relentless propaganda from a press baying for Ned's death, sooner rather than later. Castles argues the Felons Apprehension Act had expired prior to the events at Glenrowan and that Ned could no longer be treated as an outlaw.
This is not a new revelation. In 1929, author J.J Kenneally in The Inner History of the Kelly Gang discovered this loophole and reported his findings to family members. Castles' book relies heavily on the unpublished memoirs of Thomas McIntyre, the surviving member of the police party at Stringybark Creek. McIntyre, who was self obsessed with saving face, changed his sworn statements on Stringybark so many times he actually perjured himself. Castle, however, fails to mention this in his findings.
The book also rehashes the claim that Ned Kelly's 'fiancee' was his infatuated first cousin — the just fifteen year old Kate Lloyd (he cites the hearsay of a publican's wife's conversation to a Melbourne reporter!). Within my family's oral tradition this relationship is untrue. Simply put, the union between Ned and his first cousin did not occur. This book is neither pro Police nor pro Kelly. However, Castles does portray Ned's eldest sister Maggie as a true heroine — someone who tried in vain to help her condemned brother while keeping her family together against enormous odds (despite the numerous obstacles the Government and Police put in her way). I'm glad the book reflects this chapter in the Kelly story.
Castles does highlight the atrocious way the Siege was handled from the quick disposal of the corpses (of Steve Hart, Dan Kelly, and Joe Byrne), to Ned's trial and his subsequent hanging (and the blatant cover-ups by the Police and Government to save their own careers). However, his book is also full of numerous factual errors (including Castles claim Ned was twenty-eight years of age when he walked the scaffold). Some of his assumptions leave me shaking my head, including the claim by Castles own Grandfather George, in which he states that Sergeant Steele was a 'solid and respectable character'. Obviously George met the Sergeant after he had given up shooting at women and children (see our Villains section).
Paul O'Keefe
Verdict: Unfortunately, Castles book goes only a very short way in setting the record straight.
Alex C Castles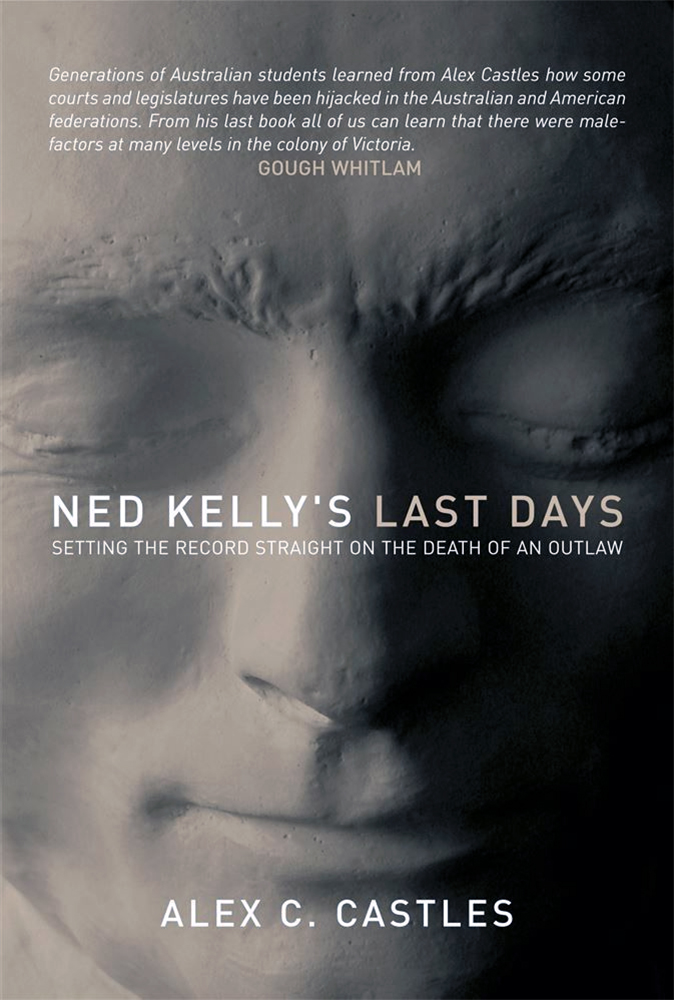 Tell 'Em I Died Game: The legend of Ned Kelly
First published 2002 by Hyland House
Originally published in 1980, under the title Ned Kelly in Popular Tradition, author Graham Seal has added to this literary effort by taking a contemporary look at the continued growth of the Kelly legend. While a number of authors have previously attempted to explain the fascination the world holds for Ned, Seal adds a new dimension to the argument, although he hasn't gone far enough to back up some of his claims. What evidence – besides hearsay – does he have to prove Ned's cousin Tom Lloyd had his own set of armour? I've heard these rumours too but without solid historical facts you would be hard pressed to put the claims in writing. I have one other criticism and it's leveled at the publisher, Hyland House. You've done the author an injustice through the use of poor design — from the cheap looking cover to the rushed typographical layout — elements which hardly warrant the book's recommended retail price.
Graham Seal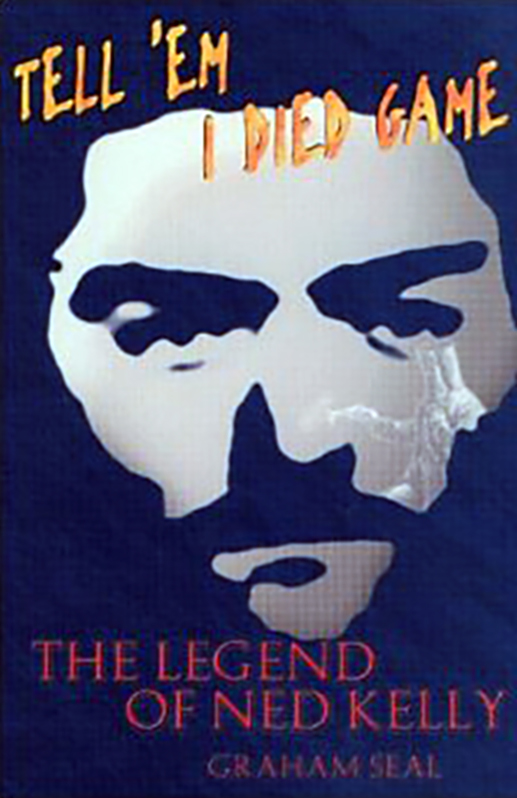 The True History of the Australian Bushrangers
First published 1911 by Anderson, Sydney
Originally self published in the early 1900s The True History of the Australian Bushrangers by Jack Bradshaw remained in print up to 1930. While the contents sometimes feels patched together, making it appear to have been written at different times, it does contain a fair amount of local detail, along with numerous black and white photos and drawings. Bradshaw covers the background and the adventures of outlaws such as Ben Hall, Frank Gardiner, Dan Morgan, The Clarke Brothers, Peisley, Johnny Dunn, Ned Kelly and others. Bradshaw uses extremely colourful language and seemingly gets angry with his contemporary writers such as Boldrewood and Pratt, accusing them of falsifying events, dates, etc. However, research shows that some of Bradshaw's details are in also questionable.
Jack Bradshaw was born in Dublin (circa 1846) and arrived in Melbourne in 1860. He started working as a shearer on farms and as a station hand, however, he then turned to a life of crime – primarily the hold up of the Quirindi Bank in 1880 together with 'Lovely Riley' (so called because of his ugliness). They got away with £2000 and some time after Riley's arrest, Bradshaw was arrested and did eight years of his twelve year sentence. Around 1888 he was again arrested for stealing mail from mailbags and this time was jailed for around twelve years. He first wrote The Last of the Bushrangers, and later travelled around Victoria and New South Wales giving lectures on bushranging and life in prison. While not an educated man, Jack's legacy is the colourful jargon and sayings of that time and place. He was still selling this book, door-to-door, when he was 85 years of age.
Jack Bradshaw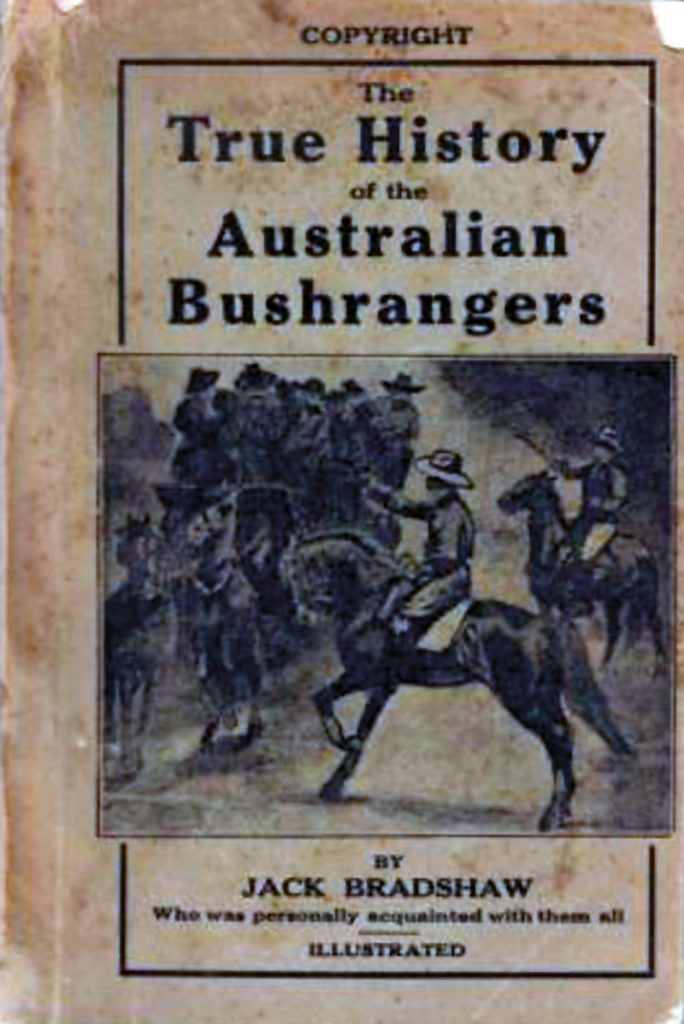 Ned Kelly: The Story Of Australia's Most Notorious Legend
First published 2015 by Random House Australia
Aided by expert research by our very own Paul O'Keefe, prolific Australian author Peter FitzSimons brings Ned Kelly and his gang exuberantly to life, weighing in on all of the myths, legends, and controversies generated by this compelling and divisive Irish-Australian rebel. As it states in the bio, 'Love him or loathe him, Ned Kelly has been at the heart of Australian culture and identity since he and his gang were tracked down in bushland by the Victorian police and came out fighting, dressed in bulletproof armour made from farmers' ploughs. Historians still disagree over virtually every aspect of the eldest Kelly boy's brushes with the law. Did he or did he not shoot Constable Fitzpatrick at their family home? Was he a lawless thug or a noble Robin Hood, a remorseless killer or a crusader against oppression and discrimination? Was he even a political revolutionary, an Australian republican channeling the spirit of Eureka?' Peter FitzSimons, bestselling chronicler of many of the great defining moments and people of Australian history (usually an annual event – just in time for Christmas), retells this most iconic of all Australian stories in one massive 840+ page publication (and that's the hardcover edition). A history that includes Kelly's early days in Beveridge, Victoria, in the mid-1800s, to the Felons' Apprehension Act, which made it possible for anyone to shoot the Kelly gang, to Ned's appearance in his now-famous armor, prompting the shocked and bewildered police to exclaim 'He is the devil!'
Peter FitzSimons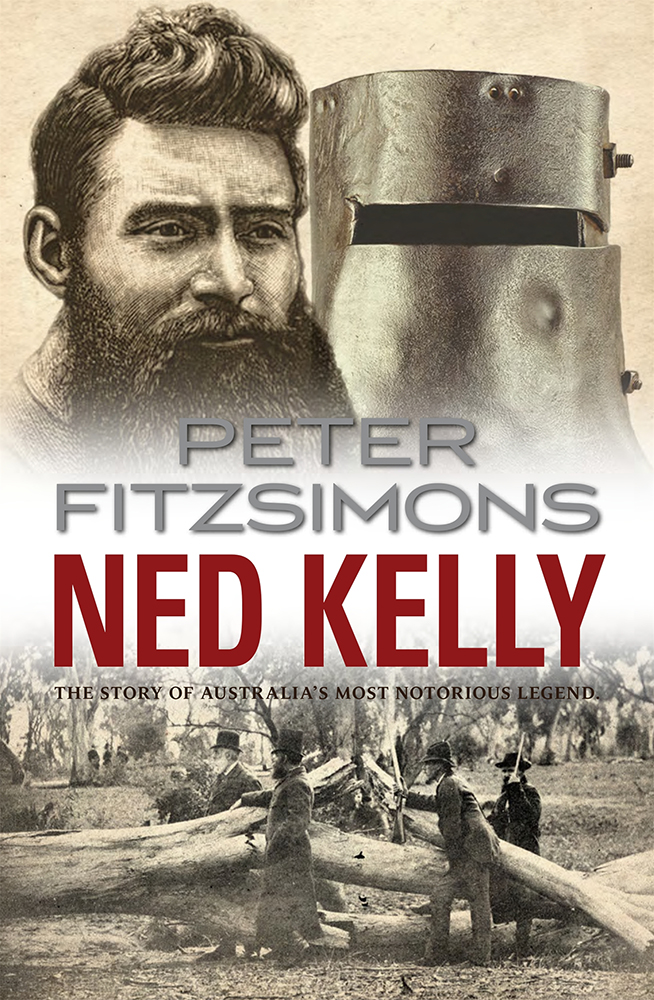 Kelly Country Sketch Book
First published 1972 by Rigby
By comparing the sketches in this book with what's left standing at Kelly Road, you can really see the deterioration in the homestead at Beveridge. There are some great illustrations here as well as an informative and highly enjoyable read about the environs of North East Victoria better known as Kelly Country. The drawings cover a wide range of Kelly haunts from Avenel to the Old Melbourne Gaol. Most of the buildings featured are now gone but if you plan on trekking through the high country to visit any Kelly site then take this book with you, it's a valuable reference.
B Carroll & J Montgomery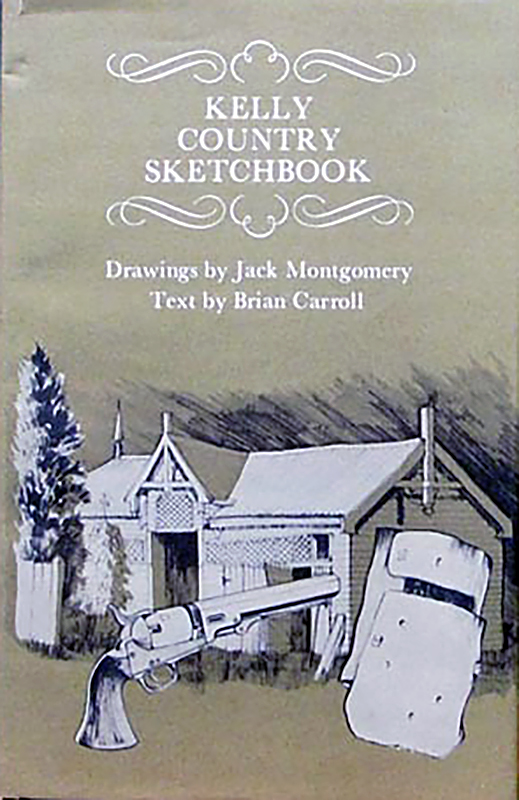 The Kelly Gang Unmasked
First published 2012 by Oxford University Press
After reading this book all I can say is – now I know why the Irish hate the English … Seriously though, this book is THE most biased/pro police book I have read yet. It is very obvious that the author hates Ned from the start, and he just talks down about him at every turn. He and his book come across as nothing but pompous, arrogant, hypocritical, unfair and ignorant. The authors views are EXTREMELY one sided. He continually complains about pro Kelly authors claiming they show only one side of the story, yet he turns around and does exactly that, only for the police. Any favourable comments and descriptions of Ned are just dismissed as 'absurd' as are any complaints against the police. Criticism of Fitzpatrick is called 'distinctly unfair', of McIntyre's perjury it's 'incorrectly claimed' the author saying McIntyre's evidence is 'strikingly honest', mistreatment of the Kelly girls by Insp. Brooke Smith is 'easy to disprove' and the police involved in general were 'skillful'. While he describes Ned and the boys as 'ne'er do wells' among other things. At every opportunity he tries to belittle Ned and make fun of him, calling him – stupid, racist, unpopular, an astonishing liar, just a basic bushman, his letters as blathering and long winded, etc, etc, etc. He says Aaron's description of Ned's hardiness and toughness is 'sheer nonsense'.
Ned's self defence claim at Stringybark is called 'nonsensical', author says all four boys were heavily armed at Stringybark and the police were 'riddled with bullets'. Also that the Kelly Legend is just 'wishful thinking'. He straight out believes anything the police claim against Ned, including Fitzpatrick, as he says several times that Ned shot Fitzpatrick, he also hints that Ned probably killed George King, and that Ned betrayed Harry Power, calling it 'chilling'. Ned was also informed on by 'friends and relatives' and that Ned often suspected Joe and Steve of informing! He even says Ned 'spat at the crowd' in Beechworth. Yet with the police certain incidents are conveniently left out, like the whole Hall incident and Steele's behaviour at Glenrowan. The author never questions or doubts the police and doesn't offer any views from the Kelly side. He even questions the fact that Ned and his mother were close?!? The author also believes there was no Republic Declaration (saying Ned wouldn't be smart enough to understand something like that) or armed sympathisers at Glenrowan. This book is amazingly biased to say the least. The best thing about it is a letter dictated by Ned to a gaol warden in September 1880 asking Standish about two saddles that were taken at Glenrowan to be returned either to Ned or Maggie.
Lisa Sherriff
Verdict: Save your money for something better!
IronOutlawDotCom agrees 100% with Lisa's review. MacFarlane's book is a crock-o-shite. How Oxford University Press allowed this rubbish to be published is beyond us. It's an absolute joke of a book…
Ian Macfarlane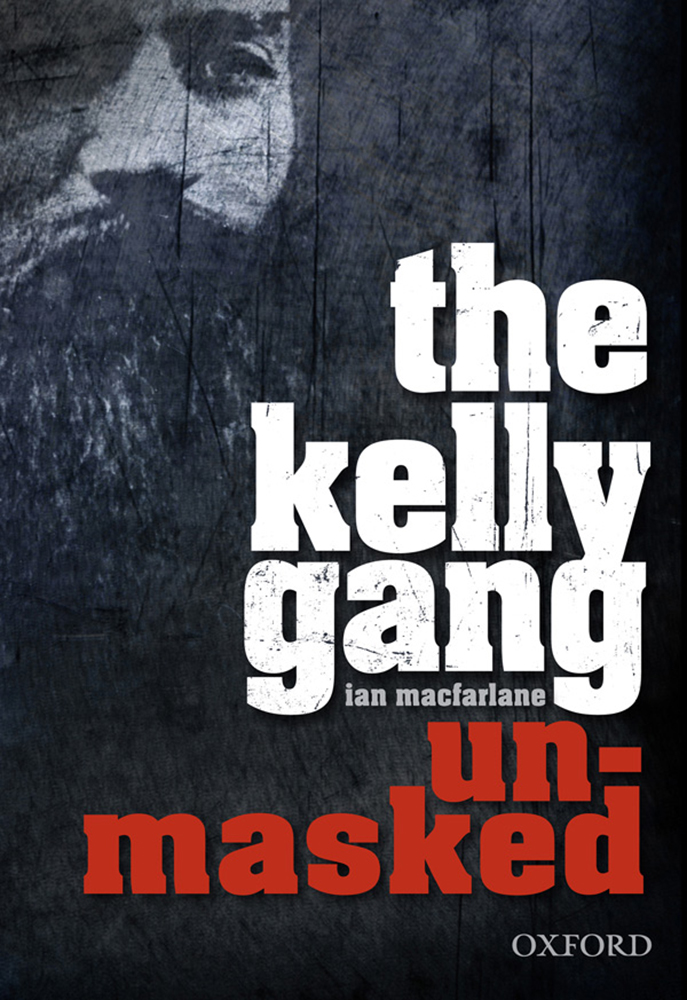 Ned Kelly
First published 1970 by Anthony Blond Ltd
If you can ignore the kitschy title on the back cover 'Hero or Gangster?' this book is a reasonably good read. Written primarily for a British public, the author presents the Kelly story in a surprisingly well rounded way. Included in the narrative is a collection of bush ballads, a detailed list of reported Kelly sightings, all the major Kelly letters, excerpts from the trial transcript, and a number of contemporary documents.
Charles Osborne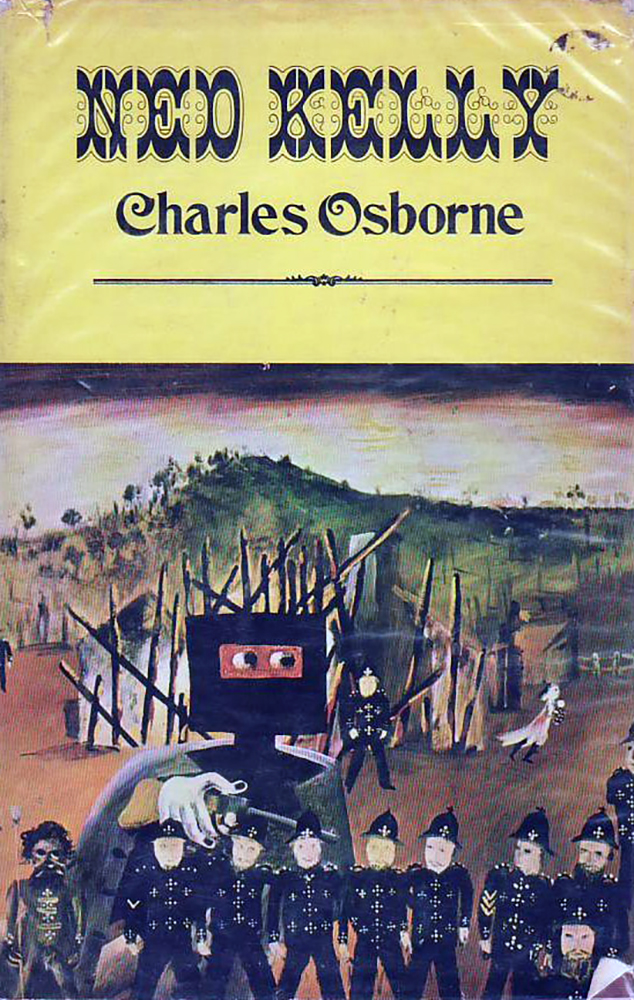 Ned Kelly The Larrikin Years
First published 1990 by Charquin Hill Publishing
Hard to believe Ned Kelly The Larrikin Years: The rise and fall of the Prince of Larrikins was written by the same author who wrote the 1997 shocker Kelly and Ned (see our fiction section). Whatever happened between The Larrikin Years in 1990 and when he wrote that rubbish in 1997 is anyone's guess. The fact of the matter is that he should have steered clear of fiction writing, as this book is quite an enjoyable read. After all, it states just as much on the back cover 'His new book challenges conventional thinking about the Kelly Outbreak'. Buy it, read it, enjoy it!
Graham Jones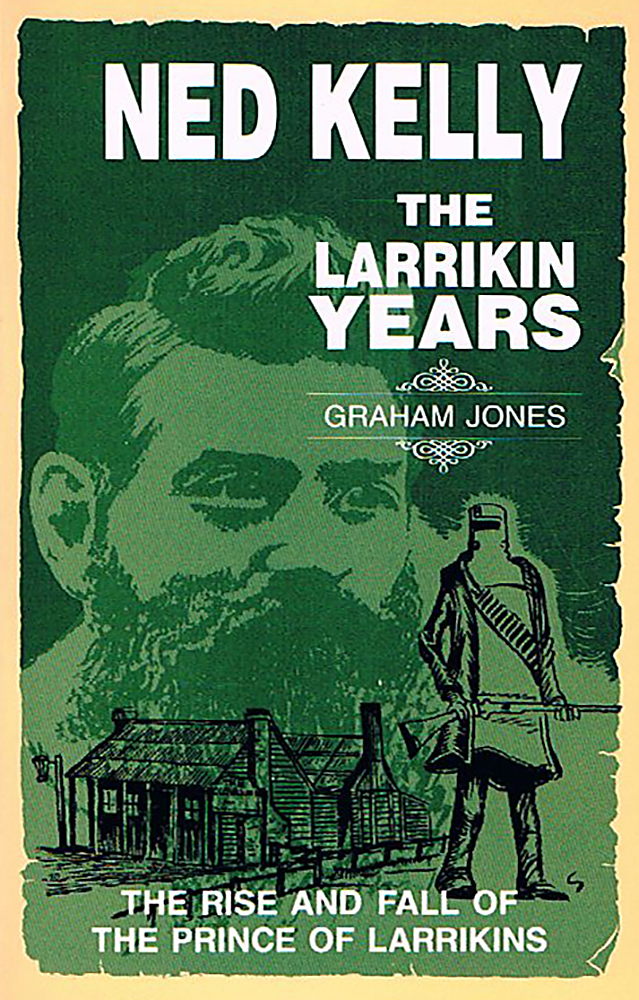 The Kelly Hunters
First published 1954 by Angus and Robertson
With illustrations by R. Malcolm Warner, Frank Clune sets out to tell the story his way and succeeds quite well. Although very similar to his 1972 book Ned Kelly, The Kelly Hunters is still worth putting up on your bookshelf — but be warned, a hardcover in mint condition will set you back a few dollars.
Frank Clune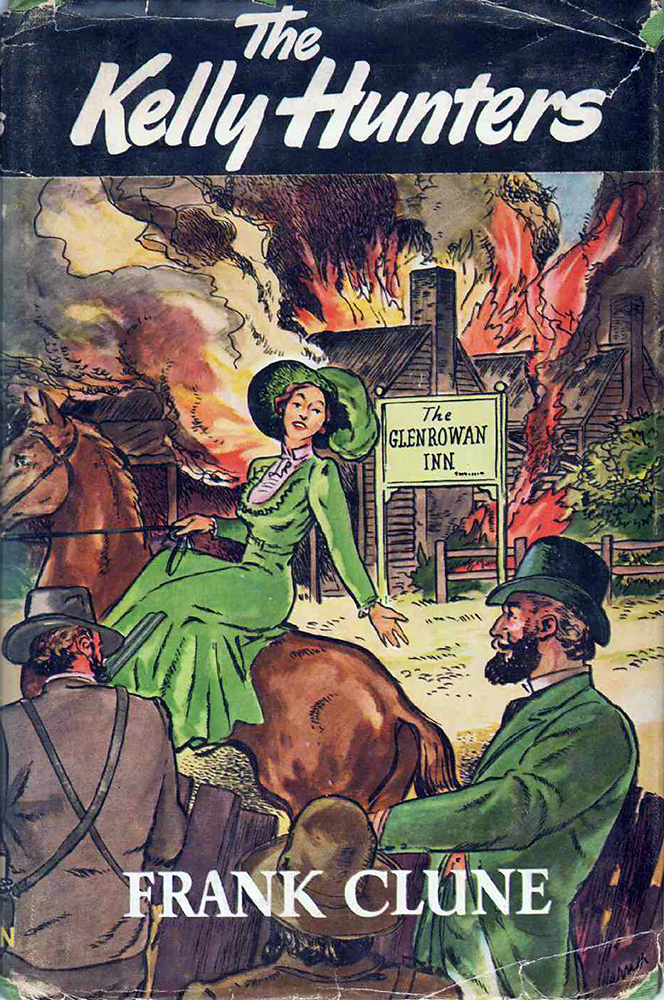 Ned And The Others
First published 1995 by Glen Rowen Cobb & Co
For years I had avoided buying this book due to the nonexistent cover design. However, I thought I should do Gary a favour and read it. Gary and Dagmar aren't frightened in presenting ideas that other historians may scorn at. Certain points in the book raise some unanswered questions. Overall I would recommend it to anyone studying the Kelly phenomena, as it is sure to open up a whole new can of worms.
D Balcarek & G Dean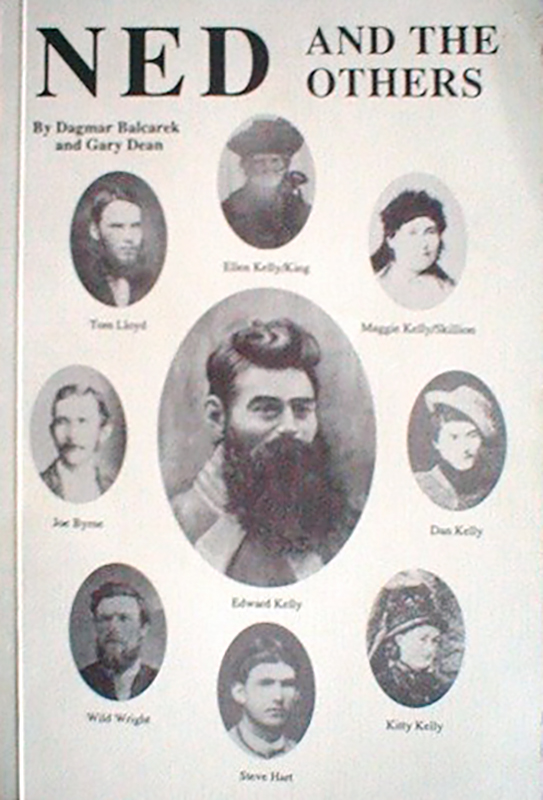 Kelly Country: A Photographic Journey
Photography by Brendon Kelson 
First published 2001 by University of Queensland Press
McQuilton has waved his pen over this pictorial publication with great aplomb. The book is an exciting read although most of the pictures suffer from a lack of tones, making them appear too dark and muddy. This publication should adorn your library if you are a Kelly fan, however, if you're into collecting great photographic essays, look elsewhere. The printer, University of Queensland Press, should be ashamed of themselves ruining a potentially great publication with such poorly executed prepress work.
John McQuilton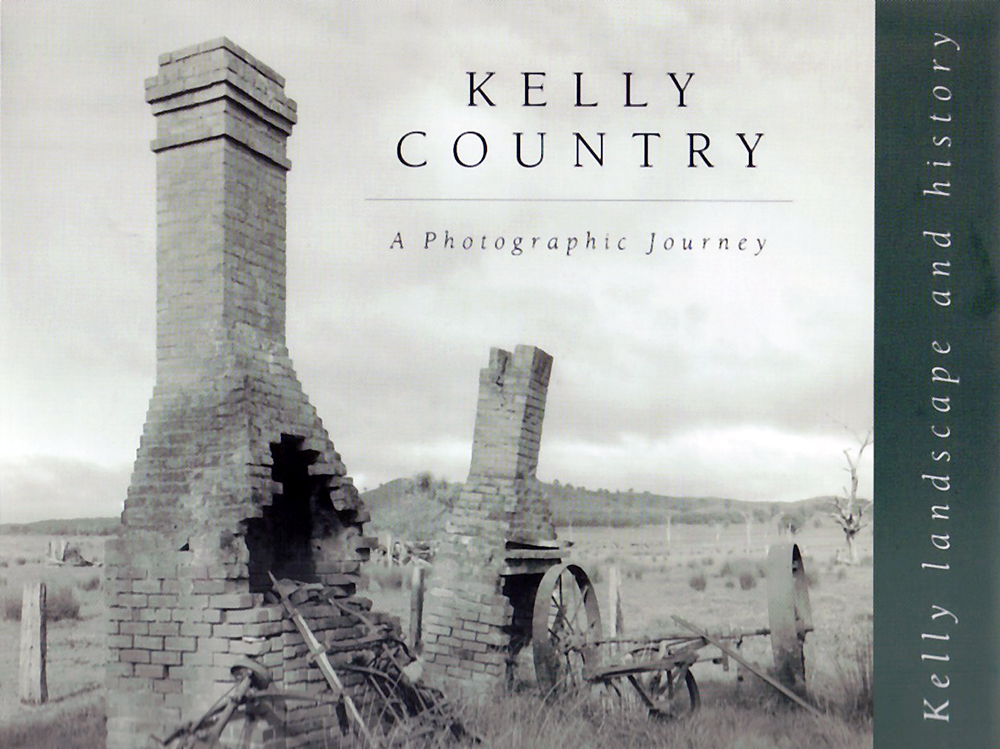 Ned Kelly
First published 1972 by Rigby
This is another major Ned Kelly biography which helped build the wave of support that has seen Ned become the folklore legend he is today. As it says on the back cover 'Frank Clune maintains that Ned Kelly was just as game as legend has made him out to be, and that he was a man wronged beyond all endurance.'
Frank Clune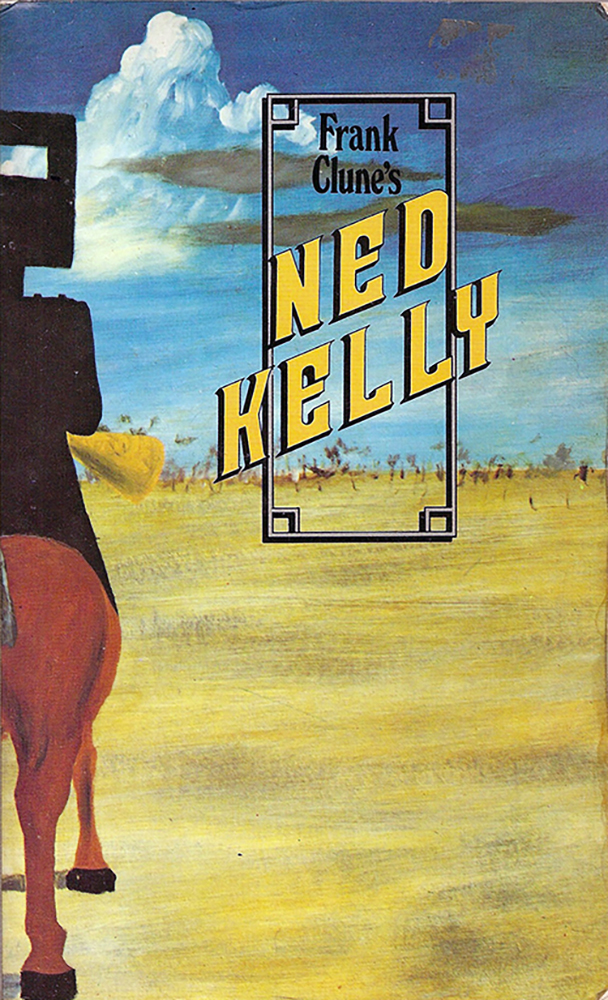 Ned Kelly: Man And Myth
First published by Cassell Australia
A worthwhile book to add to your Ned Kelly collection. While out of print there are a few available online and through second hand bookshops. Essays range from Professor Manning Clarke to Ian Jones with writers attempting to uncover and dissect the 'Man and Myth', some of these articles were successful and others missed the mark completely.
Colin Cave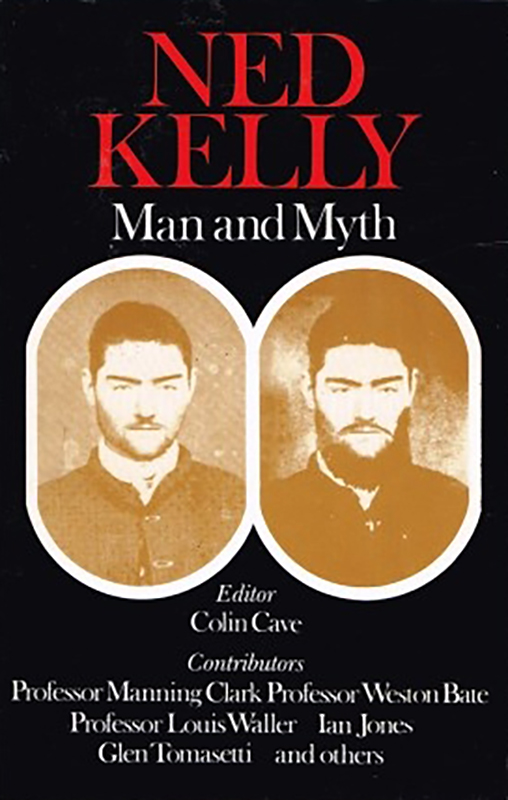 Ned Kelly
First published 1970 by F W Cheshire Publishing
This is yet another book to add to the ever mounting collection on Ned Kelly. I only bought the novel to try and bolster my library on Ned as my collection pales into insignificance compared to Mr Brian McDonald, but I am making a come back. Anyway, back to the book. It isn't a bad read considering I hadn't heard of it before. The photos are a bit scary as they are colour shots taken from that ordinary 1970 movie starring Mick Jagger but if you come across this book at a good price, don't pass it up.
George Farwell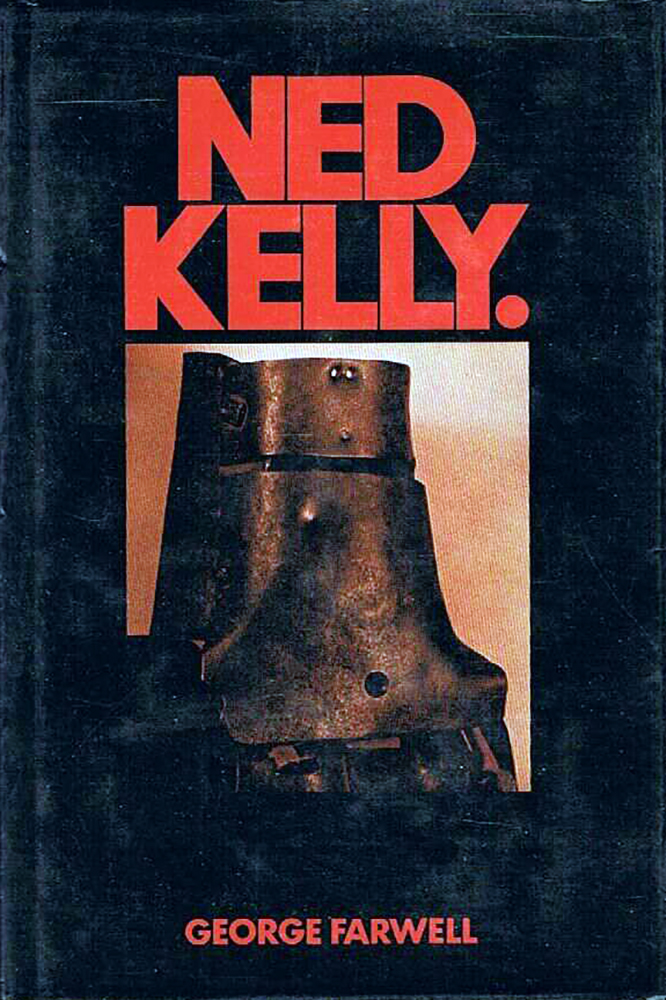 The Last of the Bushrangers
First published 1894
This edition 2006 by Naval and Military Press
The Last of the Bushrangers: An account of the capture of the Kelly Gang is a straight reprint from the original ramblings of Francis Augustus Hare, this paperback stretches over 326 pages and includes the eight illustrations from the 1894 edition. This book should be in the fiction section. It is a flight of fancy with Inspector Hare naturally cast as the hero. It was probably written as an attempt to redeem his actions during the Kelly outbreak and to refute the findings of the 1881 Royal Commission into the Victorian Police Force which, rightly so, painted Hare in a most unfavourable light. Still, as a piece of Kelly history it is a 'valuable' investment. Of all the books deserving of a reprint this one ranks with the least of them. Bring back J.J. Kenneally's masterpiece I say…
Francis Augustus Hare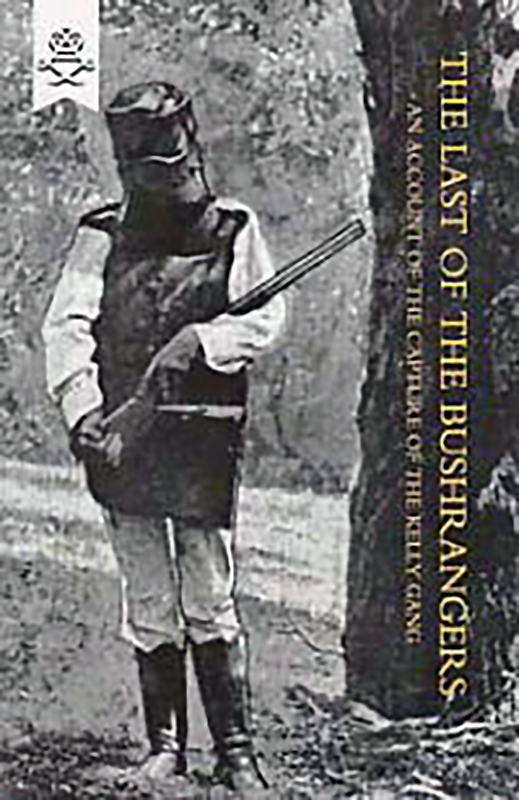 The Kelly Gang
First published 1975 by Summit Books
If you are searching for a fantastic piece of Kelly based literature then keep searching. It appears the 'editor' Nancy Keesing has just pulled paragraphs and illustrations out of previously published books. The whole publication is a rehash of tired, worn out pro–police propaganda from the 1880s. As an example' 'The outlaws could be distinctly seen in the moonlight firing away at the police, and it must have been in the return fire that Jones's children were accidentally shot.' Both Keesing and the publisher should be shot for reproducing such rubbish!
Nancy Keesing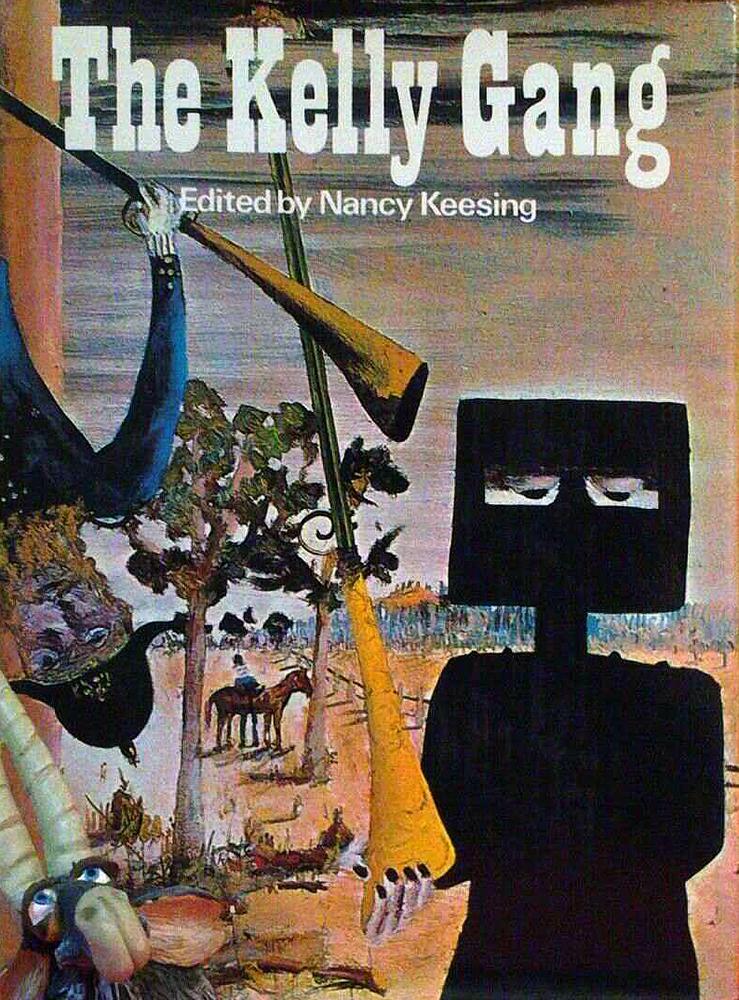 Ned Kelly: The Jerilderie Letter
First published 2001 by Text Publishing
It's always a bad sign when you can read an entire book in one toilet sitting. The signs are worse when you feel many of the pages would have been better suited shining the bot-bot after that same sitting! Well, this book is one of them. Author Alex McDermott should have retitled his lazy effort Coat Tails as he was certainly riding on the back of Ned Kelly's as he typed up this little beauty. When you pad out a book using thirteen and fifteen point type (as opposed to the usual ten or eleven point) it becomes obvious you aren't concerned about reader's straining their eyes on the small text – the author simply has very little to say about the actual topic.
Alex McDermott wants to read into the Jerilderie Letter that "the true, murderous, implacable, brooding intent of Ned Kelly is revealed". Bullshit. I know it's bullshit. If I said to you "pull your head in while it's still attached", you wouldn't run off to the police and say "Ian Jones said he was going to chop my head off". It's just childish. Just you watch, the next wave of Kelly scholarship is going to be revisionist. There will be people like this McDermott character falling over one another to say "all this is wrong, Ned Kelly was really a dreadful person, a cold-blooded killer and a coward". Gradually, they will try to regain the ogre that was portrayed back in 1880. Just for the sake of saying something different, making a buck, making a reputation.
Ian Jones
In an effort to bump up the page count Mr McDermott even rolls out the same old supporting photos that have been on the Kelly merry-go-round since the turn of the century (and I'm talking 1900 not 2000). Worse still, this book was suppose to be part of the author's Honour thesis at LaTrobe University (I wonder which grocery store he's packing shelves in now?). I paid $6.95 for this book from a discount bin at the end of 2003, and I'm still pissed off. If you want to read a proper book on the Jerilderie Letter then head back up to the top of this page to Max Brown's Australian Son because McDermott's effort is just a waste of trees!
Alex McDermott