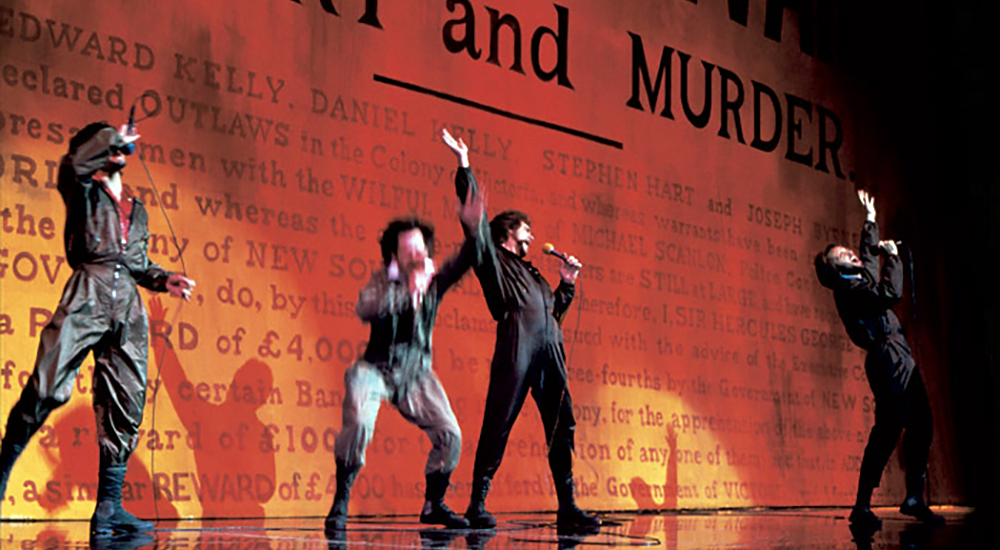 The life and times of Australia's most infamous Bushranger and his Gang set to a rollicking score, a mixture of rock, broadway and vaudeville. 'Gonna Rob a Bank, Gonna Be A Rich Man One Day, Gonna Rob A Bank. Living it the Easy Way.' This has both great humour and great tragedy. 'Ned Kelly the Musical' was staged in 1978 in Sydney and Adelaide with words and lyrics by Reg Livermore and music by Patrick Flynn.
The plot
The opening chorus is at Spencer Street station on June 27 1880 with Police and Aboriginal trackers leaving to track down the Kelly Gang. 'In the Bush. Give a Push. If we have to we will do it. Spill their Blood in the mud.' Police arrive at the Kelly farm at Eleven Mile Creek there is a scuffle a Police Officer is wounded so the Kellys head bush singing the song Gang Bang. 'Altogether bang bang, Ricochet clang rang. Let em all Hang Shining in your eye.'
At Stringybark Creek Police find the Kelly Gang in a shoot out Three Police Officers are shot dead. Police sing, 'those Irish bandits drowning in the same Irish stew Outlawed from today.' The Gang realise, 'we're never going home again.' On February 10 1879 they rob several Banks at Euroa and Jerilderie burning land deeds for poor farmers, 'Gonna Rob a Bank. Gonna Be a Rich Man Some Day.'
On June 27 1880 the Gang take over the town of Glenrowan and are holding 60 people in the hotel. Police are tipped off. They sing about 'The Blood of the Irish', Ned's mother has the poignant song 'Die Like a Kelly'. And then there is the final confrontation when Ned's amour fails to protect him from the bullets of the Victorian Police, 'I shall not be home again. Well that's life I say.'
A word from Reg Livermore
When Ned Kelly was staged in 1978 Reg Livermore was the superstar of Australian music theatre. He was riding the waves of success from his role as the original Dr Frankenfurter in The Rocky Horror Show, King Herod in Jesus Christ Superstar, and his own unique one man show's Betty Blockbuster and The Sacred Cow.
Ned Kelly was hailed as having the potential to be the Great Australian musical. 'It was great fun. A real cowboys and Indians show. It's very entertaining… particularly when the Kelly Gang rob the Bank of New South Wales and later the Police hold a benefit because it is becoming such expensive business chasing outlaws. They ask punters for tuppence to have a look at the bodies Ned and his Gang made dead, but they are disappointed that 'the people on the whole ain't very friendly,' says Reg.
Reg now continues to write and star in his own one man shows and also for the last seven years has been a celebrity reporter on the Nine Network's Our House program. He says the story of Ned Kelly has universal appeal. 'I firmly believe what Ned Kelly said that men are made mad by bad treatment . He was a victim of his time – a man chosen by the authority figures to bear theblame for all of us. Ned walking out in his armour is perhaps the truly most appalling moment . The felling of Ned is an action of willful cruelty – it is inhumanity par excellence,' he said. But didn't the Kelly Gang murder three Policemen? 'They were being hunted down. It was the Police or them.' he said.
The music for Ned Kelly was written by Patrick Flynn. He is now a distinguished conductor for opera and ballet orchestras across the United States and the UK. The music is a combination of 70s rock, vaudeville and operetta. Patrick has written three new songs for the new version. 'The production in 1978 was just an off Broadway trial for this definitive version,' he said cheekily. 'Many of the songs are absolute rippers. But I have had to write a few new ones', said Patrick. Reg has also re-written some of the songs and given it a more traditional musical opening. He says this musical will be particularly popular in Victoria where is has never been staged. 'I always said it should have opened in Melbourne,' he said.
It has taken Reg more than two decades to have another go at this musical because of the pain caused by the reception critics gave the show in 1978. 'It was big. With an enormous set. It was in your Face. Some People Loved it. Other's didn't.' One of the critics who didn't like it was Adelaide writer Shirley Stot Despoya. Obviously her 7 year old daughter Natasha was taking life too seriously and trying already to become the world's youngest Senator.
But Reg says there was some great reviews as well. 'The Spectator loved it,' he said. Insiders says that the public was disappointed that Reg was not actually on stage. That the style of the production was too Glitzy. It also opened during the wrong time in Adelaide and local critics were put off by the fact that public money went into a commercial musical instead of the State Opera. Stephen Thomas played Dan Kelly. Now he is a school teacher in Sydney and he revived the show in the early 90s for his High School and the Canterbury Theatre Guild.
'We used a new orchestration by Steve Wood, which really developed the score. It's still a rock musical but there are some elements including a hint of music from the era. It was wildly successful. This is a fantastic musical,' he said. 'For the last two years I have been trying to convince Reg to release the rights and am delighted that he has dived into the project with great enthusiasm. Community Theatres are extremely reluctant to do Australian musicals.'
'I believe this has absolutely everything going for it. It's about our most famous Bushranger with great music by one of our most famous entertainers. The musical was written originally to be in one act. It lasted two hours.' Reg says that while in the 70s you could punish the public in the Zeros people want coffee at interval so he is adapting it to make it a more traditional piece. 'Throughout the show there are flash backs to the train filled with Police leaving for Glenrowen for the final confrontation. It was hard to find a place to break the suspense but I've found a place and now the second act opens with great comedy.' he said. The new version includes more opportunities for female solos and chorus…
Extracts are from David Spicer Productions.