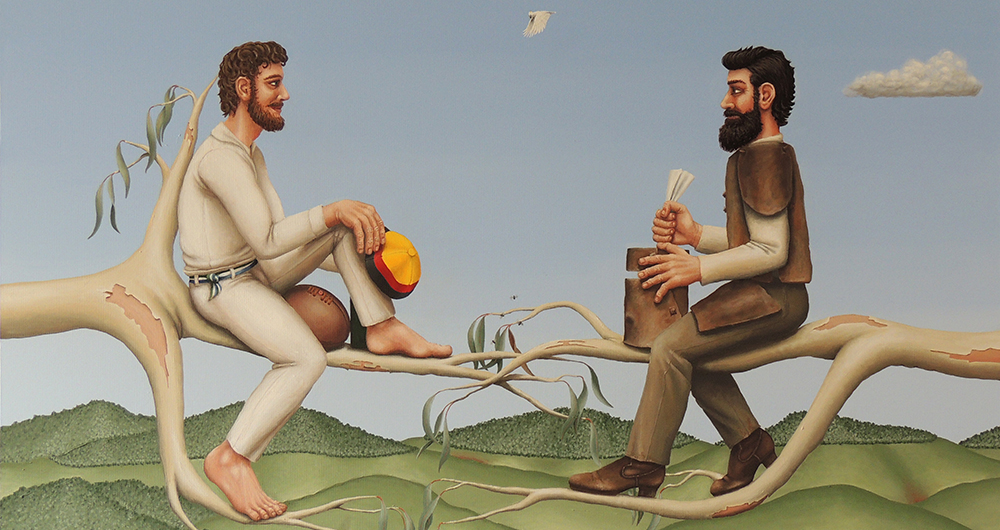 Sidney Nolan's Ned Kelly Series
Sidney Nolan's Ned Kelly Exhibition was held at the Museum of Modern Art, Heide Gallery in 1997. Below are examples of his valuable visual insight to the Ned Kelly legend. An extract by John Reed, written for the introduction to the catalogue of The Kelly Paintings of Sidney Nolan 1946-47 held at Velasquez Gallery, April 1948 gives some insight into the artist and his work: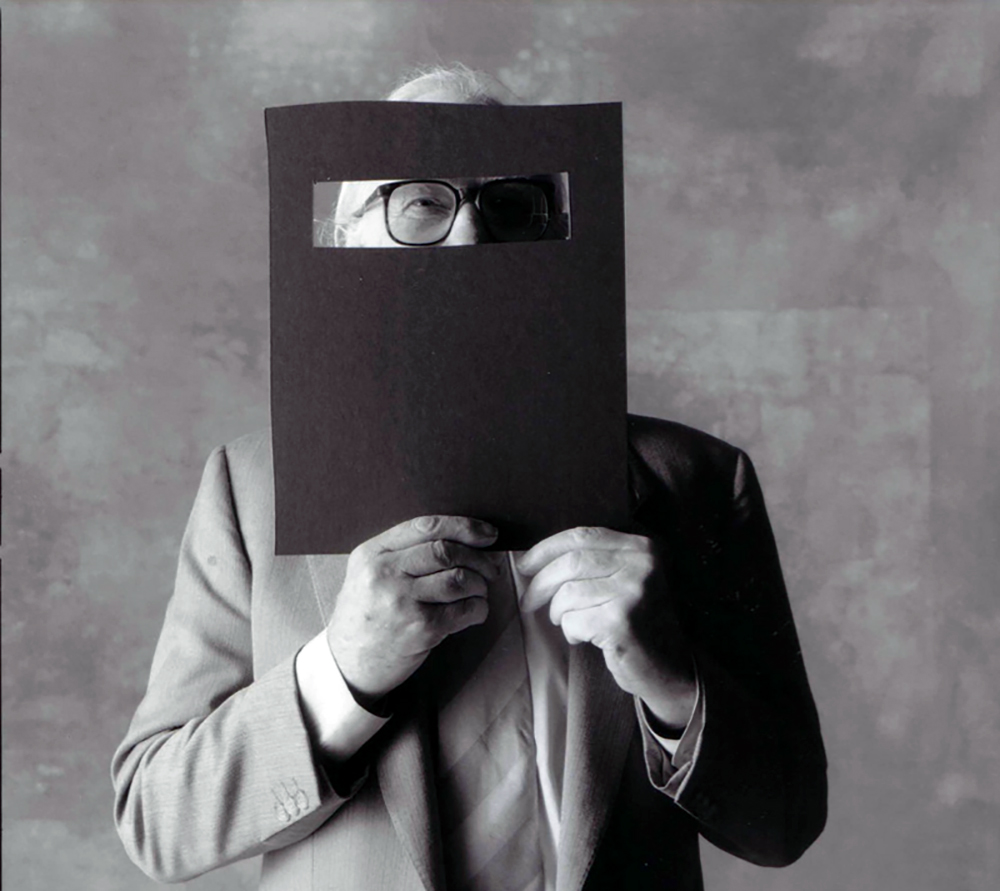 Michel Lawrence's portrait of Nolan as Kelly.
For those of us who rank Sidney Nolan as one of the two or three painters in Australia of real significance, this Exhibition – his first one-man show in a Public Gallery – is of quite outstanding importance. We believe its value in the history of Australian painting is already assured. Australia has not been an easy country to paint. A number of artists have sensed something of what it holds and one or two – the early Roberts and Streeton – have succeeded in giving us glimpses of it which were movingly true; but we have waited many years for a mature statement to cover both the landscape and man in relation to the landscape. In my opinion this has now been achieved by Sidney Nolan in the group of 27 paintings exhibited, and it is a remarkable achievement indeed, necessitating as it has the most sensitive and profound harmony between symbol, legend and visual impact. That this has been accomplished in language of the utmost simplicity is in itself an indication of the strength of the artist's vision and discipline, while at the same time it should allow those who are responsive to the elemental things which move us all to find ready response in themselves to what the paintings have to give.
Sidney Nolan was born in 1917 in Carlton, Victoria. In the mid 1930s Nolan studied at the National Gallery of Victoria after hours while working in the art department of a hat factory. His first patrons were John and Sunday Reed from Heide Gallery and he exhibited with the Contemporary Art Society from 1939-1947. His career was interrupted by his war service, however he did manage to produce a series at Dimboola. In 1945 he began his best known series of works based on Ned Kelly and the bushranger legend, which were exhibited in Paris in 1948. In 1951, Nolan held his first exhibition at the Redfern Gallery starting his international success.
Other well known works include his Leda and Swan, African and Gallipoli series. For the next thirty years Nolan travelled and exhibited extensively, while also producing designs for ballets and plays, book covers and illustrations. He donated many works throughout his later years, including the Kelly paintings to the National Gallery of Australia. In 1985, he acquired the property adjoining Arthur Boyd's on the Shoalhaven River. He was awarded many prizes and awards including a knighthood in 1981, and was honoured with a Retrospective in 1986. He is represented in the National Gallery of Australia, all state galleries, many regional and university galleries, the Tate Gallery, London, Museum of Modern Art, New York and numerous private and corporate collections, both nationally and internationally.
Maree Coote's 50 Neds Series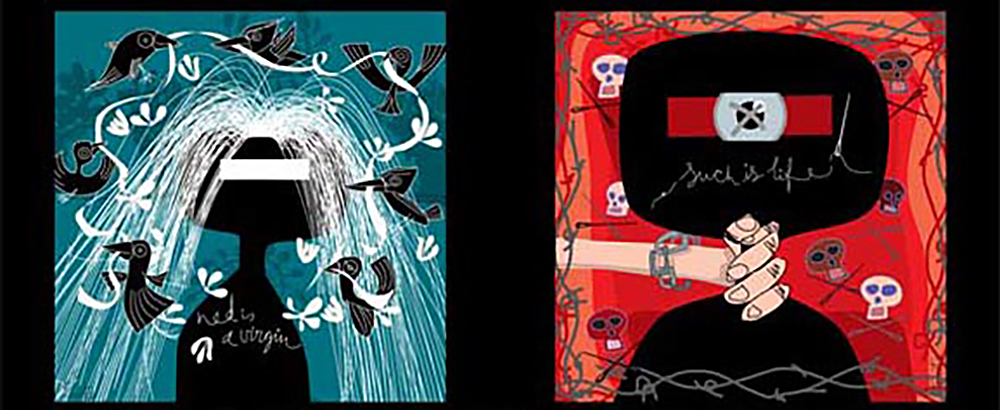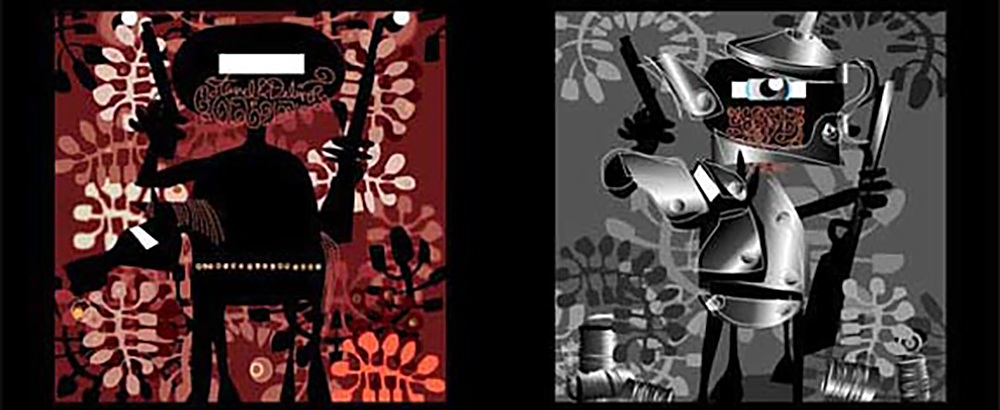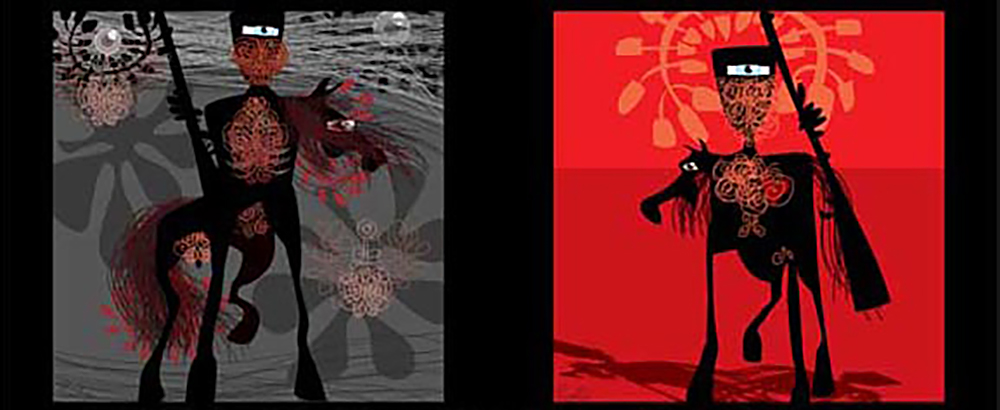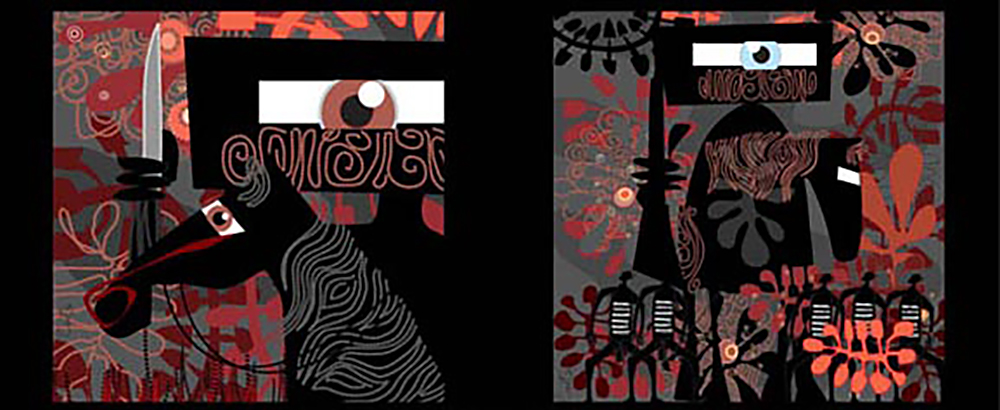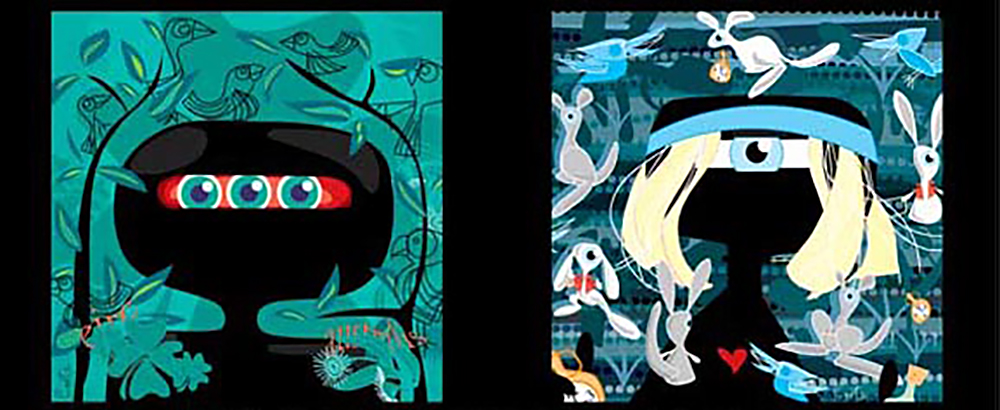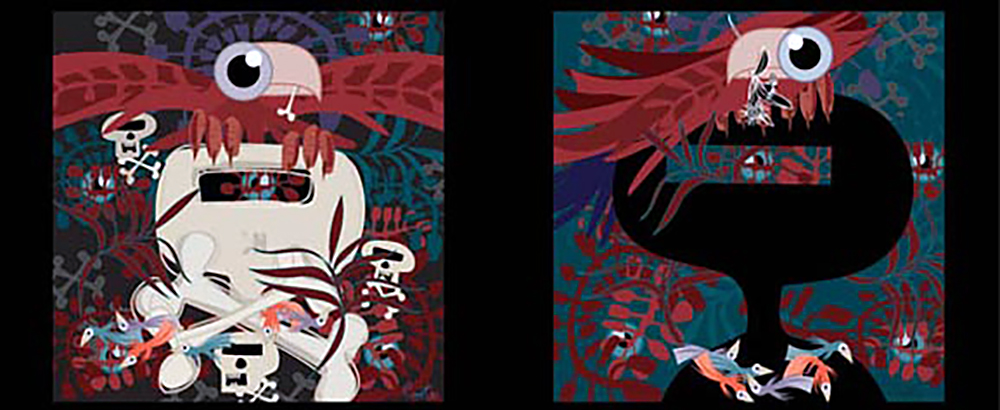 Maree Coote is a Melbourne writer and designer, photographer and illustrator who has long held a passion for her home city, and who has been photographing the city and writing on Melbourne's history for over 10 years. Her recent creative exploits include a series of over 50 artworks reinventing Australia's sexiest bushranger Ned Kelly, and a book of the collection called 50 Neds: Ned Kelly, Icon of Australian Art.
It was during the two and a half year research phase of her first book (The Melbourne Book – A History of Now) that Coote was bitten forever with the Kelly bug and driven to create the 50 Neds series of artworks. This series is still being developed and extended, with large canvasses now on exhibit in the melbournestyle gallery in Clarendon Street South Melboune.
Her first book, The Melbourne Book – A History of Now – is a modern chronicle of a unique city. Visual, passionate and informative, it tells the history of a city and its style, its people and its vivid past. Crammed with anecdotes and detail and with over 700 photographs, The Melbourne Book explores the city with an eye for the ordinary and the extraordinary. First published in 2003, it is still going strong, The Melbourne Book won Commendation – Best Print – 2004 Victorian State Government History Awards.
Coote has also illustrated and written 3 children's picture books, all with Australian themes and a celebration of local icons and natural attributes. These include The Black Pot Belly – a charming and witty piece of nonsense about a magical pot belly stove whose antics illuminate the charm of low-tech living, and whose dreams include joining the Kelly Gang… Unusual and fresh, this very different tale is a delight. Artwork from Coote's children's books is now part of the permanent collection of the Dromkeen Children's Literature Collection.
Patrick William Marony
Patrick William Marony (1858-1939) was born in Carragh, Waterford Co., Ireland in 1858. He was the son of John Marony and Johanna Walsh. He was an educated man, having attended seminary in Dublin. He came to Australia around 1883 and settled in New South Wales with his brother John Martin Marony. In 1883, Patrick married Rebecca Mason in Sydney.
Patrick was a painter, photographer and director. He wrote the stories for three films produced by the Australian Life Biograph Company, situated in Queenscliffe Street, Manly in 1911. The titles were: Ben Hall, Notorious Bush Ranger; One Hundred Years Ago; and A Ticket in Tatts (which was remade in the 1930s). The Australian National Film Archives has a few stills of the movies, however, nothing else remains.
The Australian National Library in Canberra, ACT has several of his bushranger paintings done around 1894. These include: Portrait of Ben Hall; Portrait of Bourke, Hall, Frank Gardiner, Gilbert, Dunne; Portrait of Gardiner, Gilbert, Dunn, Bourke. Patrick Marony has exhibited for the Royal Art Society of New South Wales in 1907, 1908, 1909 and 1912. After his death in 1939 Patrick was cremated and his ashes scattered in the Four Winds Garden in the Northern Suburbs Crematorium in Sydney.
source: John Wladis (Patrick Marony's great grand son)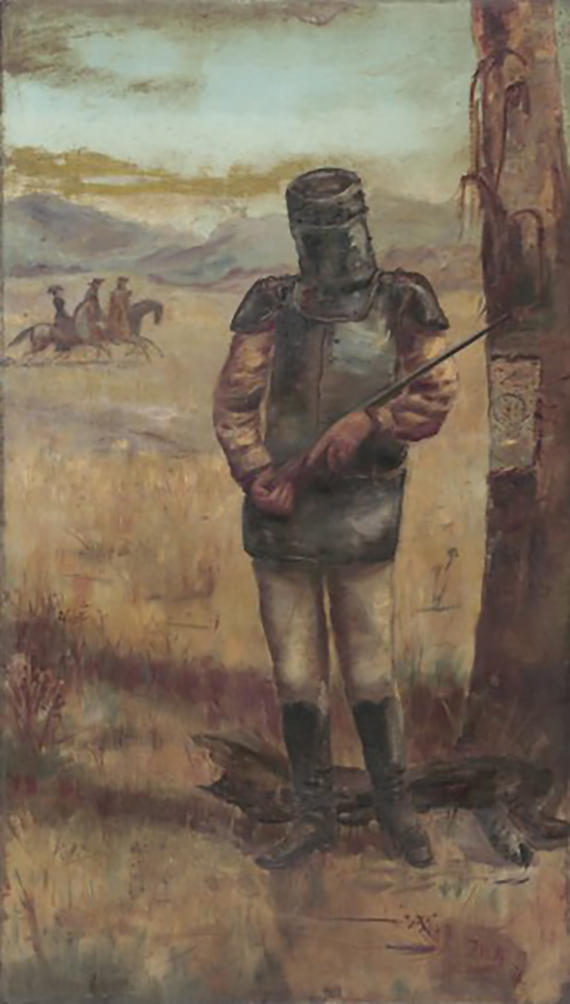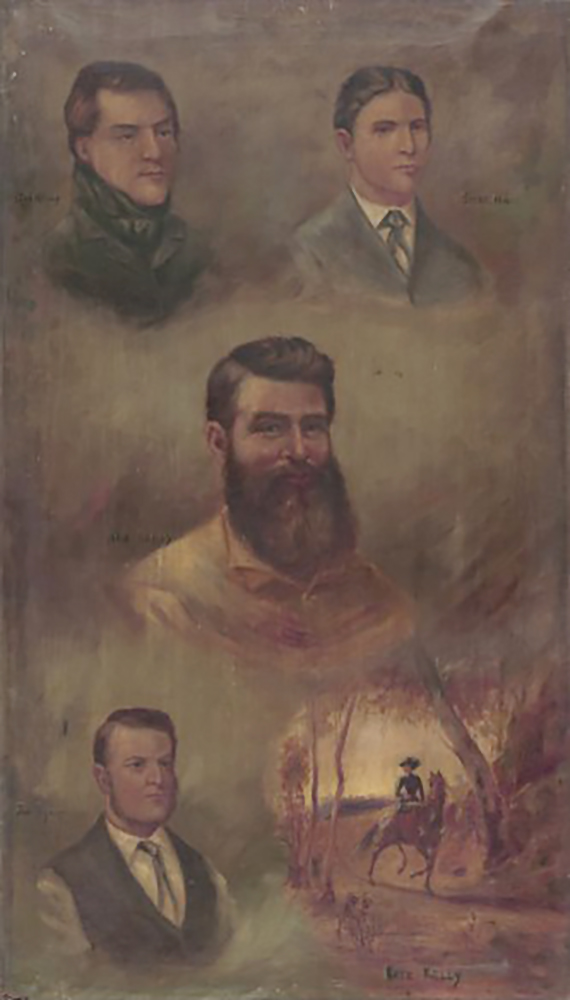 Chris Wake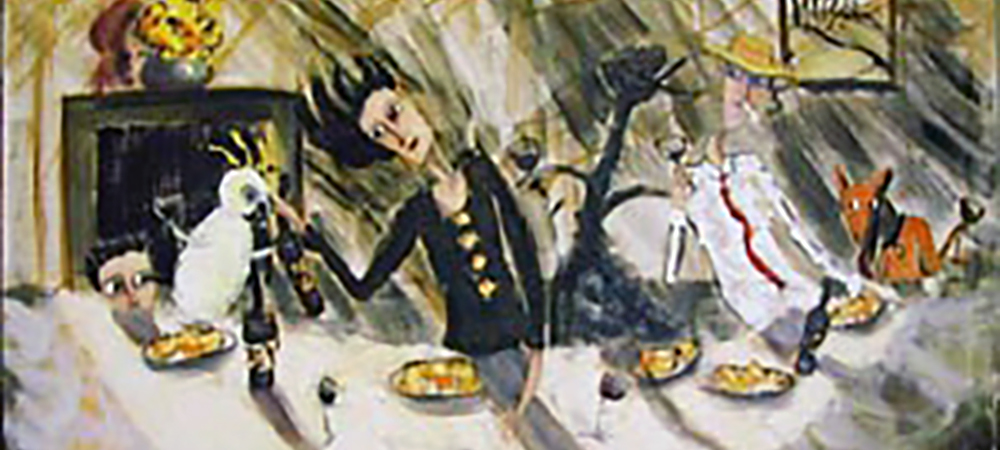 All of the subjects I paint, I feel strongly about in some way, it may be the personal achievement of someone's journey that moves me, or it may be a political of moral challenge, or the ability to make me laugh. I would like people to view my work as an insight to my thoughts, captured permanently on canvas in that particular moment, to cross over barriers of time, place and other limitations. I believe art gives us important insight and comment on our society past and present.
Christine Wake
After a sell out exhibition at Collins Street Gallery in Melbourne, Chris' Ned Kelly series was used alongside Sydney Nolan`s work in the Kelly theatre production for New Zealand's festival of arts.
Note: Paintings below produced in 2002 Oil on Linen 84 x 91cm
Michael Wright
LeMakoo Malta Australia Exhibition
Hotel Phoenicia
Floriana
Malta
May 2011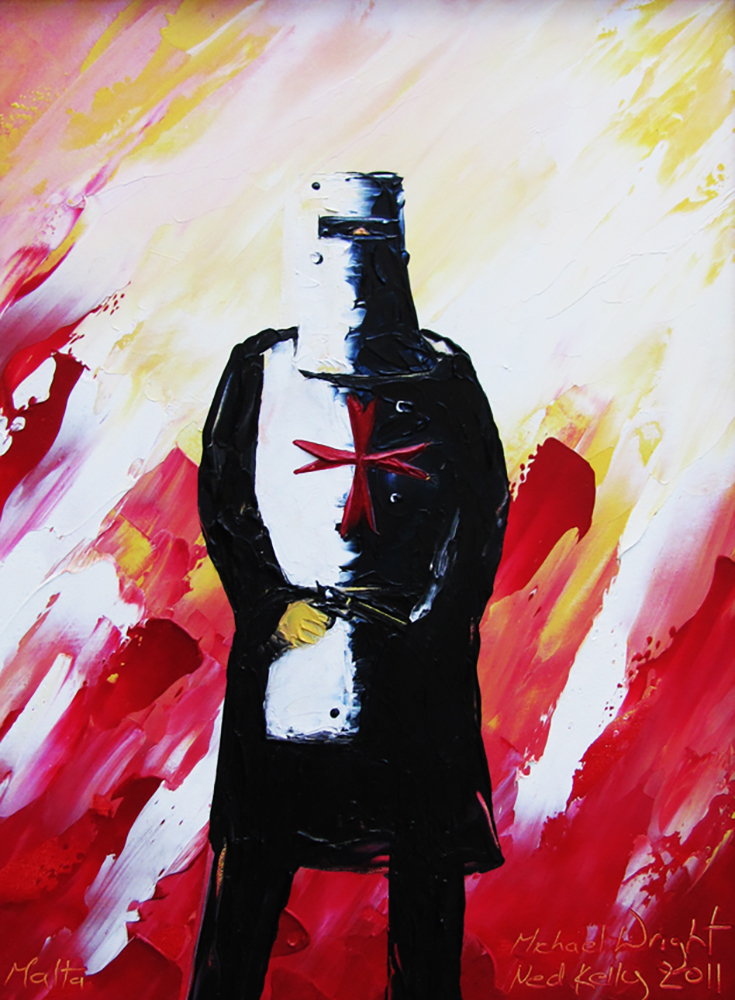 'Ned Kelly' 30cm x 40cm Oil on canvas

Arguably the two most famous historical events in Australia and Malta are Ned Kelly and the knights of Malta respectively. Ned Kelly was Australia's only ever knight in armor. Australian born of Irish Catholic decent, he took on the authorities of the time and won himself everlasting fame by wearing armor made from plough shares. In his final shoot out with an overwhelming number of policemen he suffered multiple gunshot wounds to his arms and legs and was taken prisoner, tried and hanged in Melbourne goal in 1880. Ned symbolizes the Australian attitude towards authority and is today revered as a cult hero. Here I have reborn Ned as a Knight of Malta, fighting for what he believed in.
LeMakoo was launched in 2008, in Malta. LeMakoo.com is the website that publishes and sells the paintings of Michael Wright. Michael Wright seeks to produce the most beautiful oil paintings in the world. He works and sells from his studio in Madliena, Malta by appointment. LeMakoo delivers oil paintings world wide.