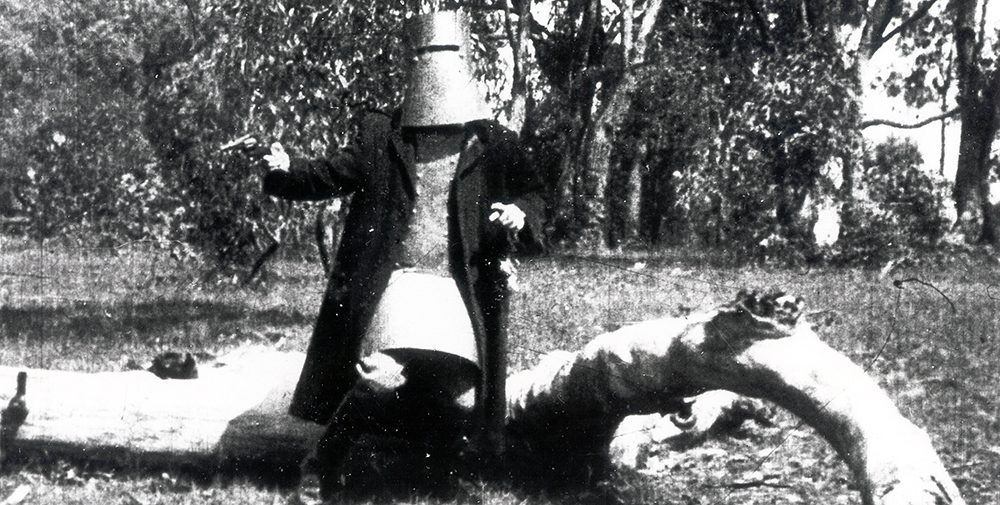 Ned Kelly was the subject for the world's first feature film made in Australia in 1906. The Story of the Kelly Gang has been added to a United Nations heritage register, joining a list of fewer than 200 items on UNESCO's Memory of the World register, including the family archives of Swedish philanthropist Alfred Nobel and the official trial records of Nelson Mandela.
But it wasn't until 1980 when the highly acclaimed eight-hour mini-series, The Last Outlaw, told the complete Kelly story, with John Jarratt giving the most physically accurate portrayal of Ned Kelly seen to date. In this section you'll find everything you'll need to know about Ned Kelly on film. From the 1906 Story of the Kelly Gang through to the 1970 Ned Kelly starring Mick Jagger; the 2003 version Ned Kelly starring Heath Ledger; and beyond. And don't forget to also check out our documentary section covering the history of Ned Kelly through the magic of moving pictures.
1906 - The Story Of The Kelly Gang

Producers: John Tait, Nevin Tait, Millard Johnson and William Gibson
Director: Charles Tait
Film Location: Heidelberg, Victoria
Running Time: 60 minutes (approximately)
Cast:
Nicholas Brierley
Godfrey Cass
Bella Cola
Vera Linden
Frank Mills
EJ Tait
Elizabeth Tait
Frank Tait
John Tait
Ollie Wilson
The world's first feature-length movie was directed by Charles Tait and filmed at the Tait family's Chartersville Estate in the Melbourne suburb of Heidelberg. Originally there were no intertitles; narration was performed by an onstage lecturer who also provided sound effects including gunfire and hoofbeats. It cost £1000 to make, but that money and more was recovered within its first week of screening. It premiered in Melbourne on Boxing Day 1906, and was later shown across Australia, in New Zealand and in Britain.
Part of an early flowering of film production in Australia The Story Of The Kelly Gang, produced in 1906, is hailed as being the first continuous narrative film of any significant length in the world. Premiered on 26 December 1906 at the Athenaeum Hall in Melbourne, Victoria, the film was about an hour long and presented highlights from the bushranging days of the Kelly gang.
The outlaws were shown as gallant heroes, with no apology for their antisocial behavior. It ran to full houses for five weeks before moving to other Melbourne theatres. It also screened in Sydney and Adelaide, and toured Queensland, and was shown in New Zealand and England, where it toured as 'the longest film ever made'. The film was produced by John and Nevin Tait and two chemists Millard Johnson and William Gibson and directed by Charles Tait, an older brother of John and Nevin. Admission prices were from three shillings down to a shilling, half price for children. The movie was restored by Monash University's ANSPAG group lead by research engineer Mr Paul Richardson for the National Film and Sound Archive.
According to the synopsis given in the surviving programme, the film originally comprised six sequences. These provided a loose narrative based on the Kelly Gang story.
Scene 1: Police discuss a warrant for Dan Kelly's arrest. Later, Kate Kelly rebuffs the attentions of a Trooper.
Scene 2: The killings of Kennedy, Scanlon and Lonigan at Stringybark Creek by the gang.
Scene 3: The hold-up at Younghusband's station and a bank hold–up.
Scene 4: Various gang members and supporters evade the police and the gang killing of Aaron Sherritt.
Scene 5: The attempt to derail a train and scenes at the Glenrowan Inn. The police surround the hotel, Dan Kelly and Steve Hart "die by each other's hands" after Joe Byrne is shot dead.
Scene 6: The closing scenes. Ned Kelly fights hard but is shot in the legs. "He begs the Troopers to spare his life, thus falls the last of the Kelly Gang…"
1920 - The Kelly Gang
Director: Harry Southwell
Cast:
Welsh-born filmmaker Charles Southwell had a vision: to present the great drama of the Kelly saga on the Australian screen. He laboured at this task for fifteen years, producing three films of indifferent quality along the way – The Kelly Gang, When the Kellys Were Out, and When The Kellys Rode. Southwell's endeavours were hampered by political sensitivities, with any pro-Kelly material liable to be banned.
1923 - When The Kellys Were Out
Writer: Harry Southwell
Producer: Harry Southwell
Director: Harry Southwell
Photography: Tasman Higgins
Cast:
Godfrey Cass … Ned Kelly
Charles Villiers … Dan Kelly
William Ellison … Steve Hart
Allan Douglas … Joe Byrne
Rose Rooney … Kate Kelly
Rita Aslin … Ellen Kelly
Harry Southwell … Aaron Sherritt
Fred Twitcham … Constable McIntyre
Syd Everett … Sergeant Steele
Mervyn Barrington … Sergeant Kennedy
W. Ryan … Constable Fitzpatrick
Dunstan Webb … Superintendent Nicholson
Welsh-born filmmaker Charles Southwell had a vision: to present the great drama of the Kelly saga on the Australian screen. He laboured at this task for fifteen years, producing three films of indifferent quality along the way – The Kelly Gang, When the Kellys Were Out, and When The Kellys Rode. Southwell's endeavours were hampered by political sensitivities, with any pro-Kelly material liable to be banned.
1934 - When The Kellys Rode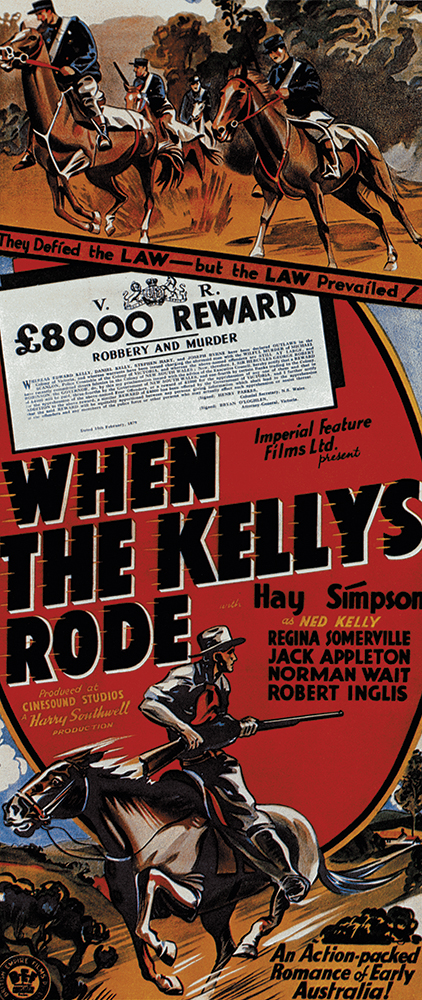 Producer: Harry Southwell
Studio: British Empire Films
Production Company: Imperial Feature Films
Cast:
Hay Simpson … Ned Kelly
Regina Somerville
John Appleton
Norman Wait
This Kelly film was the third made by Harry Southwell, a footloose, independent filmmaker of the 1920s and 30s. The first, The True Story Of The Kelly Gang, was made in Victoria in 1920. The second, on cameraman Tas Higgins' advice, was made again from scratch in 1923. It was shot, beautifully, by Higgins in the Burragorang and Kangaroo Valleys in New South Wales, and called When The Kellys Were Out. The third, with the same cameraman but this time a different actor for Kelly, was a sound film. When The Kellys Rode was made in the New South Wales Megalong Valley and nearby in 1934. All these movies ran into trouble with censorship, the second despite its final title:
And such is the inevitable fate of all those who rebel against the righteous and mighty forces of law and order.
When The Kellys Rode was banned in New South Wales (with the result that bushranging films were not favoured by backers for sometime). The Chief Secretary said he felt enough had been heard about bushrangers. The film was made in 1934. In 1934, Dollfuss was assassinated and Hitler was in power. Einstein had just taken up a professorship at Princeton, Benjamin Britten published his fourth major work, Shirley Temple won a Special Academy Award, and Qantas instituted the England-Australia airmail service, It seems a very modern time in which to worry about robbery under arms. The story of overt film censorship in Australia is studded with such lunatic episodes.
1951 - The Glenrowan Affair
Writter: Rupert Kathner
Producer: Rupert Kathner
Director: Rupert Kathner
Running Time: 66 minutes
Associate Producer: Alma Brooks
Photographer (interior): Harry Malcolm
Photographer (exterior): Rupert Kathner
Editor: Alex Ezard
Assistant Director: Bill Crowe
Narrator: Charles 'Bud' Tingwell
Cast:
Bob Chitty … Ned Kelly
Ben Crowe … Dan Kelly
Larry Crowhurst … Joe Byrne
Bill Crowe … Steve Hart
Rupert Kathner … Aaron Sherritt
Alma King … Kate Kelly
John Fernside … Father Gibney
Frank Ransome … Sergeant Steele
Charles Tasman … Commissioner Nicholson
George Webb … Supt. Hare
Edward Smith … Mr. Standish
Alan Bardsley … Old Man
Arthur Hemsley … Barfly
Rest of cast listed alphabetically:
Albie Henderson
Charles 'Bud' Tingwell
Stan Tolhurst
Bill Wright
The Glenrowan Affair features the bushranging exploits of Ned Kelly and his 'wild colonial boys' on their journey of treachery, violence, murder and terror. Told from the perspective of an aging Dan Kelly in present day Benalla, Kathner presents the narrative as a factual retelling despite his obvious embellishment of the Kelly myth. The production of the film generated more controversy than the film itself due to creative fallouts between Kathner and the film's original director, Harry Southwell (The Kelly Gang 1920, When the Kelly's Were Out 1923, When the Kelly's Rode 1934) and the casting of local football hero, Bob Chitty as Ned Kelly. Bob Chitty was famed and feared as one of the toughest men ever to play Australian Rules football. The Carlton strongman was cast as Ned Kelly in this movie by Rupert Kathner, which was narrated by popular actor Charles 'Bud' Tingwell. The project was ambitious, but critics were not kind.
1960 - Stringybark Massacre
Director: Gary Shead
Garry Shead's avante-guard filmmaking techniques result in a stylish re-creation of the murder of three police officers at Stringybark, Victoria by Australian bush outlaw, Ned Kelly.
1960 - Ned Kelly
Director: Tim Burstall
This superbly crafted short film explores the legend of Australian bushranger, Ned Kelly, through the modernist paintings of internationally acclaimed Australian artist Sidney Nolan and an accompanying bush ballad.
1970 - Ned Kelly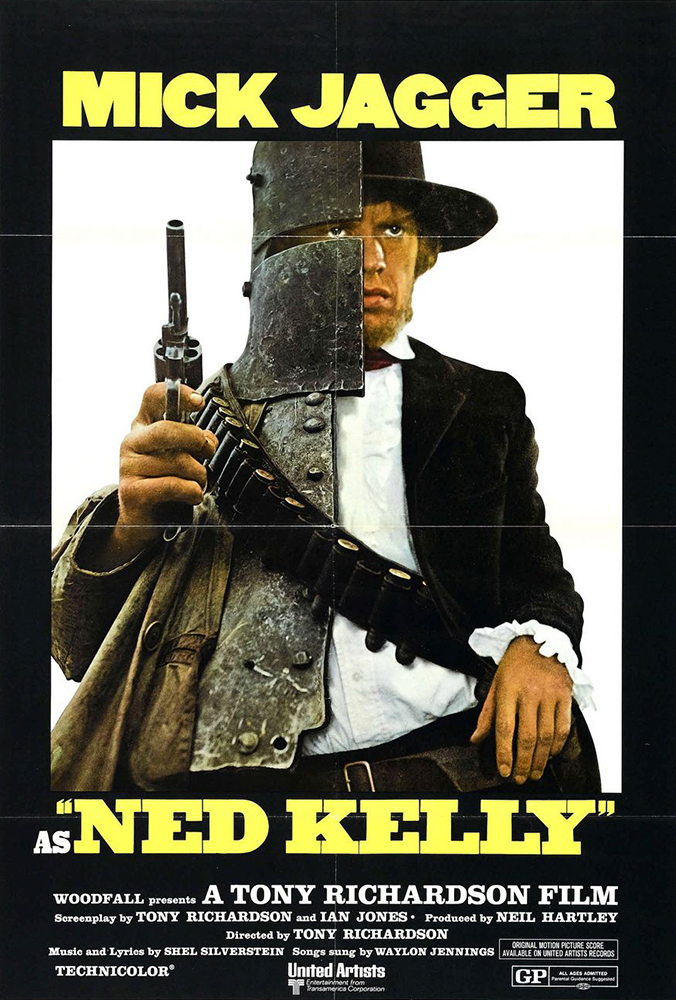 Director: Tony Richardson
Writers: Tony Richardson and Ian Jones
Running Time: 103 minutes
Studio: United Artists
Producer: Neil Hartley
Cinematography: Gerry Fisher
Editing: Charles Rees
Composer: Shel Silverstein
Production Design: Jocelyn Herbert
Art Direction: Andrew Sanders
Costume Design: Jocelyn Herbert
Cast:
Mick Jagger … Ned Kelly
Allen Bickford … Dan Kelly
Geoff Gilmour … Steve Hart
Mark McManus … Joe Byrne
Serge Lazareff … Wild Wright
Peter Sumner … Tom Lloyd
Ken Shorter … Aaron Sherritt
James Elliott … Pat O'Donnell
Clarissa Kaye … Ellen Kelly
Diane Craig … Maggie Kelly
Sue Lloyd … Kate Kelly
Alexi Long … Grace Kelly
Bruce Barry … George King
Janne Wolmsley … Caitlyn
Ken Goodlet … Nicholson
Nigel Lovell … Standish
Martyn Sanderson … Fitzpatrick
Robert Bruning … Sgt Steele
John Laws … Kennedy
Liam Reynolds … Lonigan
Lindsay Smith … McIntyre
John Gray … Stratton
Reg Gormam … Bracken
John Hopkins … O'Connor
Peter Whittle … Devine
Anne Harvey … Mrs.Devine
Bill Charlton … Richards
Graham Keating … Trooper
Ben Blakeney … Tracker
Bill Hunter … Officer
Frank Thring … Judge Redmond Barry
Alexander Cann … McInnes
Gerry Duggan … Father O'Hea
John Dease … Whitty
Andrew Sanders … Farrell
Patsy Dance … Mrs Whitty
Erika Crowne … Mrs Farrell
Tony Bazell … Mr. Scott
Jessica Noad … Mrs. Scott
Colin Tilley … Bank Clerk
Tim Van Rellim … Sportsman
Patrick McCarville … Sportsman
Kamahl … Gloster
Ronald Golding … Casement
Gordon McDougall … Tarleton
Clifford Neate … Living
Bryan Niland … Mackie
Doreen Warburton … Mrs Ann Jones
Gary Fisher … Jack Jones
Karin Altman … Jane Jones
David Copping … Mr Curnow
Penny Stehli … Mrs Curnow
Francis Yin … Sympathizer
Shirley May Donald … Mrs Byrne
Mary Marshall … Mrs Barry
Claire Balmford … Nell Sherritt
Kurt Beimel … Anton Wicks
Moshe Kedem … Baumgarten
Keith Peterson … Referee
Terry Erwin … Chinese
Harry Kelly … Aborigine
Jack Allen … Melbourne
'Such is Life', the infamous final words of legendary Australian outlaw Ned Kelly, set the tone for Richardson's folkloric bushranger tale starring the Rolling Stones' Mick Jagger. Ned Kelly is a retelling of the ill-fated story of Australia's most notorious band of bushrangers. Set in the broader political context of British colonialism in late nineteenth century Australia, Richardson's Kelly is a downtrodden Irish Catholic forced into thievery and violence by corrupt British authorities. Gerry Fishers' superb cinematography captures the menacing threat of the Australian bush country and reinforces the tragic fate that awaits this national hero. This movie is one of the best-known versions of the Kelly story, due to the casting of British rock star Mick Jagger as the Irish-Australian bushranger Ned Kelly. Jagger's then-girlfriend Marianne Faithfull was also supposed to star, but was hospitalised after an overdose and replaced by Diane Craig. The soundtrack included songs by American country singers Waylon Jennings and Kris Kristofferson. Frank Thring delivered a great performance as Judge Redmond Barry. The film was directed by Tony Richardson, father of Natasha and Joely.
1993 - Reckless Kelly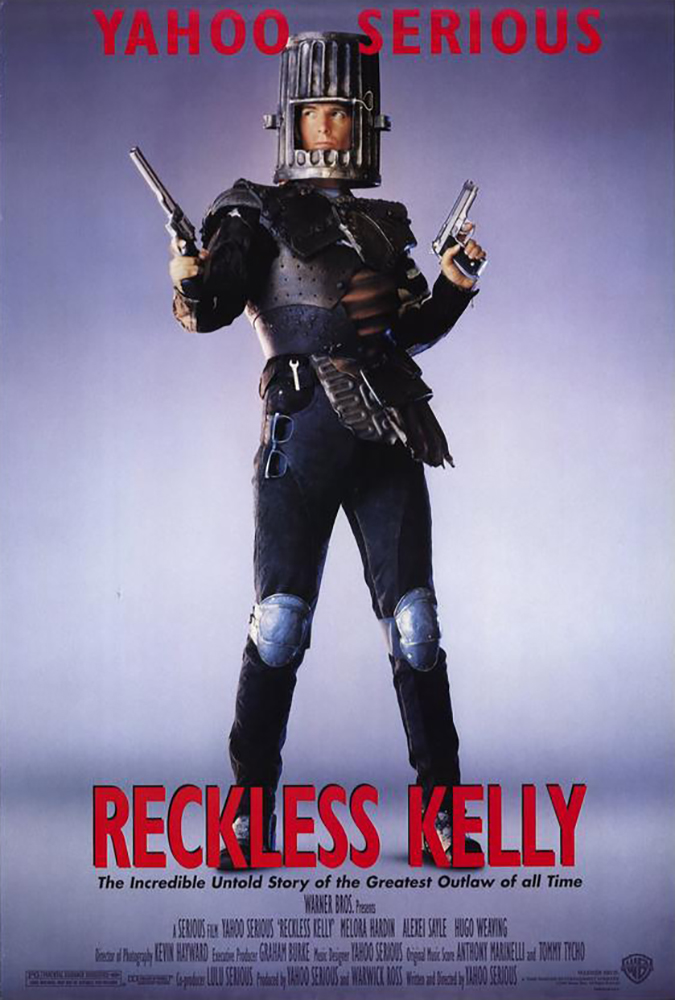 Director: Yahoo Serious
Producer: Warwick Ross
Executive Producer: Graham Burke
Co-Producer: Lulu Serious
Running Time: 81 minutes
Screenwriters: Yahoo Serious, Warwick Ross, Lulu Serious, David Roach
Production Company: Larrikin Films, Serious Entertainment, Warner Brothers
Cast:
Ned Kelly … Yahoo Serious
Robin Banks … Melora Hardin
Major Wib … Alexei Sayle
Sir John … Hugo Weaving
Mrs Delance … Kathleen Freeman
Mr Delance … John Pinette
Dan Kelly … Bob Maza
Ernie The Fan … Martin Ferrero
Yahoo Serious' satirical take on the Australian bushranger myth places Ned Kelly (Yahoo Serious) in a contemporary setting as a new-age outlaw on a mission to save his homeland from international bank executive and cunning arch-nemesis, Sir John (Hugo Weaving). Subverting the stereotype of the gun-totting, cattle duffing and violent bushranger, Serious' Kelly is an anti capitalist, environmentalist Republican. Reckless Kelly's political undertones and historical references make this a 'must for all students of Australian culture.'
Adrian Martin, Film Critic.
2003 - Ned Kelly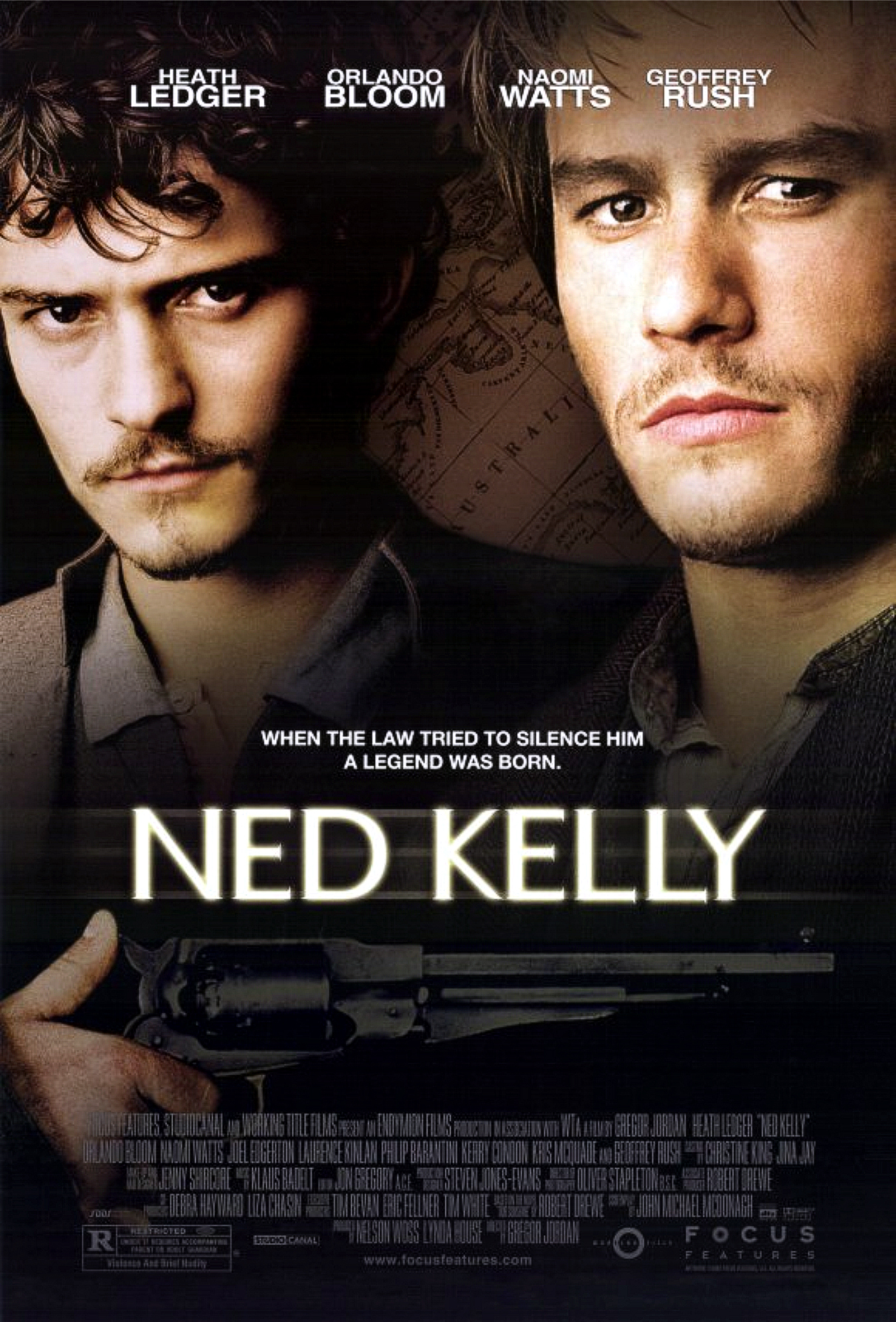 Production Companies: WTA / Working Title Films, The Woss Group, Endymion Films
Release date: 27 March 2003
Cast:
Ned Kelly … Heath Ledger
Joe Byrne … Orlando Bloom
Francis Hare … Geoffrey Rush
Julia Cook … Naomi Watts
Dan Kelly … Laurence Kinlan
Steve Hart … Philip Barantini
Aaron Sherritt … Joel Edgerton
Alex Fitzpatrick … Kiri Paramore
Kate Kelly … Kerry Condon
Grace Kelly … Emily Browning
Ellen Kelly … Kris McQuade
Jane Jones … Saskia Burmeister
The Great Orlando … Jonathon Hardy
Thomas Lonigan … Peter Phelps
Mr Reardon … Peter O'Shea
Martin Cherry … Nick Bourke
Anne Jones … Karen Davitt
Johnny Jones … Declan Simpson
Stanistreet … Andrew Gilbert
Mr Scott … Geoff Morrell
Mrs Scott … Rachel Griffiths
Maggie … Brooke Harman
Crew:
Tim Bevan … Executive Producer
Eric Fellner … Executive Producer
Tim White … Executive Producer
Nelson Woss … Producer
Lynda House … Producer
Debra Hayward … Co-Producer
Liza Chasin … Co-Producer
Robert Drewe … Associate Producer
Gregor Jordan … Director
John McDonagh … Writer
Christine King … Australian Casting
Jina Jay … UK Casting
Oliver Stapleton … Director of Photography
Steven-Jones Evans … Production Designer
Anna Borghesi … Costume Designer
Jenny Shircore … Make-up and Hair Designer
Jon Gregory … Film Editor
Catherine Bishop … Line Producer
Very loosely based on the story of Australian bushranger and icon, Ned Kelly, who had a brutal childhood and at sixteen years of age was imprisoned for stealing a horse. Upon release four years later, Ned's sister is assaulted and it's Ned and his mother who are charged with attempted murder. Forced to go on the run, Ned is determined to avenge his family and strike back at the system that wrongs them all. He forms the notorious Kelly gang with his brother Dan and two other men. Making use of homemade steel helmets and chest plates to protect themselves, the four men rob a bank, hijack an entire town for three days and they kill three policemen who were hunting them. They then take over a pub in Glenrowan, where they gather, waiting for a train full of police to derail at a part of the track that they had pulled up. However, it doesn't go according to plan and results in a shootout.
2003 - Ned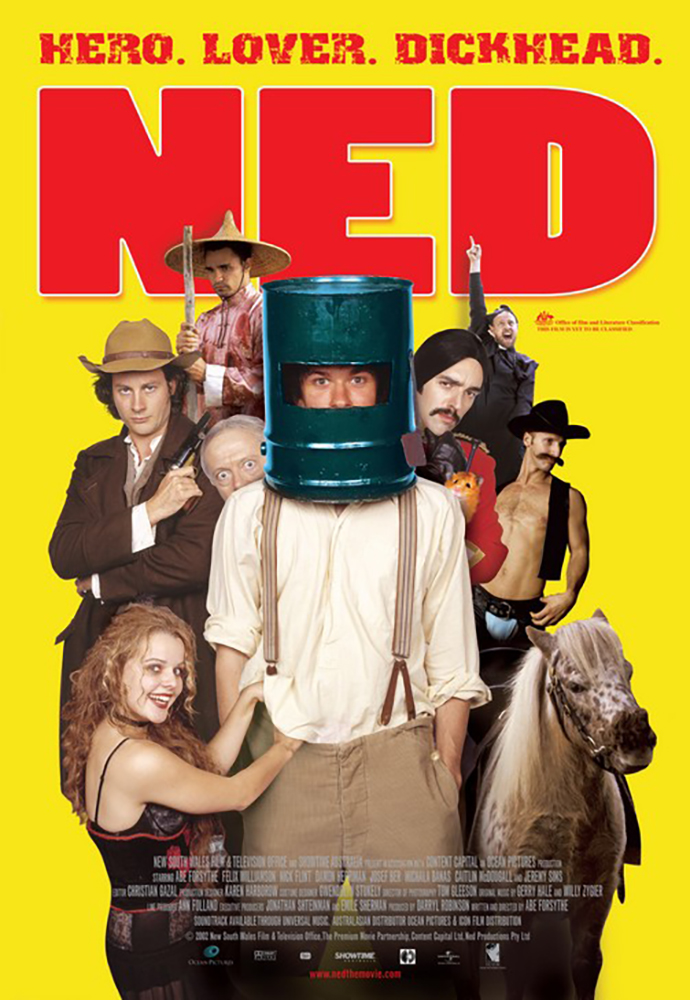 Director: Abe Forsythe
Cast:
Abe Forsythe … Ned Kelly
Nick Flint … Dan Hughes
Damon Herriman … Steve Hart
Josef Ber … Joe Byrne
Felix Williamson
Michala Banas
The history of parodies in Australian cinema is littered with the celluloid carcasses of many well intentioned flicks. In that respect you must award full marks to writer, director and lead actor Abe Forsythe who put in a mammoth effort to get his idea off the ground. While the film's concept was reported by some critics to fall short in certain areas, the good old Aussie fart joke does help push the story along at a cracking pace (and I'm still keen to discover the maximum load capacity of a miniature Shetland pony). Despite the level of toilet humour (or because of it), kids in particular should enjoy this film. There are many moments that will have to be viewed twice as the jokes are better the second time around. Ultimately I would say hire the movie and make up your own mind. After-all it couldn't be any worse than Gregor Jordan's Ned Kelly. Gregor wasn't after any laughs but he got plenty.
2019 - True History Of The Kelly Gang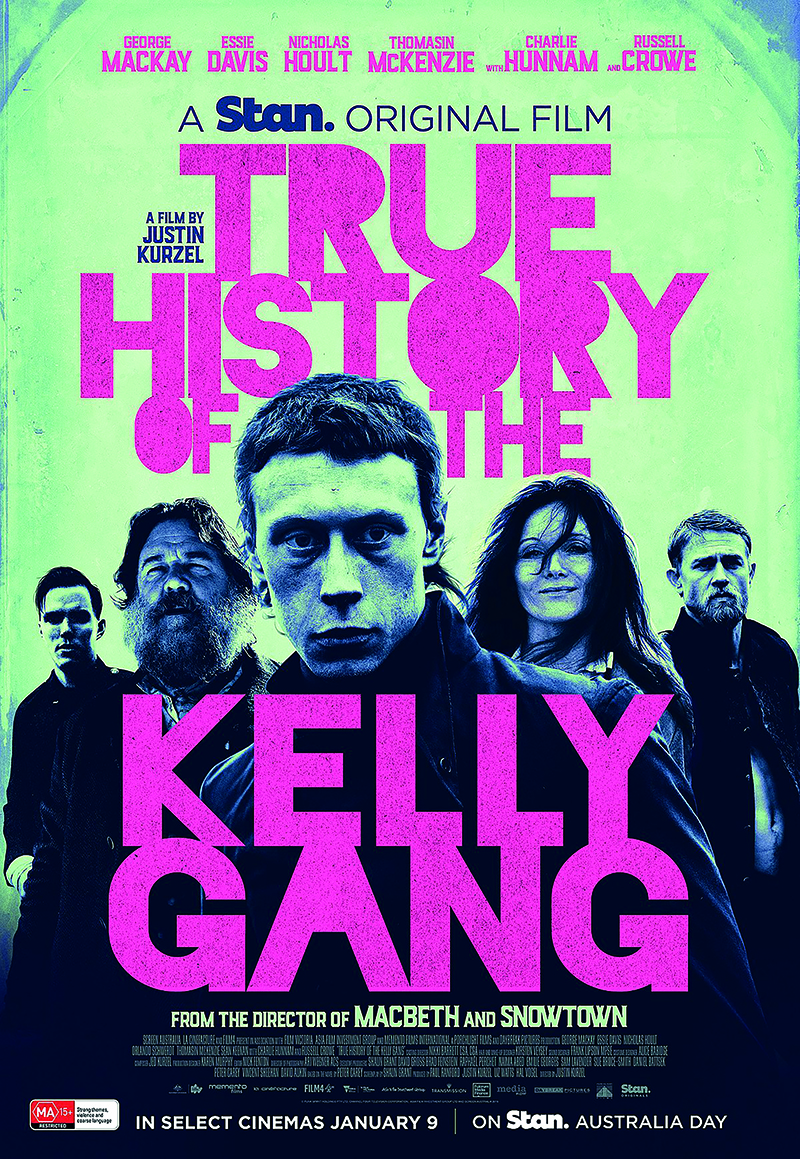 Director: Justin Kurzel
Cast:
George MacKay … Ned Kelly
Essie Davis … Ellen Kelly
Nicholas Hoult … Constable Fitzpatrick
Orlando Schwerdt … Young Ned Kelly
Thomasin McKenzie … Mary Hearn
Sean Keenan … Joe Byrne
Earl Cave … Dan Kelly
Marlon Williams … George King
Louis Hewison … Steve Hart
Charlie Hunnam … Sergeant O'Neil
Russell Crowe … Harry Power
Inspired by Peter Carey's Man Booker prizewinning novel of the same name, Stan Original Film True History of the Kelly Gang, is an epic, fictionalised re-telling of the life of legendary Australian bushranger Ned Kelly. Lauded by critics at the Toronto International Film Festival the film shatters the mythology of the notorious icon to reveal the essence behind his life and forces a country to stare back into the ashes of its brutal past.
Written for the screen by Shaun Grant (Snowtown) and directed by the award-winning Justin Kurzel (Snowtown, Assassin's Creed), it stars a spectacular cast of award-winning Australian and international stars, including BAFTA Award-winner George MacKay (Captain Fantastic), Oscar-winner Russell Crowe (Stan's The Loudest Voice), Nicholas Hoult (Mad Max: Fury Road), Essie Davis (The Babadook), Claudia Karvan (Stan Original Series The Other Guy), Thomasin McKenzie (Jojo Rabbit), Earl Cave (Born to Kill) and Charlie Hunnam (Sons of Anarchy).
TBA - Glenrowan
Director: Matthew Holmes
Cast:
A harrowing, uncompromising and fiercely authentic depiction of the last stand of the Kelly Gang in Glenrowan on June 28th, 1880. Strictly focusing on the final 42-hours of this historic event, Glenrowan explores the true story of Ned Kelly like never before.
Facebook: GlenrowanFilm