Ned Kelly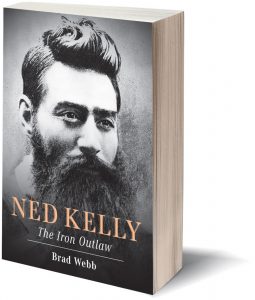 Most Australians know something about Ned Kelly – his gang's final shoot-out with police at Glenrowan, Ned in his iron armour then down by troopers shooting at his exposed legs, his subsequent trial and hanging in Melbourne – it's a story often told. But did you know that Ned was planning a republic of North-east Victoria? That many of the settlers in the area were ready to take on the establishment and form their own independent state? That Ned's 'life of crime' can be linked to the gross corruption of the colonial Victorian police force? Historian Brad Webb has written the essential guide to the Kelly legacy, with rarely seen images. This book is a must for any library. and has plenty to offer to those who think they know the full story of the Kelly Gang.
The legacy of Ned Kelly
This is an excerpt from 'Ned Kelly: The Iron Outlaw' published in 2017 by New Holland Publishers.
For years the authorities had hoped the story of Ned Kelly would simply go away. Historian Ian Jones was quoted as saying, 'There was a culture of hostility towards Kelly history, within the government and particularly the police force. The police lost or threw out an alarming number of Kelly relics.' And indeed they did. These missing items included Ned's revolvers, the padded skull cap he wore under his helmet, and the saddlebags he carried his ammunition in.
Just as significantly, the later half of the twentieth century saw many buildings central to the Kelly story demolished. Landmarks such as the bank Ned robbed in Euroa, the police complex at Benalla, and the hotel in Beechworth where Ned Kelly and Wild Wright fought their twenty-round bare-knuckled fist fight were all destroyed. Some of the Kelly buildings that still stand are in a very poor state. A saddening sight is Ned Kelly's childhood home at Beveridge. Relic hunters have stripped practically everything of value from the property while the building itself is near-condemnable. There has been talk from the Victorian State Government about reconstruction but to-date nothing has been done to correct the decay. Yet, surprisingly, it is tourism which is helping keep the Kelly legend alive. Each year tens of thousands of people travel across Kelly Country in search of their own piece of colonial history.
The quest to better understand Ned Kelly's influences and motivations can be quite complex. What is the attraction? The general public seem fascinated with the premature deaths of famous people – Marilyn Monroe, James Dean, Princess Diana, and here in Australia, Ned Kelly. Chief Justice John Phillips once said, 'I think it's clear that to die young is certainly an aid to fame.' There's no doubt Ned's age is a contributing factor but the legend of Ned Kelly is multifaceted. Ned was more than just a young gun in armour. While his iron suit is iconic it doesn't completely define the man. Even as he roamed north-east Victoria ballads were being sung about Ned's deeds in taverns and shanties across the bush. His last stand at Glenrowan touched a chord with the common man. While many simply saw him as a thief and a murderer, many more regarded Ned as a freedom fighter – a struggle born from the battle between squatter and selector, the fight for land, and the right to a free and prosperous life. As Ned so succinctly put it in his Jerilderie Letter, 'It will pay Government to give those people who are suffering innocence, justice and liberty. If not I will be compelled to show some colonial stratagem which will open the eyes of not only the Victoria Police and inhabitants but the whole British army.'
Ned's cause was further bolstered by a number of poor decisions made by the authorities. Foremost was the determination by the police to lock-up perceived sympathisers for months on end without trial. The public saw this as an outrage which in-turn made them more sympathetic towards Ned's struggle. When the lock-ups failed the government turned to a black list which banned Kelly supporters from taking up land. This act essentially catapulted the Kelly outbreak into a rebellion. However, Ned was no true revolutionary because, at his heart, he was not violent nor ruthless enough to carry it through. His bluff and bluster, which he possibly learnt from his old mate Harry Power, didn't translate to wholesale slaughter. Ned could have easily roused his sympathisers to attack the police at Glenrowan but instead he broke from the siege and told them to all go home.
Although a marked man from an early age, Ned Kelly was hardly the victim. Rarely was he on the receiving end. To a large extent Ned dictated his own destiny. Undoubtably he made some poor decisions, some serious mistakes, which headed his life in particular directions at particular times, often with tragic results. He was a likeable fellow and incredibly brave. At the siege of Glenrowan Ned displayed almost superhuman endurance. When you begin to examine his character traits it's easy to believe that Ned Kelly was almost too good to be true. By adding up all the qualities that you would look for in an Australian frontier-style folk hero, the legend of Ned Kelly appears to have them all. There's no denying Ned was a flawed character – heavily influenced by his convict father, near destitute surroundings, and Irish Catholic upbringing. But he was also driven, determined, and stubborn. It was the last trait that was his undoing.
Ned made a number of enemies during his short twenty-five years. Land barons, police, and judiciary were keen to hold Ned and his type at bay. Even after he was convicted of murder the presiding judge, Sir Redmond Barry, refused Ned's barrister's plea for an appeal to the Full Court, an outrageous travesty of natural justice. There was little to no room at the top for the working class in mid 19th century Australia. But with the death of Ned in 1880 and the Victorian State Governments revisions on land allocation coupled with opening up of Parliament to local representation and the 1881 Royal Commission into the Victorian Police Force, a modern Australia began to emerge. It was the Royal Commission which is possibly Ned Kelly's greatest legacy. Ned was an outspoken critic in the way the police conducted themselves not only in the pursuit of the Kelly Gang but in the way they man-handled the entire north east Victoria. The findings from the Royal Commission created a tradition of public accountability and self-examination which still exists within the Victorian police force today, and it help lay the foundation of what is arguably one of the world's best police forces.
Since his execution in 1880, Ned's antagonists have faded into history while the legend that is Ned Kelly continues to grow with each passing decade. Ned is listed as the first entry in Australian Geographic's 100 Aussie Icons yet many Australians are unsure of the real history. The story of Ned Kelly came along at a time when young nation was in search of a national identity. Ned's bushman's tale was quintessentially Australian. With its foundation in convict heritage and the public's growing affinity for oral traditions, his story of the anti-hero flourished. For city folk, disconnected from the rural lifestyle, Kelly's story was a way to romanticise and reconnect to the bush.
Surprisingly, when people learn about Kelly's story they discover there's more to Ned than a bucket on his head. His is a narrative of multiple layers. Both in life, and in death, mystery continues to surround him. From debate on what date Ned was actually born to where the Kelly Gang went during the eighteen months between the Jerilderie hold-up and siege of Glenrowan, the life and crimes of Ned Kelly continues to raise more questions than there are answers. While Ned's skeleton was finally reunited with his mother and extended family at Greta Cemetery in 2013, his skull is yet to be found. Rumours also persist about Ned Kelly's brain. Some researchers believe it currently resides inside the medical school at Melbourne University, undoubtedly sitting forgotten on a dusty shelf somewhere in a jar of formaldehyde. Missing too is the Declaration of a Republic of North-Eastern Victoriamanifesto which reportedly outlines Ned's vision for a land free from police corruption and government tyranny.
Little could Ned realise that the helmet he built to protect against police bullets would eventually become a symbol for an emerging nation. No doubt the deck was stacked against him but, despite his inevitable end, Ned conducted his crusade with daring. As we say in Australia, he was 'game.' Clearly, the qualities that his myth has evoked – courage in adversity, egalitarianism, and disdain for authority – were inherent in the pioneering spirit. So when did Australia begin to embrace the legend that is Ned Kelly? Historian Stuart Ward asserts that the Australian Government's focus on promoting culture and identity unique to Australia must be understood in terms of Britain's waning influence in a post-colonial era with the substitution of dominion symbolism for Australian metaphors such as a new currency and the identification with Australia Day over Empire Day. Since the late 1960s Ned has been used as a mascot in tourist campaigns, museum exhibitions, and art shows while his armour has been reclassified as a national treasure.
The enigma that is Ned has helped fuel Ned Kelly Inc. into a vast industry of art, tourism, film, television, books, magazines, consumables, and merchandise. As the 21st century dawned, Ned Kelly was once again propelled onto the world stage thanks in part to hundreds of Sidney Nolan inspired Kelly's prancing around in the opening ceremony at the 2000 Sydney Olympics. This was in stark contrast to the last time Australia hosted the Olympics in 1956. Back then Douglas Stewart's play Ned Kelly was supposed to be included in the Melbourne Olympics list of events but it was removed due to concerns over projecting the wrong image to the world. The legend received a further boost with a major exhibition titled Ned which was held at the Old Melbourne Gaol in 2001 – 2002. The nine month spectacle recorded some of the largest crowds ever to attend a cultural event in Australia. Additionally, Peter Carey's Man Booker prize winning novel True History of the Kelly Gang, and Heath Ledger's gritty portrayal in Gregor Jordan's prosaic movie Ned Kellyhelped secure Ned as Australia's foremost folk hero. In stark contrast, the bronzed statue of Sir Redmond Barry, the judge who misdirected the jury, sentenced Ned Kelly to death, and refused Ned's barrister's plea for an appeal, stands out the front of the State Library of Victoria with metal spikes drilled into the top of his head to stop the pigeons from defecating on his cranium. Such is life!
Addendum
On page 113 under the title 'Ned Kelly's brother, Jim, lived until 1946' the author's original content was incorrectly altered to read, 'Fortunately for Jim, he was in gaol when the siege at Glenrowan occurred.' Earlier in the paragraph the author writes that Jim Kelly 'was released in January 1880' which was five months prior to the siege. This editorial error was corrected in the 2018 edition.