The Story of Ned Kelly
Noelene Allen's book, Ellen: a woman of spirit marks the eighth Ned Kelly related publication Network Creative Services has produced since they began making books over ten years ago. Ironically, their first venture was Ned: The Exhibition by Ian Jones for the Old Melbourne Gaol's highly successful Ned Kelly exhibition which ran for nine months. While much has been written about Ned, his mother Ellen – the one person Ned loved more than life itself – has largely been neglected through the pages of Australian history. Ellen's story has been constantly over-shadowed by her son's legendary exploits.
What a wonderful biography of Ned Kelly's mother. I really enjoy reading it in two days! It was a book that you just cannot put down. I live not far from Beveridge and many times have seen the Kelly House and reading the story really made me sad about what happened to this family. Noelene has written it from a woman's point of view – about a mother's will and love for her family. Thank you Noelene for bringing this book to life for future reading of our children's children about Ned Kelly and his family.
Tracey D. Craigieburn, Victoria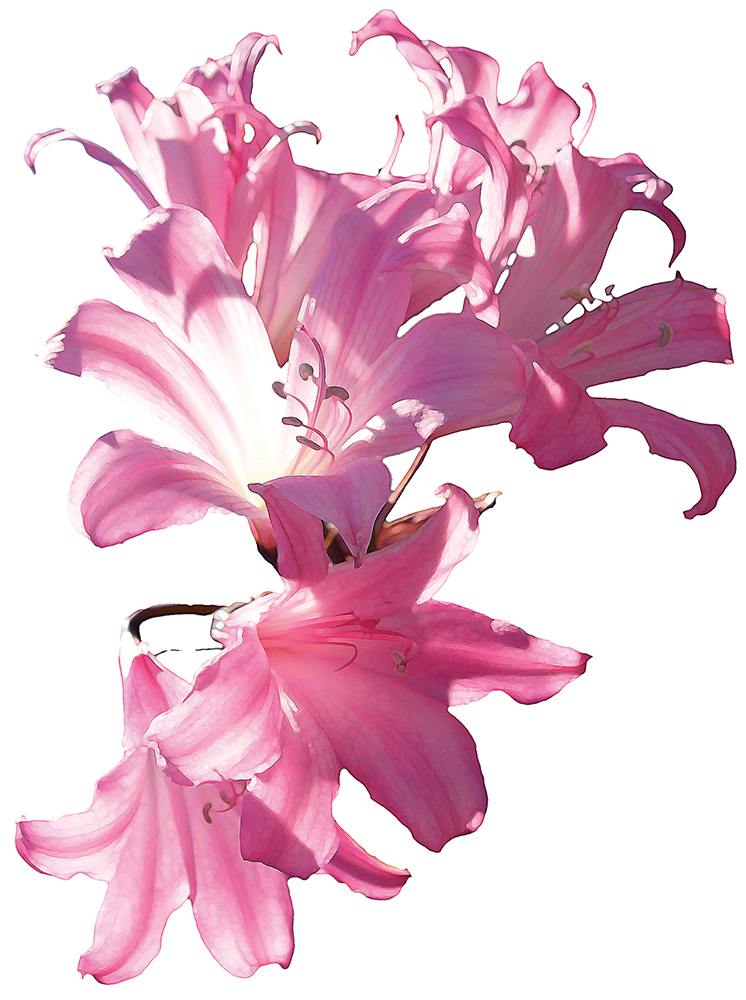 Bred in Australia during the 1800s Amaryllis Belladonna Hybrid referred to as the Belladonna lily, is a cross species which produces colour variations of white, cream, peach, magenta and red hues. The hybrids were crossed back onto the original Amaryllis Belladonna and with each other to produce naturally seed bearing variations that come in a very wide range of flower sizes, shapes, stem heights and intensities of pink, Ellen Kelly's favourite colour. Each season you can still witness the rows of lilies Ellen planted at both Beveridge and Eleven Mile Creek.
A story Noelene felt compelled to relive countless times through her Australia wide presentations on Ellen Kelly, whose in-depth research resulted in the publication of this very book. Noelene leads the reader into a fascinating journey through the harsh landscape of poor nineteenth century Australia through countless trials, tragedies and triumphs of this woman known as Ellen Kelly. By the time Ellen died at aged ninety-one in 1923 she had outlived seven of her twelve children. Network Creative Services are proud to be apart of this historic venture and look forward to working with Noelene on her next publishing venture.
The Book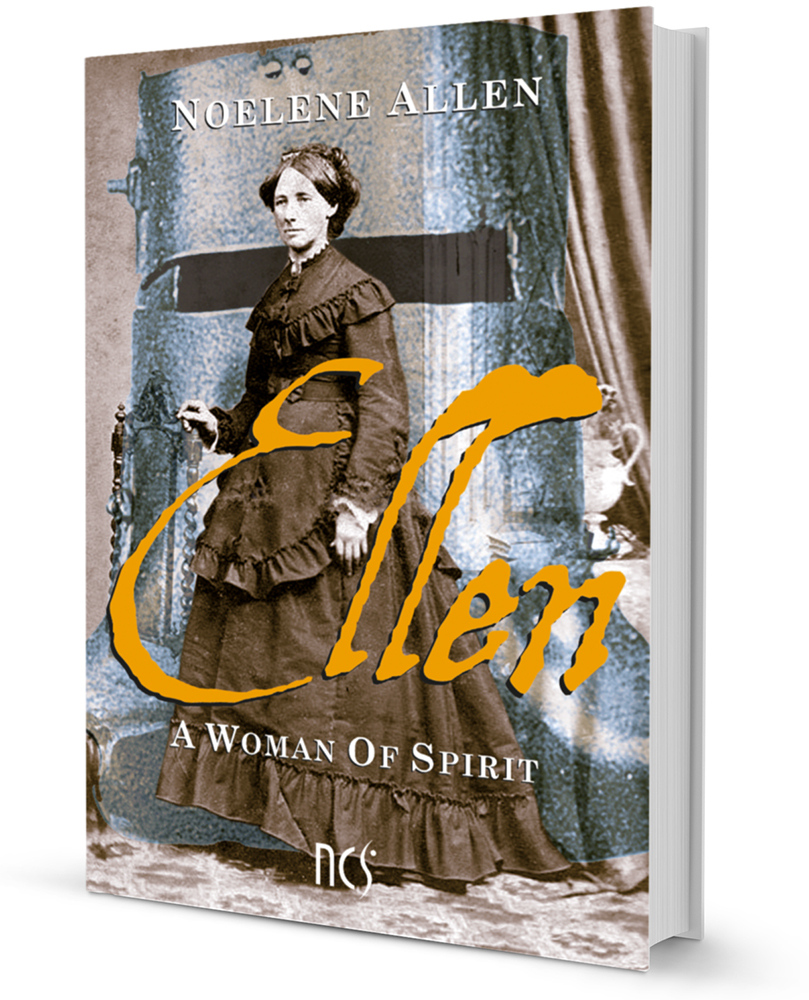 Ellen: a woman of spirit is the extraordinary true story of a woman whose life journey is told in this long awaited book with sympathy, compassion and above all honesty. The reader will become immersed in the trials, tragedies and triumphs of this woman. The love of Ellen's life is taken from her at an early age; she is faced with the task of bringing up her children on her own. She will do anything for her children including spending time in gaol for protecting her teenage daughter from the unwanted advances of a police officer. No mother should experience the tragedies and losses that this woman endured throughout her long life; she outlived seven of her twelve children. The strength of the women of the Kelly family becomes clear as the reader shares many previously untold anecdotes of the life of the mother of Australia's most famous bushranger, Ned Kelly.
Published as a special hardcover limited edition by Network Creative Services, Noelene Allen's two hundred and forty-eight (248) page biography Ellen: a woman of spirit includes over sixty (60) pages of historical photographs.
Media enquiries: ellen.kelly.book@gmail.com
Sales enquiries: ellen.kelly.book@gmail.com
Title: Ellen: a woman of spirit
ISBN: 9780958016216
Finished size: A5 (210mm x 148mm)
Extent: 248 pages Hardcover
Recomended retail price: $34.95
Published 2012 by: Network Creative Services Pty Ltd
ELLEN: A WOMAN OF SPIRIT (Digital Version)
Noelene Allen
Publisher: Network Creative Services
Published: 25 July 2012
Via: Smashwords
Words: 43,910
Language: Australian English
ISBN: 9780987278005
Available eBook formats: ePub, mobi, pdf, lrf, pdb, txt, html
The Author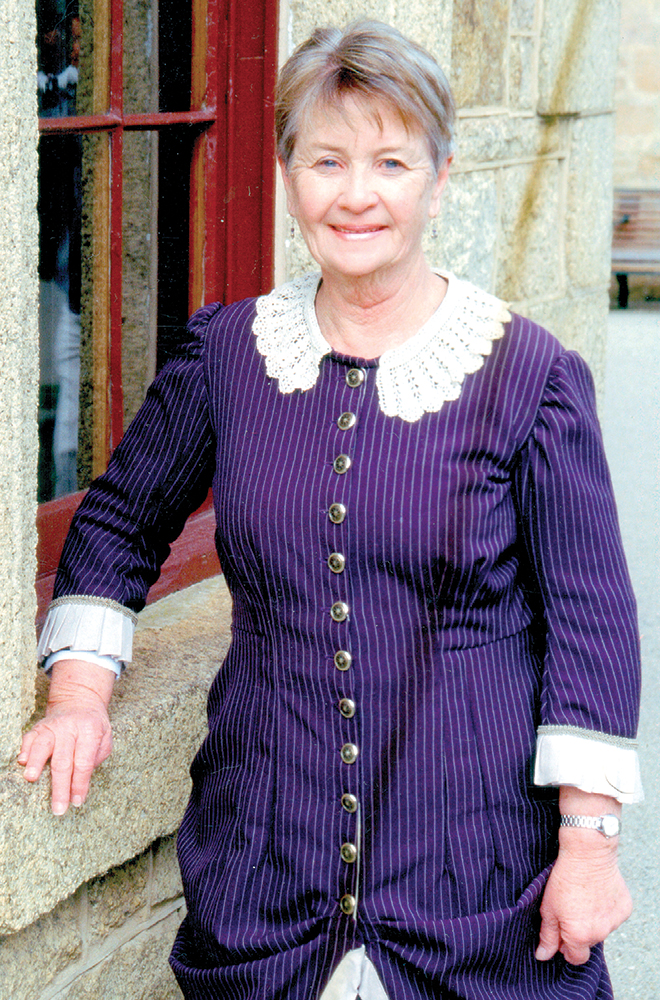 Noelene Allen was born in Sydney and moved to Tamworth in northern New South Wales, following her marriage to Eric where their four children enjoyed growing up on the family's lucerne farm. Following a successful career in retail management and teaching at TAFE, a move to Beechworth in north east Victoria in 1999 saw Noelene become involved with the Beechworth Historic Courthouse. She coordinated the Beechworth Ned Kelly Weekend for a number of years, and was appointed to the position of Coordinator of the Historic Precinct. Conducting tours focusing on Ellen Kelly and the women of the Kelly family in the Precinct and for national TV travel shows saw Noelene receive many invitations to speak to groups throughout Victoria. This is her first book and the many people who have enjoyed her talks and tours will no doubt be eager to discover in print her intimate knowledge of Ellen's previously untold story.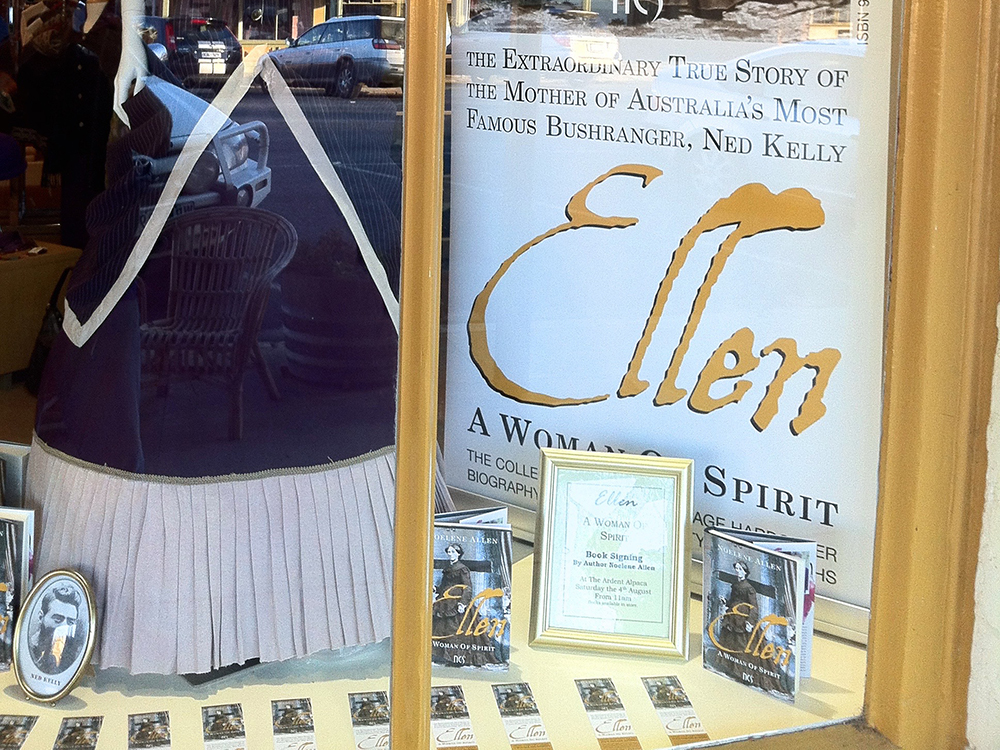 Acknowledgements
Foreword
Introduction
1. The Journey Begins
2. Ireland 1800-1850
3. The Voyage
4. Melbourne
5. Settling in Australia
6. Wallan Wallan
7. John 'Red' Kelly
8. Marriage
9. Gold
10. Merri Creek and Beveridge
11. The Decline of Beveridge
12. Changing Times
13. Avenel
14. Ned's Act of Bravery
15. The Loss of Red
16. Journey to a New Beginning
17. Settling into Life at Greta
18. Ellen's Patch of Dirt
19. Harry Power, Bushranger
20. Anne Kelly
21. The Bill Frost Affair
22. Death of James Quinn
23. Another New Beginning for Ellen
24. The Fitzpatrick Affair
25. The Trial
26. Melbourne Gaol
27. An Uneasy Peace in the Greta Valley
28. The Family and the Outbreak
29. Ellen Returns Home
30. The Reward Board and the Royal Commission
31. Constable Robert Graham
32. Life Goes On
33. The Life and Death of Maggie
34. The Death of Ellen Skillion
35. The Life and Death of Kate Kelly
36. Kate's Children
37. James Kelly
38. A Change in Fortune?
39. Ellen and George King's Family
40. A New Century
The Family Tree
Bibliography
The Catholic Connection
While Ellen Kelly's life was filled with many trials and tragedies it was her deep religious belief and strong Catholic faith which carried her through times of grief and sadness. Ellen Quinn was married to John Kelly on 18th November, 1850 at St. Francis Catholic Church Melbourne by Father Gerald Ward. Ellen and John were both proud Irish Catholics and their children were all brought up in the Catholic faith. Their first born son Edward 'Ned' Kelly was baptised by Father Charles O'Hea who remained a friend of the family and was with Ned when he was executed on 11th November, 1880. Ellen, who had received a three year prison sentence for protecting her daughter from the unwanted advances of a policeman, was still serving her sentence in Melbourne Gaol on the day her son was hanged. Once more, alone with no one to comfort her she relied on her faith to help her through this terrible tragedy.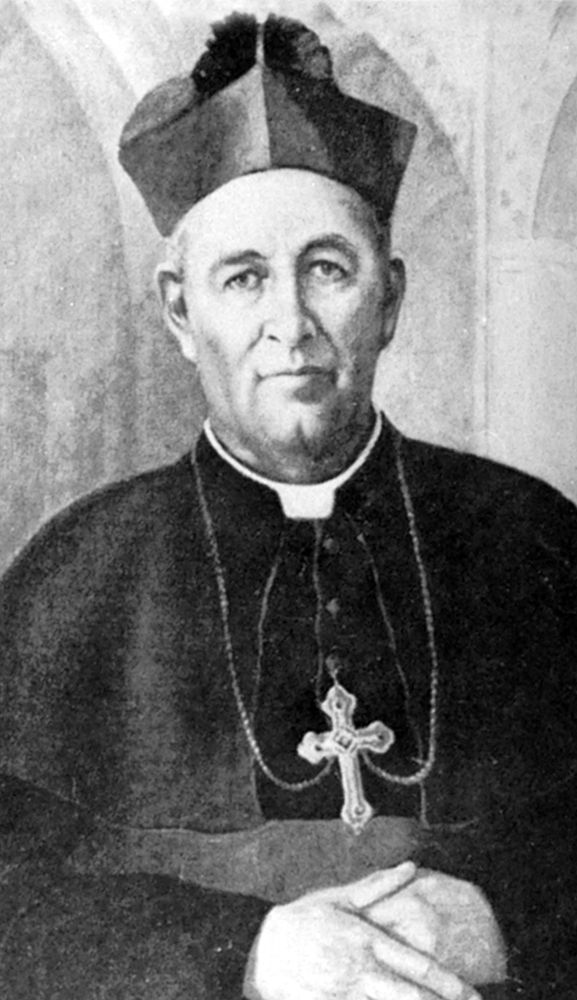 Father Matthew Gibney, a Catholic priest from Western Australia, bravely ran into the burning hotel and found the bodies of Joe, Dan and Steve. He had already administered the sacraments to a critically wounded Ned Kelly. Image: Catholic Archdiocese of Melbourne
Father Matthew Gibney who was at Glenrowan on the night of the siege entered the burning Annie Jones Hotel where he discovered the bodies of three members of the Kelly Gang. He then sat with Ned who had been severely wounded in the shoot out and anointed him in the last sacraments of the Roman Catholic Church. Father Thomas Egan, another family friend, played a vital role in the reconciliation of the people of Greta and the police when he organised the introduction of the local policeman Constable Robert Graham to Ellen Kelly following her release from gaol. Ellen Kelly's faith remained with her during her ninety-one years. She outlived seven of her twelve children, and one of the last photographs of Ellen was taken not long before her death with Father Ryan from Benalla standing next to her wheelchair.
Download: Introduction and chapters One, Two, and Three (PDF)