Have Your Say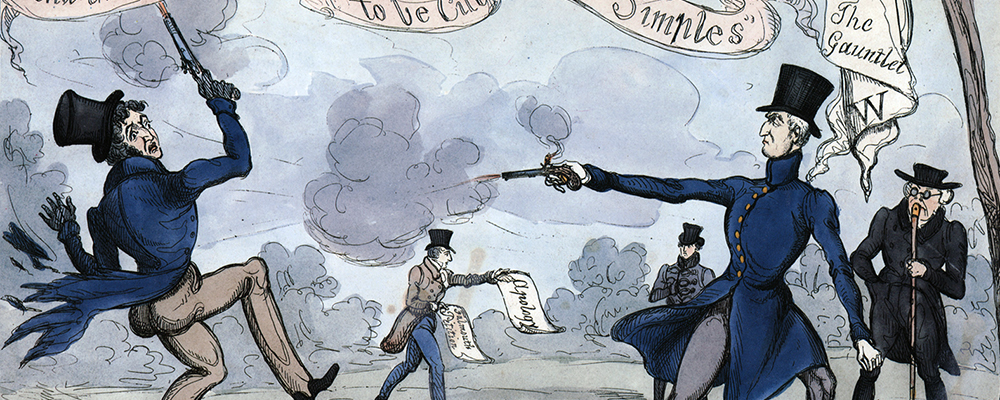 I would just like to say...
Cornelius Moloney
From: Chris – 23 Mar 2023
My great grandfather Cornelius Moloney was in the Glenrowan Hotel during the siege. We are unsure if he was there by chance or design. Cornelius and his wife Selina knew the Kellys and the Lloyds. His daughter, my grandmother, said to me, "Never let a bad word be said about the Kellys. They were a good family and everyone in the district knew it." Con Moloney, along with three others, signed his name to a letter to the Chief Commissioner of Police declaring that Martin Cherry had been shot by bullets fired from outside the house and not by any of the outlaws. Con also claimed 6 pounds compensation for his horse, a chestnut filly, being wounded at the siege. The claim was withdrawn in December of 1880 when Con took back his horse from the police.
Con selected 120 acres of land at Glenrowan in July 1881, one side of the allotment fronted onto the railway line not far from Cameron's gatehouse on the Melbourne side of the town. He then selected 160 acres of land at Winton in 1882 while he still held the land at Glenrowan. Cornelius Married Selina Hill in 1884. Con Moloney leased 320 acres of land at Lurg sometime after 1884. The land was poor, unsuitable for cultivation and badly infested with rabbits. Con, at one time tried dairy farming but all his cows died and he had to find work elsewhere to supplement his family. It seems that Con spent a lot of his life working off his land on the roads. One time an inspector for the lands department came to the Moloney property to put the family off the land because of unpaid rent, when he saw the pitiful state of the children he could not throw them out. Why Con gave up better selections at Glenrowan and Winton is unknown.
The friendship between the Maloneys and LLoyds was life long. Con's son Billy and Tom Lloyd's sons Tom and Leo remained best mates. They rode together in McConvilles rodeo shows for many years. In later life they spent many hours smoking and talking. Con's son Dick Moloney was a horse breaker; he enlisted in the army in September 1915. He was part of the Australian Remount Unit 2, squadron 5. Cornelius and Selena lived in Greta for 40 years before retiring to Wangaratta. Cornelius Moloney died in November 1938 and is buried in the Wangaratta Cemetery.
Alan Crichton Deceased
From: Pete – 11 July 2022
Vale, fellow traveller. ):
Ellen Kelly
From: Andrew – 20 Nov 2021
After detailed research came to same conclusions as yourself Ellen Elizabeth Quinn / Kelly / King was telling the truth. It's interesting to note government of Victoria continues the misinformation. Well done on keeping the truth about the persecution of the Kelly's by the police alive.
A Fatal Friendship
From: Paul – 6 Aug 2021
Hi. Just wondering if you may know if the book A Fatal Friendship will be re-published? Thank you for your time. I would suggest you contact Ian Jones's publisher!
A little help sought
From: Ian – 11 May 2021
Some years ago I read an interview with Ian Jones on your website. I kept a copy of an extract on file but the link no longer works. Expert Ian Jones: www.ironoutlaw.com/html/interned_02.html.Q) What things did you leave out of your books that you would have liked to share with your readers? An omission from my biography of Ned, which I would like to rectify in a revised edition sometime, was the role of the Chinese which I wish I had given proper emphasis. The Chinese played a very significant part in the Kelly story. Ned had great respect for the Chinese and Joe, of course, was virtually a member of Beechworth's Chinese community. I wonder if the full interview can still be accessed. If not I wonder if you could give me some information about who conducted the interview and where it was first published. If you did a website search under 'interned' you'd still find all Ben Collin's reports. So here is the page you're after: www.ironoutlaw.com/interned/ned-would-have-been-a-top-cop/
Kate Kelly by Rebecca Wilson
From: Mick Fitzsimons – 8 Mar 2021
Alice King was the daughter of Ellen Kelly and George King, NOT Alexander Fitzpatrick and Kate Kelly. Fitzpatrick was not stationed at Benalla until very early in August 1878. If a liaison did happen between him and Kate, it would have to have been quite some time after he arrived in Benalla, probably several weeks. Alice was born 13 April 1878. Forty (40) weeks before she was born is 7 July 1877. Thirty-eight (38) weeks from 'conception' is 21 July 1877 – well before Fitzpatrick went to Benalla! If Alice was a month or more premature, it's highly unlikely she would have survived given she would have a lowered immune system and, at that age, their suck-swallow-breath reflex is not well co-ordinated – just to name a couple of problems Alice would have faced.
Proper research by Rebecca Wilson would have shown the truth. These false claims, could cause much grief and distress to the descendants of Alice, to have her name sullied in such a manner. Here is a timeline of Fitzpatrick, before and after going to Benalla –
Pre-police force: Boundary rider from Frankston area
20 April 1877: Appointed police constable No. 2867 and stationed at Richmond depot
31 July 1877: Transfer to the Ovens district (Benalla)
August 1877: Stationed at Benalla under Sgt. Whelan
August 1877: Fitzpatrick allegedly becomes friendly with Ned
17 August 1877: Fitzpatrick allegedly spiked Ned drink
18 August 1877: Ned's fight with police where Const. Lonigan grabbed Ned in a 'squirrel grip' to the groin
13 April 1878: Alice King was born
15 April 1878: Fitzpatrick put in charge of Greta police station
15 April 1878: Fitzpatrick Incident at Kelly home
16 April 1878: 2:00 am. Fitzpatrick returned to Benalla. Sgt. Whelan says he took Fitzpatrick's statement at the time, but this statement has never been presented or seen.
Kate Kelly by Rebecca Wilson
From: Ellen Hollow – 7 Mar 2021
You may (or not) be interested in a book that has hit the shops 16 February 2021 this is about the life of Kate Kelly by Rebecca Wilson. Rebecca contacted me some years ago regarding her paintings, and at that time questioned me about my thoughts regarding the incident at the Kelly house regarding the wounding of Fitzpatrick. My answer to her was along the lines … 'that I was not there and cannot make any comments apart from "to refer to the documents".' I have watched one television interview regarding her paintings and at that time she made the claim that she thought (Ellen Kelly's daughter) Alice King was the daughter of Alexander Fitzpatrick and Kate. I hoped this statement would die so I ignored it.
I heard the ABC interview with Trevor Chappell aired on Monday night and again she made this allegation with conviction. It seems she has been given quite some oxygen in the press since the book launch. I cannot let it pass without comment. I am saddened , angry and disgusted that such a sensational idea has been mooted, I suspect to give her book publicity… 'that a new scandal has been unearthed.'
Look at the facts. The King children at that time were five, three, and a new born. Not impossible but highly improbable that Ellen Kelly/King became a wet nurse for Alice. Remember Ellen was taken to goal with Alice as she was nursing (breast feeding) the infant. Rebecca said she had done intensive research into Kate's life, then how could she believe Kate would abandon her child for all the years until her death? That is not justice to Kate's memory, which Rebecca says she has tried to achieve.
P.S. During Rebecca's ABC interview l rang in, however, the producer was very rude and clearly did not believe my lineage and would not put me on air. And now the Guardian has giving her oxygen! Human nature being as it is,  self serving individuals will make sensational claims to peddle their wares! All l can hope for is that people might familiarise themselves with the facts. Just because it is printed does not make it true…
Ellen Kelly
From: Mohammad – 15 Aug 2020
I am saying how did the incident happen? How did fitzpatrick went to the ellen kelly house? My guess is he probably rode a horse there
Fitzpatrick
From: John – 9 Jul 2020
Here we go, another family connection story you say. Well, I'm not linked to Ned in any way I know of but I am to Alexander Fitzpatrick. If the story is true that Ned did shoot him, then because of that action I'm telling everyone that's half interested that Ned Kelly would not be who he was if it wasn't for my Great Great Uncle. Even if Ned didn't shoot him, Fitzpatrick still lied about it. So the outcome is still the same. So there you have it.
Reward Poster
From: Costa – 6 Jul 2020
Hello, I have in my possession a Ned Kelly reward poster. it is very fragile and yellow in colour. i know it\'s not a reprint because it was found in a fire in the late 60's. Can you recommend someone to look at it? I was told it's the one of the original reprints of the master. Sounds like one of the reproductions made for Mick Jagger's movie. Otherwise contact the SLV…
Condemned Cell Correspondence
From: Deb – 2 Jul 2020
I'd just like to say I have read the Condemned Cell Correspondence and the Letters here on your website and found them so interesting. I have been a Ned Kelly fan since 2003 and had only read a couple of the Letters before but did not know there were letters from when Ned was in gaol. I was so excited to read Ned's words and only wish he could've written more. Thank you so much for having this information on your website.
Ellen Kelly Car
From: Philip – 13 May 2020
Hi. I found your page about Ellen Kelly while I was looking for other Ned related information, and I saw the photo of the Car. This is probably going to sound like a stupid question, but, here it is. I would like to try to make a Model of this Car as part of my small Ned Kelly Collection that I'm planning – I'm also planning on making Red Kelly's House in Beveridge, and Ellen Kelly's House which Ned built, if I can find enough decent photos of what it looked like. My question is this, would you have any other photos of the car, and would you know what colour it would have been? Any ideas people?
That Bloody Photo!
From: Leigh – 13 May 2020
Having read with interest Alan Crichton's reflections on 'That Bloody Photo!' I can correct for the record an aspect of the photo that is in question. From a known first hand source – a granddaughter of Walter Knight, I can quote that "it is definitely not Walter Knight" – her grandfather in question. The suggestion by others that the Ned Kelly image is Walter Knight is totally (100%) inaccurate and merely guess work and unsubstantiated visual referencing. It appears that the quote in the auction catalogue by a daughter of Walter Knight was misrepresented or misquoted by the author at the time, possibly due to a belief that another photo was more likely to be Ned Kelly from a different historical collection which surfaced at a similar time.
Truth who made the armour
From: Tony – 9 Feb 2020
My grate grandfathers grandfather "Joseph Cregan" occupation Blacksmith!! Location Majors Creek NSW. Story's Benjamin Cregan told all the grandchildren, my mother was one of those kids!  All other family members know of these stories told!! Joseph Cregan was kidnapped from Majors Creek NSW. Taken he did not tell anyone after 4days making the armour! frightened of any collaboration or involvement he didn't say anything about his ordeal. His partner left behind was a Maori woman that saved herself and her children and orphans from The bay of Islands New Zealand. This woman was arrested at Majors Creek after trying too survive steeling a goose, while Joseph was taken by the Kelly gang into the bush. Maroaret Cregan Hingergangi/ Gray her Maori name Hingerangi was first born. Hone Heke was her biological father. Hone Heke gave her mother away to Alexander Gray a missionary of the United Church. Hone Heke then cutting the flagpole given by himself to the then governor at the time. Part of this told story told by my grate grandfather Benjamin Cregan Maroaret was a Maori Princess. Her father was Hone Heke a Maori chef in the Bay of Islands!! These stories have been handed down the line in the family. (The Girl wars )/ Maori history!! Kotoro was Maroarets mother captured by Hone Heke … Kotoro Hingerangi was taken from the south by her captor/ Hone Heke keeping this woman as his slave for 15yrs. Kotoro gave birth to Moroaret and she grew up as a young Maori woman then escaping and coming to Australia. Joseph Cregan met the Maori woman Maroaret Hingerangi after her escaping New Zealand then made Ned Kelly's armour at Majors Creek! Good 'ol family yarns!
Kelly Sympathisers
From: Karen – 19 Apr 2019
Hello, I'm looking for the 1878 list of the most wanted Kelly Sympathisers from the Victoria Police Archives. I printed it out a few years ago from here, but my oldest son has lost it. I'd like to show my Grandchildren. My Great Grandfather Rodie Maher is on there. Try our extensive Archive section
Yackandandah
From: Debra – 23 Mar 2019
Hi. I volunteer at the Yackandandah Information Centre at Yackandandah and I am presently looking into any movies that were shot here. So far have Strange Bedfellows 2004, A Far Country 1988 and I remember seeing a black and white of the front of the Post Office but cannot remember it. I was wondering if you have history of any movies?
Ned Kelly Song
From: Col – 23 Jan 2019
My name is Col Millington Singer, Songwriter, Musician. In 1975 I wrote and recorded a song about Ned Kelly; it was released on an Album of mine in 1980. I have just rereleased the song on my new Album The First Fleet, the Album is 17 original songs (including our National Anthem) simply about Australia, its Bushrangers, Towns and Places. I have made a Video Clip of the song and it is available for viewing on YouTube. The link can be accessed: here.
Unknown Ned Kelly photo
From: Mark – 2 Jan 2019

Dear Staff, I am writing today to see if there is any interest in a newly discovered Ned Kelly photo. It comes from a single source in the USA, which contains over 130 famous outlaws, all never before published. Kelly, like the others was purchased unidentified. It seems this collection stopped about 1935 with Bonny and Clyde photos. I recognised a few early on, which led me to the discovery of the others. I would like to send you the image for your review. Please provide an Email address so I can send the attachment. Where do I start…
The Maracich Family
From: Jackson – 30 Nov 2018
Is the Maracich family related to the Kellys? But, now Maracich is Maracic, I'm just wondering if Maracich is related to the Kelly family?
Full Forward for Williamstown Football Club?
From: Peter – 29 Mar 2018
Hi. After some clarification of I may. I have all books written on Ned Kelly and today I was told he played football for Williamstown as a full forward. Is there any truth to this, I find no mention in any of the books? Thanks. Like that great drop of beer that's made in Geelong (which isn't far from Williamstown) it's a Furphy…
Ned Kelly vs The Police
From: Tobi – 12 Mar 2018
Hi guys! Excellent site! Just a quick question – How many policemen / troops were on the trains, at the siege of Glenrowan? I can't remember if I found the number somewhere in a document. I recall the number 90, but I'm not sure now. Do you have any information on this?
A few little anecdotes
From: Jim Holmes – 28 Dec 2017
Hi there; currently reading your book, which was a gift for xmas. Just a few little anecdotes. My great grandfather came from England to Milawa in 1857. He married in Beechworth and they farmed around Carboor. I too was brought up on a farm in tne King Valley. We were brought up hearing many stories of interactions with the Kelly's. In the semi- fictional book by Peter Carey, mention is made of a Mr Holmes – Milawa saddler. This was my G. Grandfather Henry, who lived into old age. Your photo of Jim Kelly was taken by my Aunt in Wangaratta. I have a copy, and she (now deceased) told me she gave the negative to the Lloyd family. If you wish to ask the circumstances how she had the opportunity to take that shot, feel free to drop me a line. Always great to hear my book was well received!
The Iron Outlaw book
From: Shark – 3 Dec 2017
Great read. The photos were very clear. Really interested in the section on the ring and which hand it was on in relation to the photography at the time. Glad you enjoyed the read as it was a joy writing it!
Ned Kelly ancestry
From: Steven Williams – 27 Nov 2017
I have been looking up some sites regarding Ned Kelly. I have been interested in his ancestry; I know he was descended from the Irish (his father I know was transported to Australia). How far back has Ned's ancestry been traced back? I have only been able to find trees going back to his grandfather Thomas and his grandmother Mary. One line in particular I have an interest in is the line going back to Mary, I know she was a Cody from Co. Tipperary, so if you know of any trees going further back from any of Ned's grandparents, especially Mary Cody in particular.
Hero, Villain, Victim
From: Justin – 6 Nov 2017
I believe ned kelly is a victim as a fact of the bad parenting from his father red, because he had to leave school to work because his dad went to jail. and he was also given a reputation because of his father and was unable to create his own. this is why i think ned kelly is a victim.
re. Steve Hart/ William Hart
From: Mick Fitzsimons – 8 Oct 2017
Brenda, Steve Hart's older brother William died as an infant at Yass, the same year he was born, 1852. Vol. Ref: V18555769. He was baptised at Yass, Roman Catholic No: EB86963211.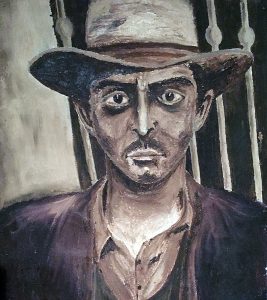 Painting of Ned Kelly
From: Susie Toldi – 9 Jan 2017
Dear sirs. Good day. I'm sending a photo of an oil on canvas of Ned Kelly. Which I owned for about 30 year. Painting dated 1969. You will be able to zoom into signature. Could you tell me anything further about this painting. Looks like Ned's been on the tacos. Must have been painted during his 'bandito' years…
Valuation of Kelly books for insurance
From: Lynelle Oder – 6 Jan 2017
My husband and I are looking at getting some contents insurance and I would therefore like to have an idea of the approximate value of my Ned Kelly books. I have 80 or so books plus some cds and dvds. Can you help with any suggestions about how I might go about getting this? Would you suggest I contact second hand book sellers or speak with valuers? Any suggestions would be appreciated, thanks. I'd check out some of the more established second hand dealers if I were you.
Hatcher initials transcribed from Ned's Cameron letter
From: Michael – 24 Dec 2016
Should this not be W rather TH ?
Book featuring Kelly
From: Lawrence Scariano – 10 Dec 2016
Really didn't know this site was still active. Some years back, I sent in a letter mentioning a book featuring Ned Kelly my kids and I were writing. As a learning activity, my kids were instructed to pick an obscure (for Americans) historic character and work him into a story; Justa and the Victorian Rogue was the result. This was followed by a novel, lutherous Nie and the Warriors of Faith, which also features my interpretation of Kelly. We are currently laying out a third in the series which, I haven't decided, may give Kelly an honorable and heroic death. These stories have little to do with Australia, and they are totally fiction, and I'm sure some may feel our presentation of Victorian speak comic or even insulting. While both of these manuscripts are available commercially (though never advertised), I'd love to provide them free to anyone willing to give me critical feedback on "my Kelly". One day We will finally visit your beautiful country so I can get a real "Kelly fix". If anyone is interested please contact me at drlarz@aol.com. Apparently we've been 'active' since 1995…
Hero or Villain
From: Mark Sasse – 30 Nov 2016
Hi, I am yet to form an opinion of Ned Kelly and at times have had a foot on either side of the debates. I think it comes down to one question that if answered competently should sway my opinion. African Americans are too fighting oppression in the US. Therefore are the killings of police officers justified and should we celebrate these often martyrs as heros? And does this therefore mean killing police in Australia is a valid response to oppression This is a sincere query that aims to find answers to an ongoing personal inner debate as to is NK a hero or villain. I also aim to gain a deeper understanding of Australian culture and the psyche within. Best regards.
Ned Kelly
From: Michael – 28 Nov 2016
I think he was inocent.
Annie Moss
From: Yvonne Hicken – 25 Nov 2016
Hi. Bit of a vague query this one but do you have any information on an Englishwoman Annie Moss (nee Worth) from Kingsbridge Devon England in connection with "sheltering Ned Kelly"…. as I say a bi of vague enquiry. With thanks.
Ned Kelly
From: David Durost – 28 Jul 2016
I am interested in knowing more about Ned Kelly. I remain uncertain as to how I should view him. He is considered Robin Hood of the "OutBack." Critics say he not someone to be glorified since he was a thief and murdered in cold blood. Was he an evil man? I know that's over simplified question but I want the truth. I understand people like Ned Kelly had difficulty with the English controlling the affairs of Australia. Were his actions warranted? I think there's a web site that might help you out – if I could only remember it's name…
My connection to the Kelly Gang
From: Phillip Cole – 27 Jul 2016
Hello I have a connection by the way of John Studders who was arrested for stolen horses but was found not guilty. He is mentioned in a few books one by Ian Jones and a few others but I thought I would share something interesting about the horse theft. At the same time the trials were happening another Studders family member arrived in Kyogle (northern New South Wales) with 8 or 9 of the finest horses they had ever seen. I wonder if John took the rap whilst the horses were taken north? It is interesting. Just thought I would let you know about my connection.
Family Tree
From: Craig Giles – 30 Apr 2016
Hi. I live in England and have been told from an early age that I'm a distant relative of Ned and his family, my mothers maiden name is Kelly and the story goes that her cousin who lives in Conemara, county Sligo in Ireland has a ring that was possibly Red's (neds father) wedding ring. Now with the advent of Internet genealogy websites you would think that it would be easy to trace family lines but unfortunately I have reached a dead end. Maybe in the future I'll be able to confirm the story to my own children but until then it remains a family myth.
Ned's Armour
From: Dale Laws – 4 Oct 2015
Hi my names dale laws on fb was just wondering if at all u may have some good pics of ned in his armour plz for drawing and paint for my self plz and thank you if u could send me the via fb. Easier if you just look over the web site…
Jesse Dowsett
From: Melinda Walters – 1 Oct 2015
I am also interested in an article on Jesse Dowsett – Railway guard. If you could send me a copy or re-print it, I would be grateful. I have only just found you Iron Outlaw and now I am wondering how much I have missed! Just type the name in the search panel and up the stories will come…
Ned Kelly Research
From: Monique Hutchinson – 29 Sep 2015
Hi Ellen, we are so glad that you have created this page. We are a homeschooling family and for history our 11 yo son has chosen to learn about Ned Kelly. We have recently viewed the video "BESIEGED: THE NED KELLY STORY" and would love to learn more. Yes, those fake beards made for some entertaining viewing!
Redmond Barry
From: Eileen Powell – 9 Sep 2015
Hi,  Redmond Barry was my great, great great . grandfather. I would like to contact Alex McDermott for some discussion about Ned Kelly and Redmond Barry.  Thanks. Just look under the nearest rock…
Euroa Bank
From: Steve – 28 Aug 2015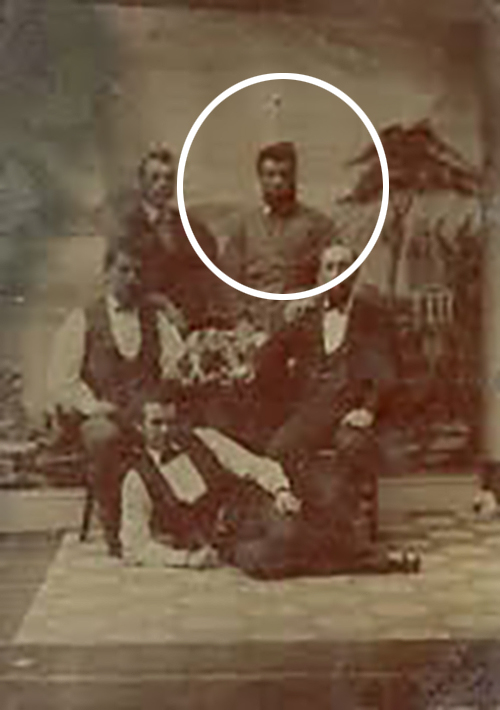 Team, seeking someone who may want to take a look at a photo that has come into my possession a while back now.  The elderly person that passed it on to me never really gave me many details other than he believed that his parents spoke of it being from a major event that happened in Euroa last century. Is this a possible photo of Ned Kelly with The Euroa Bank Manager Robert Scott in the foreground? There appears to be (although I am no historian or authority…) three bank tellers are wearing 1870's style banking uniforms.  I have never seen a photo of Mr Robert Scott the NAB Bank Manager so I cant say for certain that this is what it is, however it is interesting that the image of (Ned) is also wearing the same clothes as the other (bank employees).  Its also interesting, the posture of (Ned) as he appears to have adopted the same hand/arm pose as him in the final prison photo, same sloping shoulders, similar cowlick and similar shaped forehead. Apologies for the quality of the first image. I guess I could try and enlarge it with better quality if there is any interest.  The original I have is on a tin plate and not paper. Any information would be grateful.  I'm not holding out any false hopes about this image and do not have any concrete evidence as it being what I think it "maybe" so in any reply I would  be grateful if you could shed any light on the matter. If I was a betting man (which I am), I'd put a $100 on the horse called 'No Chance'!
Jesse Dowsett
From: Ron Sheedy – 17 Aug 2015
Good Arvo Iron Outlaw, I am a constant viewer of your Web site . Last year i read an article on Jesse Dowsett Railway guard. I would like to get a copy of it could you rerun it or tell me how I could get a copy of it.Jesse Dowsett is an unsung hero , I would appreciate your help. Be for I go Your Web Site does a great  job filtering out bits of golden info for blokes like me, the piece on Harry Power is a great example. Please keep the trickle of info coming we love it. Hear from you soon.

Ned Kelly Candles
From: Natalie – 3 Aug 2015
Has any body ever seen any candles sculptue's of ned kelly?? I remember when I was a kid my nan had 1 it was awsome every little detail was perfectly but it was the only 1 i have ever seen & i wont 2 get my hubbies 1 its his b.day soon he loves ned kelly stuff
That Magazine
From: Bart Bartholomew – 14 Jul 2015
Just looken for the magazine that had the ned Kelly story about how they took ned Kelly and hanged him in jail and how it takes a thousand men like ned to hoist the flag of stars with the southern cross flag as the back drop ,just wondering if you got the picture? Did someone says magazines?
Steve Hart/ William Hart
From: Brenda Hart – 8 Jun 2015
Love to hear from anyone with information on Steve Harts older brother William Hart born 1852 in Yass NSW. Many Thanks.
Ned's Horse
From: Ron Taylor – 25 May 2015
I have heard storys that sir john monash or even a taylor held neds reins of his horse while he robbed the bank. do u know of any story regarding this? Just another old wives tale…
Ned's Culture – Jerilderie Letter
From: Brett Fitzgerald – 11 Apr 2015
Hi, in the past few years, I studied my ancestry, which leads to 2 dominant cultures of Irish people. Catholic and Protestant. 2 sides of my Maternal family, were into the Law/Parliament of Ireland from Medieval times till around the mid 1840s. In that time, I've learnt quite the culture, on what it is to be Irish. Ned Kelly could not have learnt this hard culture of the Irish, unless he was born there, as we know he was born In Australia. The only way that he could do that was learn about "the old ways", was through his Family and or Irish friends that he grew up with. As far as I am concerned, Ned's culture lands with his Father's "trouble's" in Ireland. The disdain of the words -"British Gov" – "Overlords" etc etc, was taught to him by his Family's past troublesome times. The reason I am giving feedback, is that I have just read an old book, by Bill Wannan, which explained Ned is a small sentence that struck a real chord. "Australian Folklore" 1970s edition states that Ned had "an odd mixture of Irish Nationalism and Australian Republicanism". How could Bill depict Ned as showing "Nationalism" if he technically wasn't Irish?
This is where, my Family Ancestry knowledge comes in. I am descended from a MacNevin family in Ireland. These MacNevin's were the forefront of Irish Nationalism predominantly during the 1840s. The Family were directly connected with Daniel O'Connell (The Great Emancipator). A distant Uncle to me, was named Thomas MacNevin – a Co-Contributor to "The Nation" magazine. If you know the names of Sir Charles Gavan Duffy and Peter Lalor, Thomas MacNevin actually had the same sentiments as these 2 men. Duffy and MacNevin worked together. Ironically, Thomas's Nephew came to Australia and became a higher order Clerk/Judge/Magistrate/Coroner in Sydney for many years.
Through this line of knowledge I have been able to find a bit more on Ned and why he was the way he was. From a Catholic Family, who he thought had been "hard done by" and he was just showing that he's a fighter in a "Republican way". In essence, I think he was channeling his Father's ideals and the above Catholic notables lives, in justifying that he was just human but he had to fight for his life all the way through. And like the above people, fought their way through the "Catholic" bigotry red tape in Australia. Duffy had the same issues when he came to Australia too. Can you help me understand if you seen Ned in this same light? (This one sentence of Bill Wannan's depiction of Ned, has now cast quite a different thought to Ned than previous). I suppose the only thing missing from Ned's resume, like Duffy and Lalor's lives, that he should have put himself in for being a Member of Parliament… The Jerilderie Letter and the Euroa letter, were almost "Parliamentarian-esq" speeches. That's a folklore tale right there.
Ned – A New Musical
From: Keagan Vaskess – 8 Apr 2015
Hey guys, just wanted to let you know that there is a new Australian musical based on the life of Ned Kelly opening at Bendigo's Ulumbarra Theatre from Friday May 22nd. Tickets are on sale now and can be purchased through the official website at nedmusical.com.au
A Maltese Ned Painting
From: Michael Wright – 28 Mar 2015
Hi Ironoutlaw, here's a Maltese Ned Kelly painting for you. I've attached a large picture, and it's on my website with an explanation at lemakoo.com/malta-australia-paintings.html (you'll need to scroll down the page a bit). He's actually just been sold to a lady in Sydney, it was kind of fitting that he was sent to Australia, again. All the best, great site, well done.
Kate Kelly Exhibition
From: Rebecca Wilson – 5 Mar 2015
Hello there – just wondering if you might be interested in mentioning my upcoming exhibition on Kate Kelly. It's a travelling exhibition launching in Blackheath 12 April and going to Bathurst, Orange and Forbes for the River Arts Festival there. My web site rebeccawilsonart.com has the details.
Ned Kelly by Peter FitzSimons
From: Les Case  – 19 Jan 2015
Hi. Love this Web site, my question is, have you reviewed Peter Fitzsimons book on Ned Kelly, not sure if I should buy it. Thankyou. Paul O'Keefe's contributions make it worth buying