With Dr Ian White
Is the vigilante Robin Hood a superhero? What about demigods and mythological icons such as Hercules, Måui, and Artemis? Superheroes are notoriously hard to define, making it difficult to identify when the pop culture icon first came into existence. We encourage papers that identify early examples of the superhero archetype and chart their influence on the heroes of today and tomorrow.
Ned Kelly Incorporated
Ned Kelly in life, as in death, was a polarising figure. During his outlawry, Ned became an adversary to the establishment but a crusader to the common folk. On a regular basis, his portrayal in the media shifted through a multitude of conflicting attitudes. Metropolitan newspapers squared off against illustrative publications, parochial news sheets and the ever-popular Penny Bloods—cheap, publications aimed primarily at young working-class readers that remained popular for most of the 19th century and well into the early 20th. The Penny Bloods (or Penny Dreadfuls, as they were also known) were the predecessors of the illustrated comic. The starkly contrasting opinions voiced in these diverse publications both fuelled the public's awareness of Ned Kelly's exploits and opened them up to further interpretation. Newspapers of the day competed, criticised, and openly lampooned each other by whatever means they could, including their stance on Ned Kelly—although none of them could accurately nail down his likeness.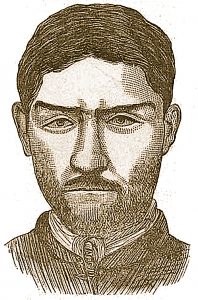 Government issued images printed on wanted notices, often based on prison photos taken years earlier, added to the inaccurate depictions. The photographic halftone, today used to reproduce photographs in print, was first patented in 1882 and did not become common until later that decade, many years after Ned's death. This lack of a definitive likeness was further fuelled by the metropolitan newspapers, whose artists enjoyed unfettered latitude to portray a stereotypical, bearded bushranger to act as a Ned Kelly proxy. The widespread uncertainty about Ned's appearance allowed the Kelly Gang to evade capture for over eighteen months although, as time passed, anticipation about his 'real' appearance grew to the point of a national obsession.
These often highly imaginative illustrations help set Ned up as a nefarious arch criminal and helped create a visual reference for what polite society deemed to be the under or criminal classes. Yet, at the same time as Ned was being ostracised in certain circles, he was also being lauded in others as knowledge of his activities and motivations spread. Both the portrayals of the man and the descriptions of his expoits had an impact on his supporters and, together, these helped generate sympathy for Ned's so-called "insurrection." They also helped form the basis of his folkloric ascension—for it was these biting whimsies that helped influenced Kelly's own perceptions of his self-image and helped him and his followers to believe that the Kelly Gang was capable of intervening in what they saw as corruption and misrule throughout the entire colony.
Fast forward 138 years to 2018 and we still see, on average, a Ned Kelly related story published weekly somewhere around the world. There are over thirty million pieces of information about Ned Kelly and the Kelly Gang available online. Ned has been commemorated through plays, music, words, paintings, and film. Sidney Nolan's Ned Kelly series of paintings have become an icon of Australian fine art. More books, songs, and websites have been written about Ned Kelly than any other Australian figure—alive or dead. When you factor in the wide variety of Kellyana to the mix—such as tourism, clothing, food, toys, alcohol, souvenirs, etc.—the business of being a folk hero has evolved into a multi-million dollar enterprise—Ned Kelly Incorporated.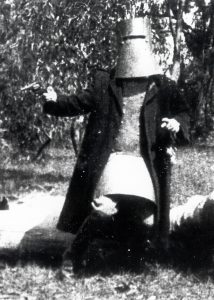 Ned Kelly has played a significant role in the advent of modern popular culture. The Story of the Kelly Gang, produced in 1906, was hailed as the first continuous narrative film of any significant length in the world. Premiering on Boxing Day in 1906 at Melbourne's  Athenaeum Hall, the film was close to sixty minutes in length, a duration that was unheard of at that time. It ran to full houses for five weeks before moving to other Melbourne theatres. It screened in Sydney and Adelaide and toured Queensland. It was shown in New Zealand and England, where it promoted as 'the longest film ever made.' It is interesting to note here that between 1906 and 1912 Australia produced more feature-length films than Britain or the United States of America. However, whilst the Australian public took a liking to bushranger stories, the New South Wales police certainly did not and the production of films about bushrangers was banned in 1912. The embargo effectively hamstrung the Australian film industry, in part helping clear the way for Hollywood's eventual domination of the industry. 
With the restriction of the local films, advocates for Ned returned to print and Kelly literature began in earnest. Titles like Iron Ned Kelly and his Gang caught the attention of Sir Arthur Conan Doyle who, during the Great War, petitioned the London War Office for 'Kelly Armour' to protect the troops. In advocating armoured protection for British soldiers Doyle announced, 'When Ned Kelly walked unharmed before the Victorian police rifles in his own hand-made armour he was an object-lesson to the world. If an outlaw could do it, why not a soldier?' (Incidentally, Doyle also believed in Fairies).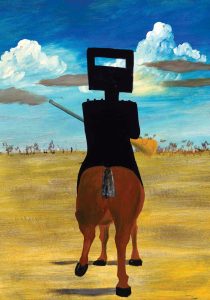 This fresh interest in Ned encouraged more publications and, in 1929, the first major pro-Kelly work was released: J.J. Kenneally's The Complete Inner History of the Kelly Gang and Their Pursuers. Up to this point the dominant, mainstream Kelly literature portrayed him as a ruthless criminal, a symbol of the remnant Irish patriotism loathed by the colonial Victorian government, while the image of popular hero was kept alive largely through oral tradition and folk songs. Kenneally's book went on to become the inspiration for Sidney Nolan's culturally significant Ned Kelly series of paintings, which he commenced in 1946. Nolan's depiction of a starkly simplified Kelly in his bush-made armour has so become iconically Australian that, in the opening ceremony of the 2000 Sydney Olympics, a multitude of performers donned stylised costumes based on Nolan's distinctive imagery.
The mythology surrounding Ned Kelly also extended to indigenous dreaming. In 1988, at the Charles Strong Memorial Lecture, anthropologist Deborah Bird Rose discussed two Aboriginal Dreamtime stories about Ned from the Victoria River District of the Northern Territory under the title, Ned Kelly Died For Our Sins and further expanded on these accounts in her book Dingo Makes Us Human (2000). Rose explains that the Yarralin people tell a story in which Captain Cook (a metaphor for the deleterious colonial relationships between white settlers and the aboriginal people) took Ned Kelly back to England where his throat was cut. The story, translated from Kriol by Rose, continues, 'They bury him. Leave him. Sun go down, little bit dark now, he left this world. BOOOOOMMMMM! Go longa top. This world shaking. All the white men been shaking. They all been frightened' (Rose, 1994, p.182). Rose argues that, in the same way that Captain Cook came to represent the oppressive side of white settlement, the Kelly story has been conflated with Jesus and all those who stand against oppression and injustice: "Aboriginal people in the Victoria River District have not found Ned Kelly to be ambiguous. They have analysed his actions and defined him as purely moral. Through Ned Kelly an equitable social order, which includes Europeans, is established as an enduring principle of life." (Rose, 2000, pp. 201–202). 
Throughout the late 1800s, the penny bloods, penny dreadfuls, pamphlets and popular periodicals maintained and sustained a deep fascination for the story of Ned Kelly. Long before his demise, four dedicated publications were already in print, including the tongue-in-cheek The Book of Keli, published in mid 1879 by George Wilson Hall. While each story varied as widely as the quality of the publication and facts mixed liberally with fiction, a superhero archetype was beginning to emerge with each re-telling. When publishers added the excitement of illustrations to the mix the resulting narratives became a visual attraction eagerly consumed by old and young alike.
In 1881, just a year after Ned's execution, a compilation of a thirty-eight part weekly series titled Ned Kelly the Ironclad Australian Bushranger—written by James Borlase, but credited as being by 'One of His Captors'—was published by Alfred J Isaacs and Sons of London, helping bring Ned's notoriety to the English public. Noted Australian banker and historian H.G. Turner described the series as 'a gory compilation of melodramatic impossibilities' which aligned perfectly with the penny blood ethos of presenting dramatic tales and outlandish storylines concerning pirates, adventurers, and villains to a working class public hungry for cheap, long lasting and value for money entertainment.
So, kicking and screaming, the pulp fiction version of Ned Kelly was born. Writers and publishers picked and chose which parts of the 'real' story they would use and what sections would be 'romanticised' and the story was perpetuated in dozens of variations. Folklore became intertwined with historical facts (and vice-versa) just as in the children's party game Chinese Whispers or, as it is known in the U.S., the Telephone Game. Tens of thousands of copies of the Ned Kelly story, in one guise or another, were sold in Australia, the United Kingdom and a number of Commonwealth countries including New Zealand and South Africa. In 1938, when Action Comics #1 introduced Superman to the world, Ned Kelly was not far behind. Published around 1940, The Kelly Gang Rides was a juvenile comic strip which presented a westernised version of the Kelly story and even had Ned dressed in 1940s style clothing.
It is documented that Ned Kelly and his lieutenant Joe Byrne's decision to build the armour was influenced by two international sources: Ned's favourite book Lorna Doone—in which the outlaw Doones were described 'with iron plates on breast and head' and by a visiting display of Chinese armour shown in the late 1870s at Beechworth. Conversely, the Kelly Gang armour has influenced a number of international publications including a number of comics based on America's wild west. The cover to Dead Eye Western #11, published by Hillman Periodicals in 1950, appears to be an interpretation of the siege at Glenrowan between the Kelly Gang and the police. The cover is particularly well rendered and, whilst the story is convoluted, the origin of the armour is indisputably Ned's.
The now common trope of the anti-hero armoured up against a range of 'good guys' includes the 1952 edition of Tim Holt #32 in which the protagonist faces off against a colourful character known as Iron Mask. Fast forward ten years and we get Marvel's Stan Lee and Jack Kirby's character Kid Colt unsuccessfully battling another villain also named Iron Mask. This made the Iron Mask Colt's arch enemy—a novel move given that the norm of the day required that criminals were generally dispatched within a single episode. However, the bulkier armour on the cover of Kid Colt Outlaw #114 is a better representation of Ned Kelly's compared to the flimsy and obviously light weight protection Iron Mask wore in his debut issue #110.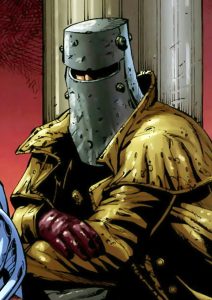 Fast forward to the new millennium and we meet The Swagman, a DC supervillain who borrows heavily from the Ned Kelly mythos. The Swagman's first appearance was in Batman #676 and, as the name suggests, he began his criminal career in Australia—a career which quickly bought him into conflict with the Dark Ranger, an ally of Batman. Swagman attempts to protect himself by wearing different types of makeshift armour while brandishing swords and grenade launchers. Although the Swagman is not a regular in the Batman universe, he makes a cameo appearance in the episode The Knights of Tomorrow! in the animated series Batman: The Brave and the Bold (2008–2011).
Back in Australia, in June 1970 the politically incorrect comic Iron Outlaw commenced in Melbourne's Sunday Observer. Written by Graeme Rutherford and drawn by Gregor MacAlpine, Iron Outlaw sometimes ridiculed, but mostly poked fun at the political and social institutions of Australia, setting about the 'Ocker' image with great relish. At the same time, Rutherford and MacAlpine highlighted the popularity of comic book super-heroes, particularly the characters from Stan Lee's Marvel Comic Group and imitated the styles of well-known comic book artists, (such as Neal Adams), to reinforce their point. The alter ego of Iron Outlaw was Gary Robinson, then a junior accountant for the Malvern City Council in Victoria, who said he was tormented by the injustices he witnessed against the citizens of Melbourne.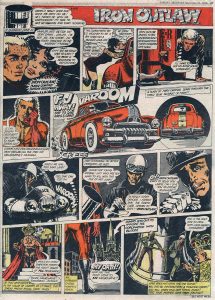 On a visit to Glenrowan Robinson finds an old Ned Kelly style helmet and wishes that he had the strength and courage of Ned Kelly to combat the forces of evil. In typical super-hero fashion, Iron Outlaw soon gained an off-sider in the form of Steel Sheila, who is really Dawn Papadopolis, a council typist. Early stories were restricted to Melbourne, where they mercilessly caricatured Sir Henry Bolte (the then Premier of Victoria) as 'Humpo—The Hunchback of St Paul's', a man who is determined to spread doom and gloom by making every day like a Melbourne Sunday. When the duo were 'called upon' by Prime Minister John Gorton to serve their country, the strip quickly broadened its horizons beyond Melbourne and opened up a whole new field for satire. In early 1971, Iron Outlaw and Steel Sheila (as the strip was by then called) transferred to the Sunday Review. With its transition colour to black and white, the strip hit its visual peak, but by the time it had wound up in June the same year, the comic had seemingly satirised everything in sight and, in the process, confronted too many readers with some of the more unpleasant aspects of Australian society.
Since then, although there have been many illustrative interpretations of the Ned Kelly legend, none have been as detailed or as authentic as Monty Wedd's version from the mid 1970s. The original plans for the comic strip called for Ned Kelly to run for twenty-five to thirty weeks but when Wedd sensed the opportunity to be able to produce a detailed examination of Kelly's life he approached the Sunday Mirror in early 1974 and explained what he had in mind. They agreed he should draw the comic on an open-end basis and so Ned Kelly ran weekly for over three years in a number of Rupert Murdoch's Australian newspapers. Wedd told the Kelly story with an even-handed approach and left it to the reader to make his own determination of Kelly's rightful place in our history. Rendered in a style that resembles earlier engravings, with considerable crosshatching, the comic remains to this day an excellent example of how to use the medium of comics to teach history.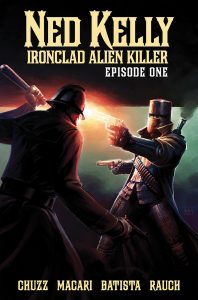 Moving from newspaper strips to dedicated comic books utilising digital publication and distribution, Nick Macari and Chris Batista's 2016 steampunk styled graphic novel Ned Kelly: Ironclad Alien Killer, depicts Earth has having been colonised by aliens in the mid-1800s. Landing in the Australian outback, they used masking technology to disguise themselves as humans then infiltrated the highest levels of society in the new colony of Victoria. The resistance movement is formed by inventor Henry Sutton, a real-life Australian genius who invented early versions of the telephone, the light bulb, the television and the aeroplane. Sutton provides the technology necessary to fight the aliens—and recruits Ned Kelly to lead the charge.
Publishers like Australia's House of M (run by writer Max Myint and Illustrator Zac Smith-Cameron) are well aware of the significance of public consciousness. They understand that if you have a ready-made character that an audience can empathise with, in their case an alternative universe Ned Kelly in their series I AM NED (2017), much of the hard work is already done. By choosing a persona with an existing background, the reader will already have a familiarity or affinity with the subject. People who pick up a Doctor Who comic are typically already aware of the narrative and backstory. However, unlike Batman's seventy-five plus years of myth, the House of M did not have the luxury of time, or the depth of resources, to create and nurture an unknown character to maturity. So, much as Marvel did with Thor, House of M's 'superman' was pulled ready made from the pages of history. 
Set in the wake of World War 4, what remains of the continents have been isolated from each other. Australia is now lost to an intelligent species of zombies. People are hunted and sent to 'human farms', where they are then portioned and delivered to the hungry masses like cattle. One man dares to stand against the plague. Building armour inspired by the legendary Ned Kelly, he merciless in his desire to bring down this zombie empire. I AM NED #1 is part Mad Max (1979+) and part V for Vendetta (2005). It's unapologetically violent, brutally gory with dark political undertones, and introduces provocative concepts that challenge the reader's perspective of individuality and happiness.   
In the almost 140 years since his execution, Ned Kelly has been mythologised into a 'Robin Hood' character, been accepted into aboriginal narratives, become a political icon and a figure of Irish-Catholic and working-class resistance to the colonial and, to some degree, contemporary establishment. The proliferation of illustrated newspapers made possible by advances in printing technology and cheap mass publishing in colonial Australian culture, was an aspect of the industrial revolution that focused, nurtured and enabled the popularisation of Ned Kelly as a national symbol. Indeed, the pervasive nature of Kelly imagery resonated as powerfully in the late 19th century as it does today. In Kelly's manifesto, the Jerilderie Letter, Ned commands the wealthy squatters to share their land with, and redistribute their wealth to the selectors—the rural poor—for 'it will always pay a rich man to be liberal with the poor … if the poor is on his side he shall lose nothing by it.' Favourable accounts of Kelly from his captives, along with his 'public performances' of burning mortgage documents during his bank raids, contributed to his reputation as a man of the people. In his 2011 book Outlaw Heroes in Myth and History Graham Seal writes, 'Ned Kelly has progressed from outlaw to national hero in a century, and to international icon in a further twenty years. The still-enigmatic, slightly saturnine and ever-ambivalent bushranger is the undisputed, if not universally admired, national symbol of Australia.' (Seal, 2011, p.89).
This discussion was delivered by Brad Webb as part of the Superheroes Beyond conference presented by ACMI and the Australian Research Council which was held in Melbourne on 6th – 8th December, 2018. For more information visit the Superheroes & Me web site.